Revealed: Self-Proclaimed Fortune, Another Major Factor That Catapulted Tinubu to Victory
The candidate of the APC, Bola Tinubu, has been declared the winner of the 2023 presidential election
Against all odds, the former president was able to coast to victory as he garnered 8,794,726 votes in the just-concluded election
However, some significant factors propelled Tinubu to victory, thereby defeating his major contenders, Atiku Abubakar of the PDP and Peter Obi of the Labour Party
Bola Tinubu, the president-elect in the 2023 presidential election, won the poll with 8,794,726 votes under the ruling All Progressives Congress (APC), according to the figures released by the Independent National Electoral Commission (INEC).
Tinubu defeated his closest rival from the Peoples Democratic Party (PDP), Atiku Abubakar, who came second in the poll with a total vote of 6,984,550.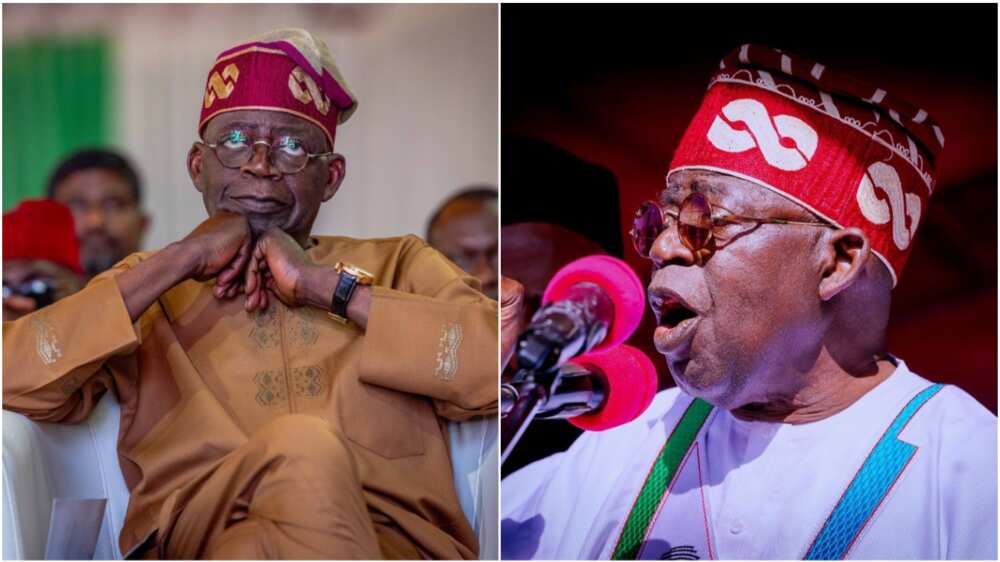 Coming third and fourth in the election were Peter Obi and Rabiu Kwankwaso of the Labour Party and New Nigeria Peoples Party (NNPP), who garnered 6,101,533 and 1,496,687 votes.
On his journey to victory, the president-elect faced many challenges but was able to cross the bridge to win the election due to significant factors.
Factors that lead Tinubu to victory:
Self-proclaimed Fortune
The former governor of Lagos state was substantial in his determination to become the president of Nigeria. He never showed pessimism during his journey to victory, saying "I will win" each time he was asked if he was prepared to lose the election.
This self-proclaimed fortune worked for him at every point challenges arose, and he defeated the odds before him during the electioneering process.
Abeokuta Declarations
Tinubu made two statements during his campaign in Abeokuta, the Ogun state capital. He made the first comment when he met with his party delegates ahead of the APC's presidential primary.
There, the president-elect first used the word "Emi Lokan" and narrated how he has been supporting many politicians who now betrayed him ahead of the election.
The second statement was also made after he got the presidential ticket of the APC and took his campaign to Abeokuta, the state capital of the Yoruba political legend, Obafemi Awolowo.
This was when President Muhammadu Buhari's administration introduced the naira redesign policy, and fuel scarcity was at its peak in the country.
He posited that no matter the policy put in place to scuttle his chances of winning the poll, he would triumph in the election, and he won.
Source: Legit.ng