Atiku, Obi or Tinubu: Another Online Poll Predicts Winner of 2023 Presidential Election
Bola Ahmed Tinubu of the ruling All Progressive Congress (APC) has won the latest online poll
In keenly contested online polls, he surpassed his counterparts, Peter Obi and Atiku Abubakar
Organisers of the poll, FREDDAN Continental, revealed results from questionnaires pooled from all 36 states
A fresh presidential online poll has predicted Asiwaju Bola Ahmed Tinubu as the likely winner of the Saturday, February 25th presidential elections.
The outcome of the poll, as contained in a statement made available to Legit.ng on Tuesday, February 21, was determined after four weeks of data collection done by experts of data analysts and public relations experts coordinated by FREDDAN Continental.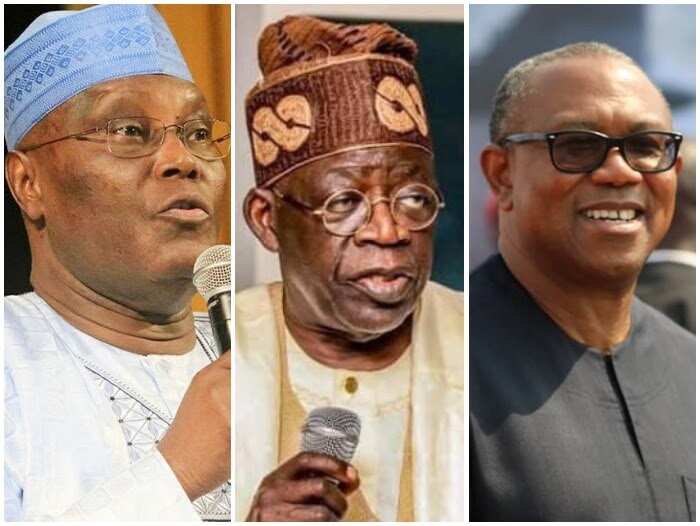 Legit.ng gathered that the poll lasted between January 7 and February 11.
According to the outcome, Tinubu outclassed his major counterparts like the Labour Party flagbearer, Peter Obi and Peoples Democratic Party (PDP) bannerman, Atiku Abubakar.
A maximum of 370,000 questionnaires were administered throughout the polls, and a total of 287,000 responses were retrieved after the closure of the survey, which cut across the 36 states of the federation, including the FCT.
Bola Tinubu racked up 37.2% of the responses in favour of him, while Peter Obi of the Labour Party got 32.1% and closely followed by Atiku Abubakar of the PDP with 30.7%.
According to the poll's outcome, Tinubu of the APC is expected to win majority votes in the North-West, North-Central and South-West regions. The candidate of the PDP is expected to win majority votes in the FCT and the South-South region. Obi of the LP is expected to win the majority votes in the South-East part, while the North-East area is expected to be divided between the candidates of the APC and the PDP.
This poll predicts victory for the candidate of the APC in the February 25 presidential election, and the regional voting preference suggests that a clear winner may emerge on the first ballot as against some other predictions that there may be a rerun.
Bloomberg Releases Fresh Poll, Predicts Winner of 2023 Presidential Election
Meanwhile, there's a new prediction that Peter Obi may win the Saturday, February 25, 2023, presidential election in Nigeria.
This new prediction was contained in a survey released by a New York-based media giant, Bloomberg.
According to the poll, Bola Tinubu of the ruling party will come a distant second, while Atiku Abubakar of the Peoples Democratic Party will take the third position.
2023 Presidency: New Survey Holds Strange Prediction for Tinubu, Obi, Atiku
Among the presidential candidates contesting for President Buhari's seat, Asiwaju Bola Ahmed Tinubu has been predicted as the winner.
This prediction was given as the result of a new survey conducted by Enough Is Enough (EiE) and SBM Intelligence.
However, while the survey stated that Peter Obi and Atiku Abubakar will battle for second place, it said there might be a run-off for the first time ever in Nigeria.
Source: Legit.ng