Bloomberg Releases Fresh Poll, Predicts Winner of 2023 Presidential Election
There's a new prediction that Peter Obi may win the Saturday, February 25, 2023, presidential election in Nigeria
This new prediction was contained in a survey released by a New York-based media giant, Bloomberg
According to the poll, Bola Tinubu of the ruling party will come a distant second, while Atiku Abubakar of the Peoples Democratic Party will take the third position
A recent poll by New York-based media giant Bloomberg has predicted that Peter Obi, the flagbearer of the Labour Party, would win the 2023 presidential election in Nigeria.
In a recent post shared on its website with the headline, Peter Obi Remains Top Pick for Nigerian President, Poll Shows, Bloomberg said the former governor of Anambra state is the people's choice.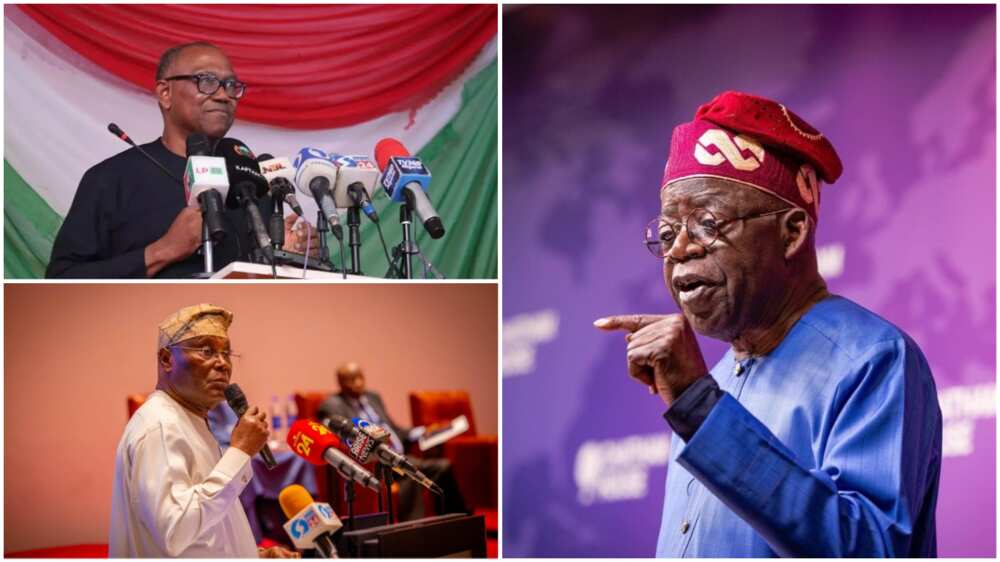 The polls published on Friday, February 10, showed that two-thirds of respondents (Nigerians) intend to vote for Peter Obi in the forthcoming presidential election scheduled for Saturday, February 25.
The survey, conducted for the Bloomberg News by Premise Data Corp., a San Francisco-based data company, showed that Obi maintains an unassailable lead in the race to become the next president of Nigeria.
It also said that out of 93%t of the participants who claimed they had decided to vote during the election, 66% had Obi as their preferred choice.
This new result is slightly higher by 72% among decided respondents in an earlier poll conducted by Premise and released by Bloomberg in September last year.
Gathered from 2,384 Nigerians from January 26 to February 4 via a smartphone app, the poll showed that Bola Tinubu of the All Progressives Congress and Atiku Abubakar of the Peoples Democratic Party finished a distant second and third, respectively.
While Tinubu gained 18% of the undecided voters, his counterpart in the PDP polled 10%.
The survey also showed that one key factor that will significantly impact the results of the 2023 election would be the level of participation by eligible Nigerian voters.
Peter Obi, Tinubu or Atiku? New report predicts who will win 2023 presidential election
A recent report on the 2023 presidential election in Nigeria predicted that Bola Tinubu of the All Progressives Congress (APC) would win at the February polls.
The Fitch Solutions Country Risk and Industry Research, in its report released on February 1, highlighted the possibility of a re-run of the presidential polls.
With the APC's Tinubu, Peter Obi of the Labour Party and Atiku Abubakar of the PDP recognised as the top candidates in the race, Fitch said the institute anticipates domestic insecurity following the outcome of the elections.
CAN makes fresh list of presidential candidates Nigerians should vote for in February elections
In other news, the Christain Association of Nigeria (CAN) gave a directive to Nigerians on the appropriate candidates to vote for during the forthcoming elections.
Speaking to a congregation of worshippers at the Family Worship Center, the lead pastor, Sarah Omakwu, said she was sent by CAN to pass a message to Nigerians.
She said:
"It is character, competence, capacity and policies. Of course, after praying we should be able to direct you (the people)."
Source: Legit.ng