Naira Redesign: "Mandate from Heaven", Father Mbaka Sends a Bang on Buhari, CBN
The spiritual leader of Adoration Ministry Enugu Nigeria (AMEN), Reverend Father Mbaka, has given his take on the CBN's naira redesign policy
Mbaka during a recent sermon lamented that Nigerians are going through pain in this current administration due to the policy
The cleric added that he is giving President Buhari and the CBN's boss, Godwin Emefiele, a heavenly mandate to act immediately in citizens' favour
Rev Fr. Ejike Mbaka, the spiritual director of the Adoration Ministry Enugu Nigeria (AMEN), has given a low scorecard on President Muhammadu Buhari and the Central Bank of Nigeria (CBN) amid the hardship experienced by nationals in the wake of the naira redesign policy.
In a recent sermon monitored by Tribune, Mbaka who opined that "the timing (of the policy) is very wrong" lamented that "Nigerians are now suffering" because of it.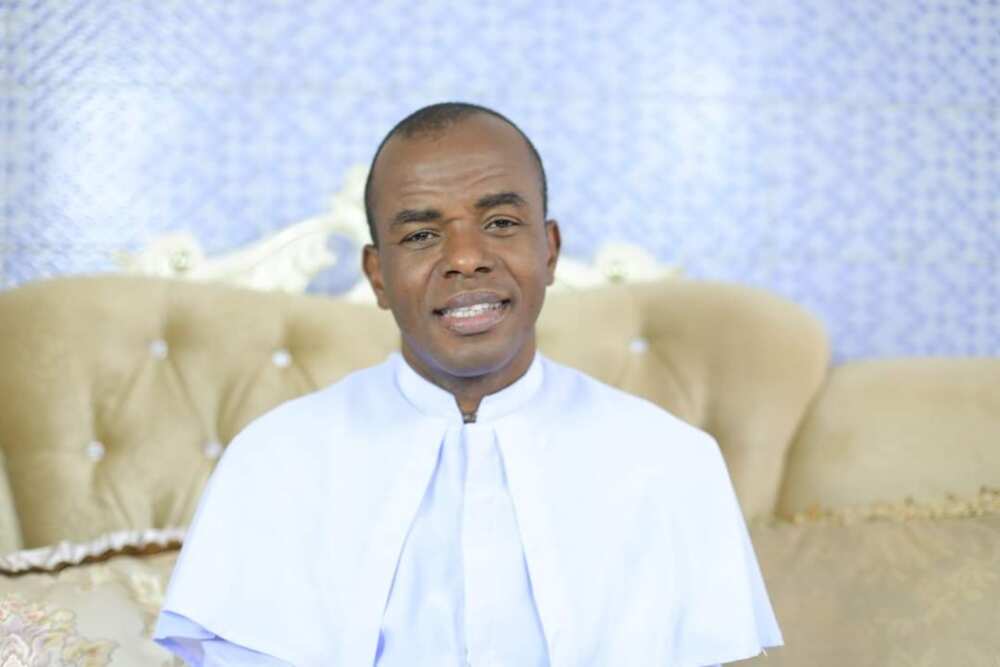 The fiery cleric argued that suddenly, citizens are paying through their noses to withdraw money from banks as the focus shift from dollar to naira, The Punch reports.
Mbaka, therefore, declared that he is giving both President Buhari and Godwin Emefiele, the CBN's governor, a mandate from heaven to act immediately on Nigerians' behalf.
He said:
"People are suffering. People will suffer to take their money and there is a country. And tomorrow you will say Father Mbaka says. Why do you force me to say something? I am giving both the President (Muhammadu Buhari) and the CBN Governor (Godwin Emefiele) a mandate from heaven if they don't want to act immediately and stop this self-imposed wicked suffering on the people, they will suffer.
"People are now selling money, not dollars. It easy to get dollar now than to get Naira. Parents cannot have money to buy foodstuff for their children.
"I don't know how many will be alive by the time the so-called new currency will come out. The new currency is not even good. The design is very poor. The colour separation is rubbish and everybody is quite thinking about election. Will people not be alive to do the election?"
3 northern states drag Buhari, CBN to Supreme Court
President Muhammadu Buhari's naira redesign policy pitched him against his kinsmen as three northern states dragged him to the Supreme Court.
The Arewa states including Kaduna, Kogi and Zamfara states, expressed their worries about the effects of the Central Bank of Nigeria's naira redesign policy while asking the apex court for a restraining order on the full implementation of the policy.
The states, in an ex-parte motion filed through their lawyer, AbdulHakeem Uthman Mustapha (SAN), asked the court for an interim injunction to stop the Buhari-led federal government either by itself, acting through CBN, commercial banks or its agents from carrying out the plan.
Source: Legit.ng