Naira Redesign: "How CBN Deceived Buhari, What Policy was Meant To Achieve", Oshiomhole
The CBN has been accused of deceiving President Muhammadu Buhari with its naira redesign policy
According to Comrade Adams Oshiomhole, the CBN's policy was targetted at stopping the election from being held
The former governor of Edo who has served as a national chairman of the APC on Sunday, February 5, said Buhari accepted the policy because he is free-minded
A former national chairman of the All Progressives Congres (APC), Adams Oshiomhole, has made a serious allegation against the Central Bank of Nigeria in connection to the naira swap.
During an interview with Channels TV on Sunday, February 5, Oshiomhole alleged that the CBN deceived President Muhammadu Buhari with its naira redesign policy.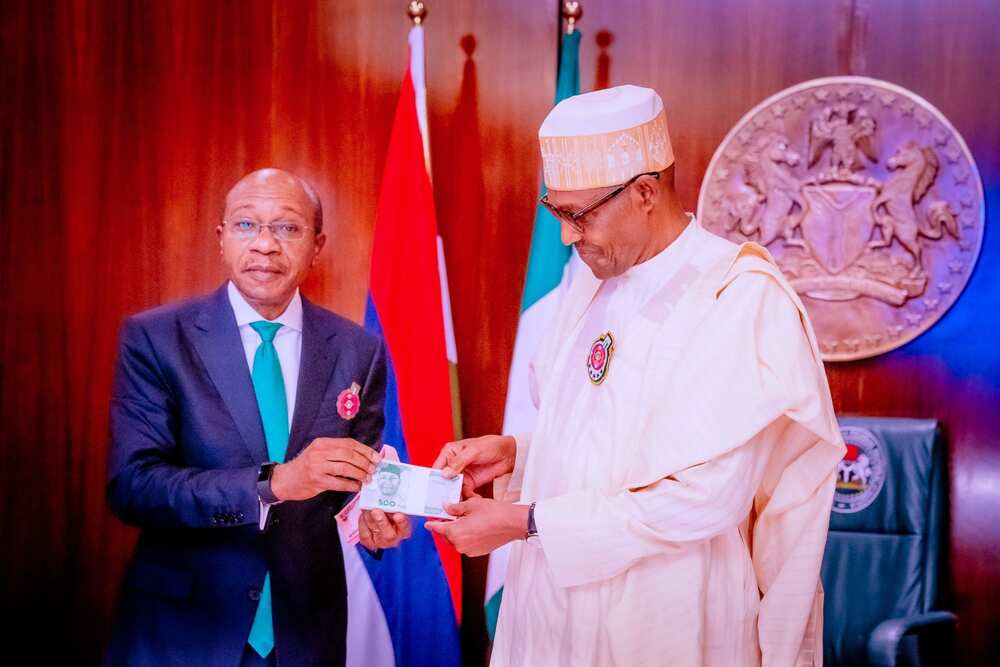 The former governor of Edo also claimed that the policy was a plot to stop the forthcoming general elections from being held.
Describing the policy as senseless, he opined:
"So, I can guess – I was not there – that in obtaining the approval, I believe the CBN deceived the President by amplifying the need to have corruption-free electioneering as if election is the only project this President has a responsibility for."
According to him, "It is ill-conceived, not well-thought-out and poorly timed."
He said President Buhari, being the liberal person that he is, had no problem agreeing with the policy.
His words:
"The President Buhari that I know will have no difficulty in agreeing."
Naira scarcity: "CBN, Emefiele gave false information to president," Buhari's aide alleges
The senior special assistant to President Muhammadu Buhari on public affairs, Ajuri Ngelale, has faulted the implementation of the naira redesign policy by the Central Bank of Nigeria (CBN) led by Godwin Emefiele.
He also alleged that the apex bank led by its governor, Godwin Emefiele had failed to feed the president with the realities on the ground.
Speaking in a recent interview, Ngelale said Nigeria is witnessing a period of displeasure in line with the faulty circulation of the new naira notes across the country.
"At this point, it is obvious to everybody that the implementation of the naira redesign policy has been faulty, to say the least."
Source: Legit.ng