2023 Elections: Tinubu Drops Fresh Bombshell, Speaks on Mega Plan for Those Who Betray Him
Bola Tinubu has revealed his plan for those who betray or disappoint him throughout his journey to becoming the president of Nigeria
The former governor of Lagos state has said that he will pay back disappointments with a lot of hard work
According to Tinubu, his mother taught him to be sad with those in trouble and rejoice with those who are happy
The 2023 presidential candidate of the All Progressives Congress (APC), Bola Tinubu, has said that disappointment is an energiser for him to work harder.
Speaking at a town hall meeting in Benin, the Edo state capital city on Sunday, January 29, Tinubu said he will disappoint those who betray him, with hard work.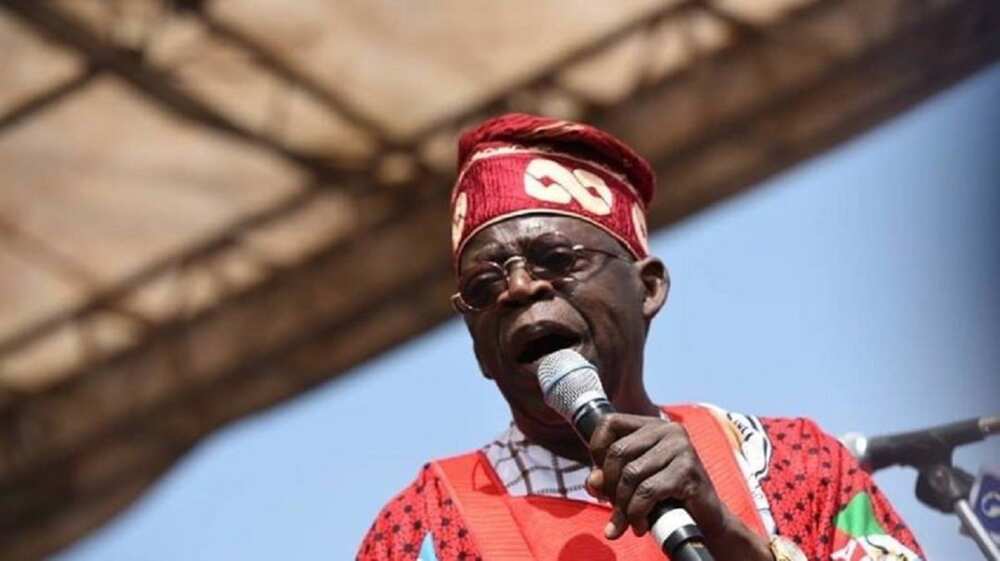 The Punch reports that the former Lagos state governor said he will ignore people who disappoint him.
Tinubu also said that his mother taught him to share in people's sorrow and rejoice with them when they are happy.
His words;
"Disappointment is an energiser for me. You disappoint me, I work harder. You betray me, I don't get angry, I ignore you.
"The reason is that you are not my God and you are not my creator. My mother taught me that if you are sad, I will share your sorrow with you. If you are happy, I will rejoice with you. If you are poor, I will share the little I have with you."
Finally, Tinubu visits top northern state, speaks on perceived rift with President Buhari
Bola Tinubu of the ruling All Progressives Congress (APC) has denied claims that he has a rift with President Muhammadu Buhari.
The former Lagos state governor said he supported Buhari even before he (the president) assumed office and will continue to do the same until the end of his tenure.
Tinubu made the disclosure while visiting Guasu, Zamfara state's capital city, for his presidential campaign rally.
Big win for PDP as top political parties adopt Atiku, Okowa ahead of 2023 presidential election
Meanwhile, Nigerians have been urged to support Atiku Abubakar and his running mate, Ifeanyi Okowa in their 2023 presidential bid.
The call was made to Nigerians by the Coalition of United Political Parties (CUPP) on Thursday, January 26.
The coalition said Atiku's view on restructuring and education, as well as his experience and maturity in politics, are key to driving Nigeria to an expected end.
Source: Legit.ng