Tinubu, Obi: Why Nigerian Politicians Rush to Chatham House, Top Political Analyst Gives Strong Reason
As it stands, Atiku Abubakar, PDP flagbearer is the only candidate among the major contenders for the 2023 presidential race that is yet to appear at the Chatham House
The presidential hopeful while reacting to the questions raised in the polity about not appearing at the Institute after his counterparts, Peter Obi and Kwanwakso appeared recently
While some candidates declined the invitation, Bola Tinubu, APC flagbearer was the first presidential candidate for the 2023 general election to appear at the institute
For some Nigerian politicians, if they have not appeared at the Chatham House, the research institute, which is also called the British Royal Institute of International Affairs, United Kingdom, it seems they have not communicated well enough, their agenda, to the Nigerian audience in the diaspora.
While some political officeholders believed the institute is where politicians explain better their plans for the nation to the Nigerian community, especially those living abroad, others expressed dismay at the trend.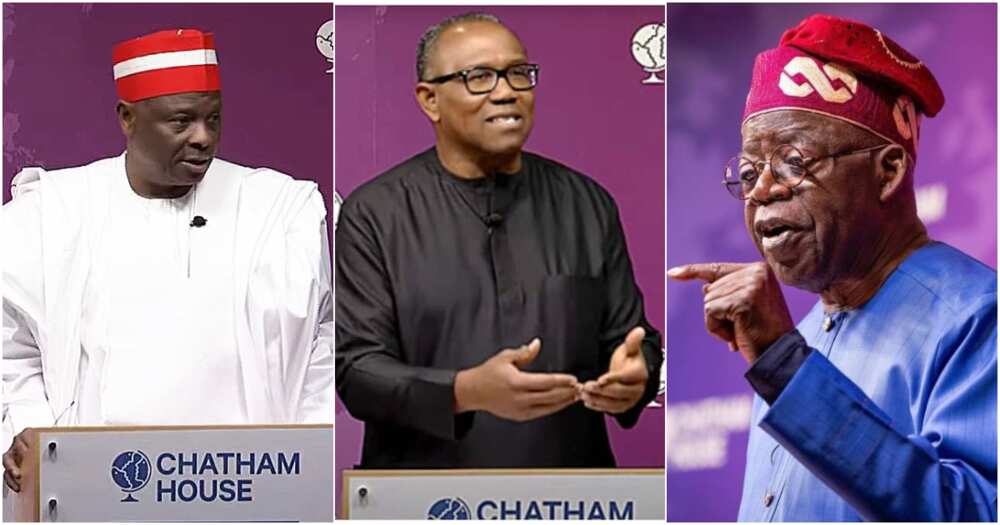 Presidential candidates who have appeared at Chatham House
Recently, Peter Obi of the Labour Party and Rabiu Kwankwaso of the New Nigeria Peoples Party (NNPP) appeared at the institute where they unfold their manifestos to the foreign audience, a development that was greeted with mixed reactions in the polity.
PAY ATTENTION: Сheck out news that is picked exactly for YOU ➡️ find the "Recommended for you" block on the home page and enjoy!
While the presidential candidate of the Peoples Democratic Party (PDP) Atiku Abubakar, is yet to appear at the Institute, the All Progressives Congress (APC)'s flagbearer, Asiwaju Bola Ahmed Tinubu was the first candidate to unveil his plan for Nigeria to the foreign audience.
Political analyst spills
Ahead of next month's presidential election, which is slated for February 25th, Barrister A.D. Rotimi George Esq., a member of the National Executive Council of Nigeria Bar Association (NBA), who doubles as the NBA secretary, Bukuru branch in Plateau state, criticized Nigerian politicians who have decided to make it a norm during the electioneering period.
He said:
"Many Nigerians, especially the politicians have over the years appeared at Chatham House, only for a tinge of self-advertisement and narcissism in their presentations, and this being the case, their opponents are quick to turn such forum into an occasion for combat and "make me sef go talk my own".
"Speaking at Chatham house is no problem but how our supposed leaders have ignorantly turned it to a badge of honour or a feat worthy of celebration is my worry and concern."
Do we need to go to Chatham House before our voices can be heard?
Interestingly, the legal practitioners noted that Nigerian politicians give generously, so is no surprise for them to get invited as the Institute is largely managed by donations from people.
Barrister Rotimi noted further that the candidates do not need to go to Chatham House before their voices can be heard rather they choose the institute while abandoning their own "House".
He opined thus:
"My research revealed that Chatham House is funded by donations of people and given how generous Nigerians can be with taxpayers money; it shouldn't be difficult to understand why the platforms of the institutes are available for Nigerian politicians to express their ignorance in governance; folly in finance to articulate mundane things.
"Is it not funny that we have our Nigerian Institute of International Affair (NIIA) which is Nigeria's top think-thank on policies, established in 1961, and has since inception proven to be a major centre for research and analysis. Were the NIIA to invite Nigerian politicians to speak at the platform, they are not likely to show up. We claim to be sovereign but neocolonialism still deepens in us.
"As an Institute of International Affairs, Chatham House can easily justify its current focus on political developments in Nigeria: Africa's most populous country, going through another election season that would involve a transition from one administration to the other, with implications for peace, stability and economic growth.
"As the Institute puts it: "Nigeria stands at a critical juncture, having suffered from two recessions in the past six years, unprecedented levels of physical and food insecurity, persistent fuel scarcity, and high levels of crude oil theft. Civic fatigue also remains an important challenge and Buhari's three main policy pillars of security, economy and corruption continue to be defining issues for citizens".
"However, I would say that Chatham House's interest in our affairs as a country is not entirely altruistic; it is a listening post for the British establishment, and as a body that depends on donations as a major source of funding, its managers are fully aware of how vain and mundanely generous Nigerian politicians could possibly be at a time like this. This is one area in which the Chatham House Rule would definitely apply in the circumstance, so there may be no point inquiring into how much Nigerian politicians donate or spend lobby to be recognized when they are granted the podium to speak mundane things."
Nobody gets an extra vote for going to Chatham House, the lawyer says.
Giving his two cents on the presidential candidates who are rushing to the institute, the political analyst noted that votes are decided by the electorates in Nigeria not the audience in the diaspora.
He stated thus:
"The point must be made that the Chatham House does not confer any legitimacy on any Nigerian politician because Votes are decided by the electorates back home. Whilst I am not opposed to carrying the Nigerians in diaspora along, this can be effectively done without going to Chatham's House every four years.
"Let me also add that Nobody gets a certificate or extra votes for going to Chatham House. It is ironic that the same politicians that do not want to attend debates at home are ever ready to be seen in foreign lands globetrotting aimlessly.
"They can only have that global recognition that they seek when after winning the election, they then put up such a performance that would recommend them for global acclaim."
What the Nigerian laws says about such outing
The top Nigerian lawyer noted further that the country's constitution did not make it mandatory that such an outing would guarantee election victory for any candidate.
Barrister Rotimi disclosed that the electorates are the key player during elections, as they determine to a large extent, the victory of candidates.
"Our laws (Constitution and Electoral Act 2022) did not confer a trip to Chatham house as a condition precedent to eligibility for standing and winning elections in Nigeria.
"Nigerian electorates are the main actors in this election. They are the Chatham House and should be treated as such. They decide whose trip to Chatham House in London would be fruitful or be a monumental waste of time and resources after the elections. It is this same mentality of frequenting foreign lands at the expense of our value systems that have led to the outright collapse of our health, education and tourism sectors.
"Sure we can do better. And we should be seen to do better," he concluded.
Chatham House: Kwankwaso finally opens up on plan to step down, gives 1 condition
Earlier, Rabiu Kwankwaso, the presidential candidate of the New Nigeria Peoples Party (NNPP), said he is ready to drop his 2023 presidential ambition if he finds a better candidate in the race.
Kwankwaso, who is a 2-term governor of Kano state disclosed this while speaking on his political credentials at the Chatham House on Wednesday, January 18.
The Chatham House is a research institute that is also called the British Royal Institute of International Affairs.
Source: Legit.ng