2023 Elections: List of States Peter Obi, Atiku, Tinubu, Kwankwaso Are Currently Scrambling for
Of course, the battle for the presidency among frontline presidential candidates, Atiku Abubakar, Peter Obi, Asiwaju Bola Ahmed Tinubu, and Rabiu Kwankwaso, is about who claims the most number of states during the February 25 elections.
But there are certain states whose influence in national polls is instrumental in deciding who gets the biggest chunk of votes on D-Day.
A major factor that accounts for the states' perceived influence in the coming polls is the huge number of registered voters who will be participating in the exercise from them.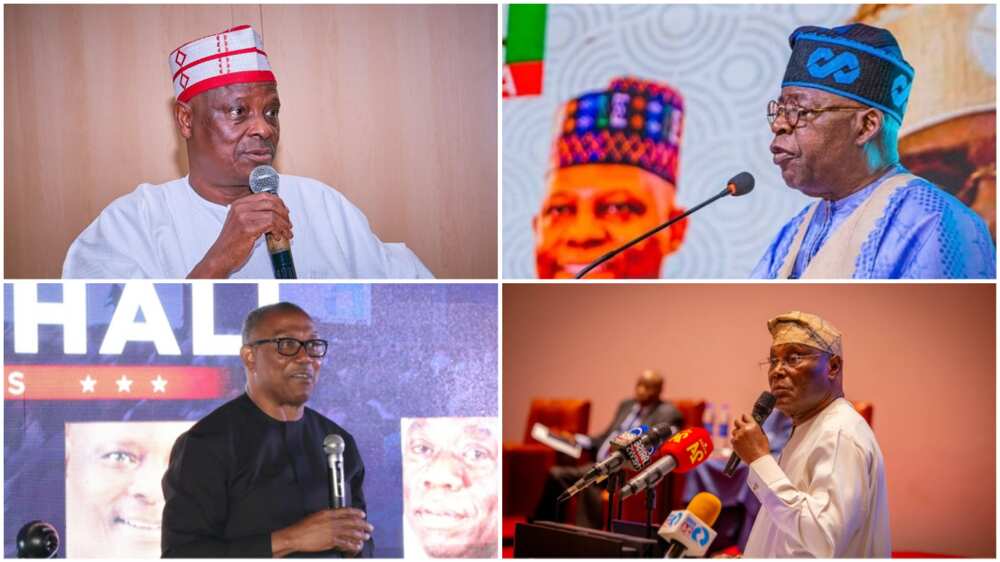 Legit.ng gathers that the states which fall into this category and the number of potential voters attached to each of them are as follows:
Lagos - 7,060,195 voters
Kano - 5,921,370 voters
Oyo - 3,276,675 voters
Rivers - 3,537,190 voters
Kaduna - 4,335,208
Katsina - 3,516,719
Niger - 2,698,344
Moreover, some of these states are metropolitan in nature and as such, voters there are politically active. This invariably means winning such states as Lagos, Rivers, and Kaduna will increase the chances of victory.
Added to this, any of the major candidates who win Katsina, President Muhammadu Buhari's home state has an upper hand over others.
After Tinubu, Peter Obi, INEC chairman takes a seat at Chatham House, lists commission's plan for 2023 poll
The chairman of the Independent National Electoral Commission (INEC), Mahmood Yakubu, on Tuesday, January 17, made an appearance at the Chatham House Institute.
Speaking during the conversation at the institute, Yakubu said the 2023 general election will be a poll for the younger Nigerians.
Yakubu noted that records available to the commission show that the election will be dominated by Nigerian youths.
Further stating that he is encouraged by the turnout of registered voters who are majorly youths, Yakubu said those who have collected their Permanent Voters Cards within the last month are over 600,000.
The INEC chairman informed the institute that out of 93.4 million registered voters in Nigeria, 37 million, that is 39 percent, are young people between the ages of 18 and 34.
Source: Legit.ng