2023 Elections: Supreme Court Makes Final decision on Akpabio's APC Senatorial Candidacy
The Supreme Court has upheld that Godswill Obot Akpabio is the APC's candidate for Akwa Ibom Northwest Senatorial District come the 2023 polls
Akpabio got this favourable verdict during a sitting on Friday, January 20, after a long battle to secure this ticket
Before the ruling, the former governor had been challenged in court by his key rival, Udom Ekpoudom
Abuja - Godswill Akpabio has secured the confirmation as the candidate of the All Progressives Congress (APC) for Akwa Ibom Northwest senatorial district.
Akpabio got this confirmation from the Supreme Court in Abuja during a sitting on Friday, January 20, The Cable reports.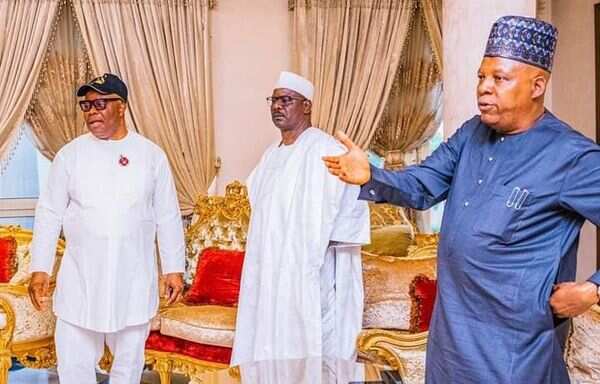 Akpabio's rival for the seat, Udom Ekpoudom had challenged the APC's failure to submit his name to the Independent National Electoral Commission (INEC) as the party's candidate for elective office.
Ekpoudom, a former Deputy Inspector-General of police (DIG), won the APC primary for Akwa Ibom Northwest senatorial district.
He had sued the APC and Akpabio, challenging his nomination as the candidate, instead of himself.
Vanguard reports that the court, in a unanimous decision by a five-member panel of judges, upheld an appeal Akpabio filed to challenge the Court of Appeal judgment that nullified his candidacy.
Justice Ibrahim Saulawa in his lead verdict held that the appellate court lacked the jurisdiction to delve into the issue of nomination of a candidate for an election, a case said to be within the confines of an internal affair of a political party.
The Supreme Court panel resolved 10 issues Akpabio raised before it in his favour and accordingly vacated the November 14, 2022 judgment of the Court of Appeal in Abuja, which directed the Independent National Electoral Commission (INEC) to recognised Ekpoudom as the rightful candidate.
2023 polls: Does Akpabio still have a chance to contest? Details emerge
The hopes of Senator Godswill Akpabio to return to active politics in 2023 have finally been dashed as Udom Ekpoudom the senatorial candidate for Akwa Ibom North-West under the umbrella of All Progressives Congress (APC) says he will not be stepping for the former.
The former deputy inspector-general of police stated this on Friday, January 6 while reacting to rumours making the rounds that he be stepping down for the former governor.
Ekpoudom, however, admitted that there has been pressure from all cylinders for him to reverse his decision and make way for Senator Akpabio.
Source: Legit.ng