Tinubu Reveals What Atiku Will Do If He Becomes President, Warns Adamawa against Voting for PDP Candidate
The APC presidential candidate, Bola Ahmed Tinubu, said his rival and PDP presidential candidate Atiku Abubakar will sell Nigeria if he's elected president
Tinubu made the statement on Monday, January 9, at the APC presidential rally at the Maidoki Ground in Yola, the Adamawa state capital
The former governor of Lagos state also revealed his plans for Adamawa and the northeast region if he becomes Nigeria's president
Yola, Adamawa state - Asiwaju Bola Ahmed Tinubu, the All Progressives Congress (APC) presidential candidate, has warned the residents of Adamawa state against voting for the Peoples Democratic Party (PDP) presidential candidate, Atiku Abubakar.
Tinubu said this on Monday, January 9, at the APC presidential rally at the Maidoki Ground in Yola, the Adamawa state capital, according to a statement sent to Legit.ng by his media aide, Tunde Rahman.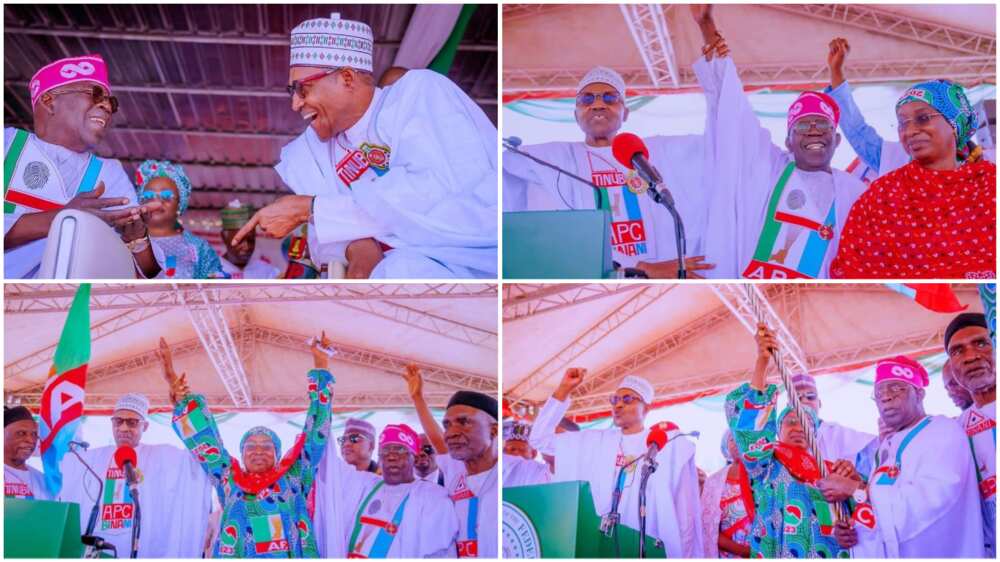 He took a swipe at the former vice president, saying:
"I hear that a former VP who comes from Adamawa wants to return to Aso Villa again. You have to decide whether you owe him your vote simply because he is from here or do you owe yourself a better nation and future?
"If you believe a better tomorrow is possible, then you cannot support Vice President Privatize Everything. If you give him the nation, he will sell all he can and leave you with nothing."
My plan for the northeast, Tinubu reveals
Speaking on his plans for the northeast where his running mate Kashim Shettima hails from, Tinubu said he envisioned a region that is safe, secure, thriving and flourishing.
His words:
"I envision productive farmlands that produce food abundant enough to feed the state and help feed the rest of the nation and even export to a world in need of our dynamic contribution to humanity. I envision both manufacturing hubs as well as agricultural hubs that will allow you to produce finished products that will expand the local economy, create jobs and increase the standard of living for all of you.
"I see adequate fresh produce storage facilities, farm-to-market roads and access routes. I also envision the establishment of commodity exchange boards and credit facilities that will provide the hardworking farmer a guaranteed income for his crops and also allow farmers affordable loans to invest in and improve the productive yield of their lands. I can envision these good things for my people because I have the expertise and commitment to see them become reality."
The APC presidential flagbearer said he has achieved similar feats when he was governor of Lagos state, adding that he is ready to replicate such at the national level.
"With your help, I will do so again on a larger scale. I have already done the research and have fashioned wise plans. What I promise is real and achievable," he said.
The power is in your hands, Tinubu tells Adamawa residents
Tinubu asked the people of Adamawa state to vote for him in the forthcoming February 25, 2023 poll.
He said:
"Give me and Shettima the mandate to achieve this. And we will give you the economy, jobs, and incomes you seek. The power is in your hands, vote for m; empower me so that I may empower you!
Buhari has laid solid foundation for Nigeria, says Tinubu
Meanwhile, Tinubu also commended President Muhammadu Buhari for attending the Adamawa rally, saying he was deeply moved and honoured by his presence.
He said the president has laid a solid foundation for the country, which he would build on if elected.
"Your contributions are positive and enduring. As I have said before, when the history of this period is objectively written, it will treat you very kindly.
"It will treat you as a true patriot and hero. Thank you for providing the solid and strong foundation. Now, it will be up to the rest of us to carry on and build Nigeria into the finest national edifice we can envision," he said.
The APC presidential candidate said:
"That you are here and that you have been gracious enough to be our campaign chairman shows your dedication and loyalty as a party member.
"More importantly, your presence underscores your commitment to progressive, democratic good governance and your belief that our party represents the best hope to lead the nation to the peace, prosperity and development it deserves."
2023 elections: Vote first female governor, Tinubu urges Adamawa residents
Tinubu also called on the people of the state to vote for the first female governor in the country.
He was canvassing support for the party's governorship candidate in the state, Senator Ayisatu Dahiru Ahmed Binani, saying she has all it takes to become governor.
"She is brilliant, driven and results-oriented. He will perform better for the state," he said.
APC national chairman Abdullahi Adamu, others speak
Also speaking at the rally, the APC national chairman, Senator Abdullahi Adamu, and Director-General of Tinubu/Shettima Campaign, Simon Lalong, canvassed support for the election of Asíwájú Tinubu as president and Senator Ahmed Binani as Adamawa governor.
Senator Binani, the APC governorship candidate, promised a new lease of life for the people of Adamawa, saying salaries of civil servants and pensions would be paid regularly.
2023 presidency: Only God can stop Tinubu from winning, says Governor Sule
In another report, Governor Abdullahi Sule of Nasarawa State said only God can stop Tinubu from succeeding President Buhari.
Speaking in Kokona Local Government Area while flagging off the campaign of the party's senatorial candidate for Nasarawa West, Architect Shehu Tukur, Sule said APC governors in the north would use their resources to ensure Tinubu emerges victorious.
"Only God can stop Tinubu and A. A Sule from becoming president and governor respectively. We are determined to commit our resources and strength to conquer any form of opposition," he said.
Source: Legit.ng