2023: Peter Obi's Presidential Ambition Will Hit Rock, APGA Chairman Oye Declares
The former chairman of APGA, Victor Oye has reacted to the growing support of Peter Obi in the polity
Ahead of the 2023 general elections, Oye disclosed that the presidential ambition of Obi would amount to a sad end
The Lagos APC chieftain and Bola Tinubu's firm supporter, Joe Igbokwe confirmed this development through a post he shared on Facebook
The national chairman of the All Progressives Grand Alliance (APGA) Victor Oye has laid a curse on the aspiration of the former governor of Anambra state and the Labour Party's presidential candidate, Peter Obi.
In a Facebook post shared on Thursday, June 30, by Bola Tinubu's strong supporter and Lagos APC chieftain, Joe Igbokwe, Oye said Obi's presidential bid would never work.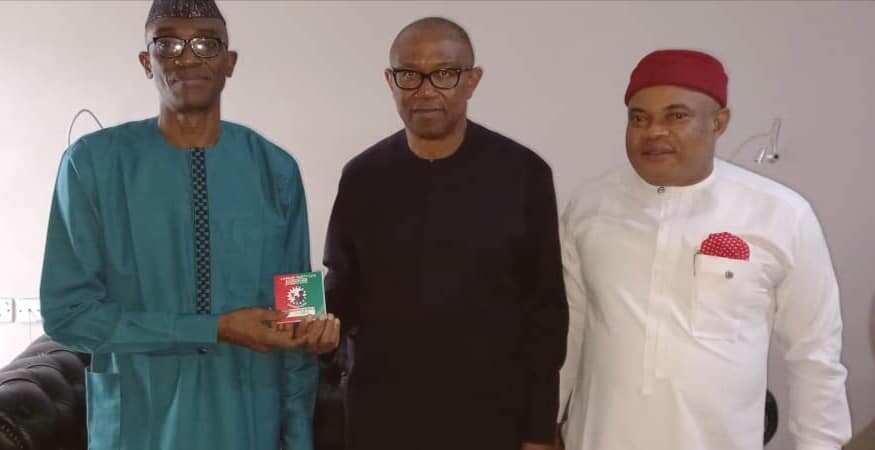 Igbokwe quoted Oye:
"Peter Obi's attempt to contest the presidency will be a catastrophic exercise. It will never work".-Victor Oye, APGA National Chairman.
Meanwhile, Obi was a member of the APGA when he was elected twice as the governor of Anambra state.
He defected to the People's Democratic Party (PDP) in October 2014 and became running mate to PDP's Atiku Abubakar in the 2019 presidential elections.
Nigerians react
Nigerians took to the official Facebook page of Legit.ng and reacted to the development. For some, Oye is blabbing, for others, Obi would not fail come 2023.
Gift Ifeoma wrote
"You loose some, you gain some. So why are you not blogging about those that have agreed to be Obident? The battle against good governance in Nigeria is just too excess that sometimes I do think Nigeria is cursed."
Daniel Dumije said
"All other political parties in Nigeria now have one common sickness called OBI-PHOBIA... The fear of OBIDIENT MOVEMENT is real."
Ikechukwu Ukonu stated
"Most of south east politicians are envious of the love the youth is showing for obi...they do not believe he will attract the love of the youth and also afraid of the block vote from they region."
Bash Mohammed said
"We know your type, you can deprive yourself regional value as an individual but you can't stop the moving train.
"We are OBIdient."
Olawale Omoniyi warned
"Deputy God be careful. Wait until 2023."
Patsie Gal Nwachukwu said
"Because he doesn't belong to your party. Wait and see. We're watching. Deputy God."
Okechukz Chidinma wrote
"Political jobbers everywhere. I thought you people said he doesn't have structure. Why panicking."
Tinubu or Peter Obi? Fayose speaks on who to support after dumping Atiku over support for southern presidency
Ayo Fayose, former governor of Ekiti state, has stated he will not back the presidential candidate of the Peoples Democratic Party (PDP), Atiku Abubakar, to succeed President Muhammadu Buhari in 2023.
The PDP chieftain had earlier implied this in a tweet on Wednesday, June 29, where he stated that it is the turn of the south to produce the president in 2023.
He had said it's "Southern Presidency in 2023 or NOTHING", adding that Nigerians should await details.
Insecurity: Prominent Anambra businessmen donate to state's security trust fund
In another report, some prominent Anambra businessmen on Wednesday, June 29 donated N100million to the state government to tackle insecurity in their domain.
Among those who donated the money are Kennedy Okonkwo, Emeka Okonkwo, popularly known as E-Money, Obinna Iyiegbu, also known as Obi Cubana, and a musician, Kingsley Okonkwo, popularly known as Kcee Limpopo.
It was reported that the group also met with the governor of the state, Professor Chukwuma Soludo at Government House, Awka on the same day.
Source: Legit.ng