2023: State-by-state Breakdown Of APC Delegates In Nigeria
A state-by-state breakdown of All Progressives Congress (APC) delegates in Nigeria was obtained and released by Joe Igbokwe, a chieftain of the ruling party, on Friday, May 20.
As seen in the breakdown, the total number of delegates in all the states is 7810.
The top five states with the highest number of delegates are Kano, Katsina, Borno, Osun, and Lagos.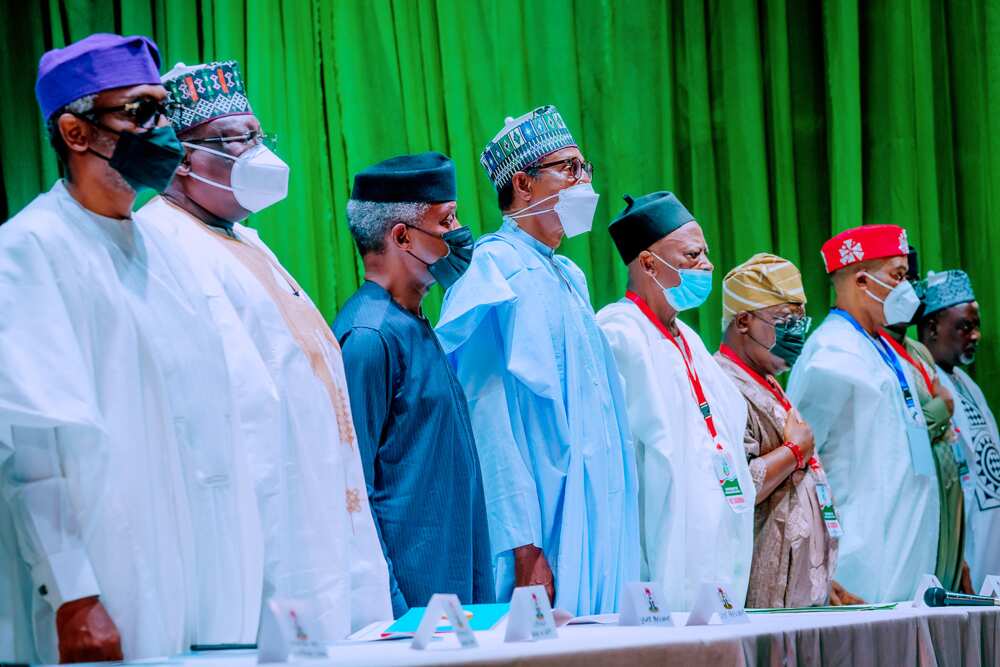 The Federal Capital Territory (FCT) has the lowest number of delegates: 53 in all.
See the breakdown below:
Kano: 465 delegates
Katsina: 384 delegates
Borno: 324 delegates
Osun: 308 delegates
Lagos: 304 delegates
Oyo: 292 delegates
Jigawa: 266 delegates
Niger: 251 delegates
Ogun: 248 delegates
Nasarawa: 245 delegates.
Abia: 154 delegates
Adamawa: 184 delegates
Akwa Ibom: 165 delegates
Anambra: 163 delegates
Bauchi: 202 delegates
Bayelsa: 79 delegates
Benue: 180 delegates
Cross River: 194 delegates
Delta: 170 delegates
Ebonyi: 154 delegates
Edo: 168 delegates
Ekiti: 216 delegates
Enugu: 131 delegates
Gombe: 134 delegates
Imo: 236 delegates
Kaduna: 234 delegates
Kebbi 213 delegates
Kogi: 222 delegates
Kwara: 195 delegates
Ondo: 200 delegates
Plateau: 185 delegates
Rivers: 151 delegates
Sokoto: 193 delegates
Taraba: 146 delegates
Yobe: 222 delegates
Zamfara: 169 delegates
FCT: 53 delegates
2023: We didn't promise accommodation for APC delegates, says Osinbajo campaign team
In other news, the Osinbajo campaign media team had dismissed some reports suggesting that it promised to provide hotel accommodation for no fewer than 7,000 APC delegates in the presidential primary of the party scheduled for Sunday, May 29.
The clarification was made in a statement sent to Legit.ng on Thursday, May 19.
Part of the statement read:
"We have seen an outlandish news report that a so-called "Osinbajo Campaign Organisation has said that it would provide hotel accommodation for more than 7,000 All Progressives Congress delegates across the country during the party's presidential primary election.
"Attributing such a claim to Senator Babafemi Ojudu, special adviser to the president, in the Office of the Vice President, the report falsely claimed that "Ojudu announced this to delegates in Minna while wooing them to vote for Osinbajo during the party's primaries..."
Source: Legit.ng