2023 Presidency: List of APC Delegates by States As Tinubu, Osinbajo Slug It Out
To emerge the presidential candidate of the ruling All Progressives Congress (APC), Presidential aspirants of the party like Vice President, Yemi Osinbajo, Asiwaju Bola Ahmed Tinubu, Rotimi Amaechi and others will battle for 7,800 delegates.
According to some observers, the numerical strength of states in respect to delegates would play a key role in determining who gets what among the various contenders.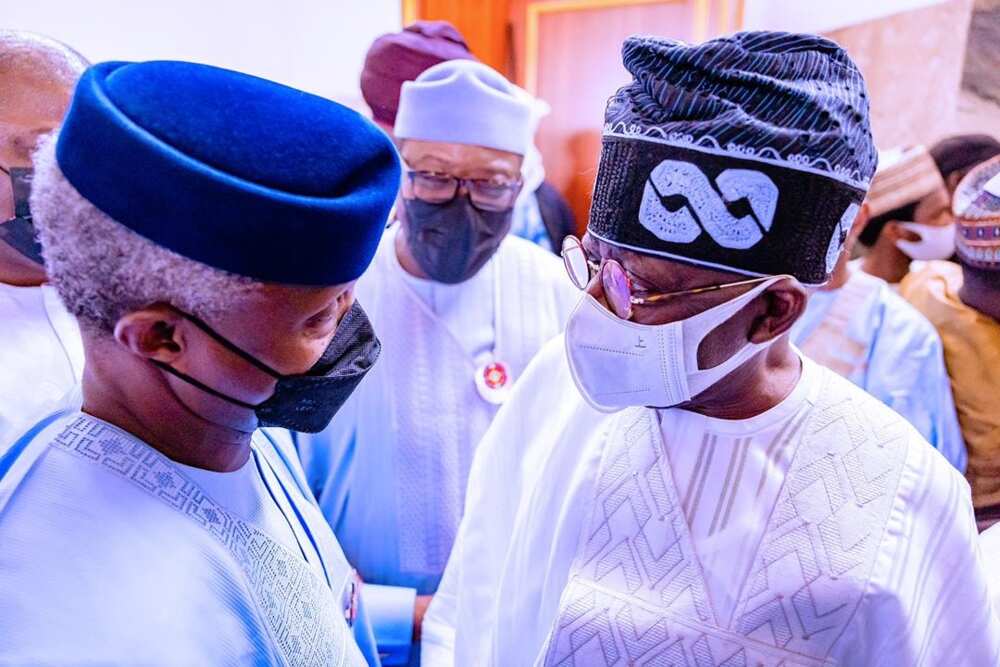 In this report, Legit.ng lists delegates by states.
Kano: 465 delegates
Katsina: 384 delegates
PAY ATTENTION: Install our latest app for Android, read best news on Nigeria's #1 news app
Borno: 324 delegates
Osun: 308 delegates
Lagos: 304 delegates
Oyo: 292 delegates
Jigawa: 266 delegates
Niger: 251 delegates
Ogun: 248 delegates
Nasarawa: 245 delegates.
Abia: 154 delegates
Adamawa: 184
Akwa Ibom: 165
Anambra: 163 delegates
Bauchi: 202 delegates
Bayelsa: 79 delegates
BenueL: 180 delegates
Cross River: 194 delegates
Delta: 170 delegates
Ebonyi: 154 delegates
Edo: 168 delegates
Ekiti: 216 delegates
Enugu: 131 delegates
Gombe: 134 delegates
Imo: 236 delegates
Kaduna: 234 delegates
Kebbi 213 delegates
Kogi: 222 delegates
Kwara: 195 delegates
Ondo: 200 delegates
Plateau: 185 delegates
Rivers: 151 delegates
Sokoto: 193 delegates
Taraba: 146 delegates
Yobe: 222 delegates
Zamfara: 169 delegates
FCT: 53 delegates.
List of 4 set of people that are not happy with Osinbajo's declaration
The recent declaration of Vice President Yemi Osinbajo has not gone down well with some set of Nigerians. Many of these people are not happy based on their own political associations or certain beliefs.
Analysts have said the candidacy of Professor Yemi Osinbajo would divide the Southwest governors and indeed the ruling APC, especially the chances of a southern president.
From reactions on social media, it can be deduced that many people are not happy with Osinbajo over his declaration.
3 key southwest states Osinbajo will likely lose if he becomes APC candidate
Reverberations trailed the declaration of Vice President Yemi Osinbajo to succeed President Muhammadu Buhari.
This has however shown that there would be a titanic showdown during the primary election of the ruling All Progressives Congress (APC) as it selects its presidential candidate.
Osinbajo's declaration also means he will be pitched against his former principal, Asiwaju Bola Ahmed Tinubu who claimed it is his lifelong ambition to become the president of the country.
Source: Legit.ng