Governors at War: PDP Does Not Belong to Him, Call Wike To Order, Obaseki Tells Party Elders
Governor Godwin Obaseki has lambasted Nyesom Wike of Rivers over his attitude in the opposition Peoples Democratic Party
The Edo state governor was reacting to Wike's recent outburst against him and his deputy, Philip Shaibu
In an advertorial, the Edo governor accused Wike of unguarded and disruptive tendencies, urging party leaders to call him to order
Edo State Governor Godwin Obaseki has blasted his Rivers state counterpart, Nyesom Wike over the latter's statement against him and his deputy, Philip Shaibu.
According to Obaseki, the Peoples Democratic Party (PDP) is not the personal property of the Rivers governor, The Nation Newspaper reports.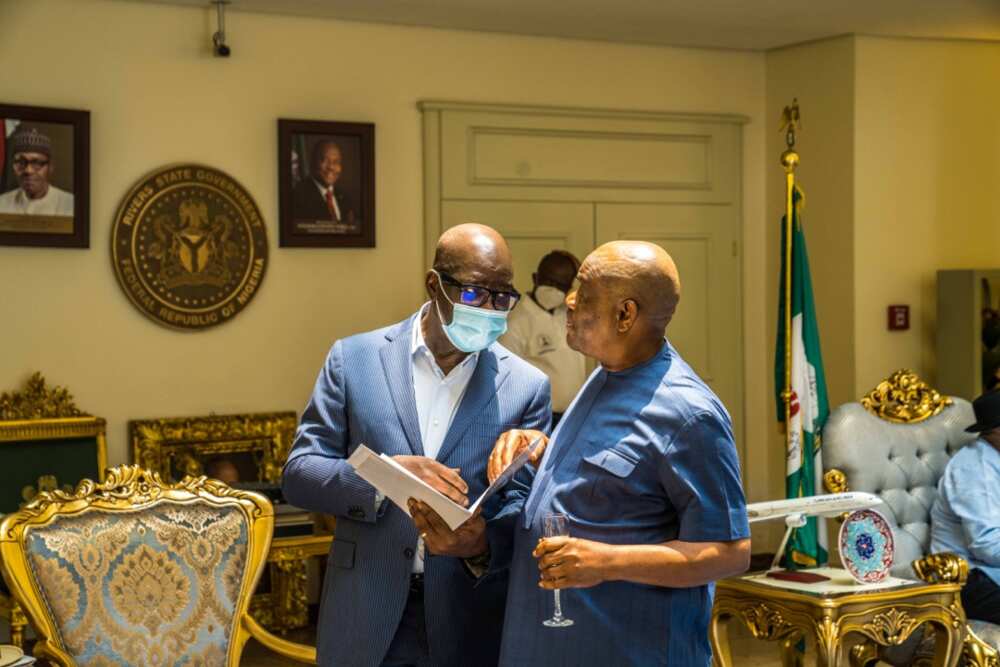 Obaseki said he will not accept political bullies and overlords, reminding Wike how he had dethroned bullies and high handed leaders.
He disclosed this n an advertorial in this paper today, the Edo governor accused Wike of unguarded and disruptive tendencies, urging party leaders to call him to order.
Obaseki wondered why Wike is always fond of threatening the party and party leaders.
He said while nobody is against Wike's desire to run for President, he should not pursue his ambition in a disruptive manner.
Obaseki said:
"While Wike is free to use his resources as he deems fit in pursuit of his ambition, he should not attempt to cow, intimidate, cajole and threaten others into doing his bidding. Edo State cannot and will not be procured for anyone's personal ambition."
You're an ingrate, who's your father? Wike slams PDP deputy governor
Recall that Legit.ng had the deputy governor of Edo, Philip Shiabu has come under serious heat for saying that there are other alternatives to the Peoples Democratic Party (PDP).
Seeing this remark as a threat to the PDP, Governor Nyesom Wike of Rivers on Saturday, March 12, slammed the Edo deputy governor and described him as an ingrate who alongside Governor Godwin Obaseki was given the party's ticket in the state's last governorship election.
According to Wike, it is a shame that Shaibu who was one of those begging the leadership of the PDP on his knees to get the party's reception could say this.
The fiery Rivers governor who spoke during the inauguration of the Eastern bypass road project in Port Harcourt on Saturday also recalled that Shaibu lost his local government in an election.
Governor Wike reveals how the lives of Nigerians can be improved
Meanwhile, Wike, on Wednesday, March 3, said that the lives of Nigerians across the country would improve once the PDP takes over leadership from the ruling All Progressives Congress (APC).
He gave the assurance during the inauguration ceremony of the 3.5 km long Mgbuoshimini-Nkpor Road in Rumuolumeni community, Obio/Akpor local government area of the state.
The governor said the PDP's major focus was to ensure that the economic hardship foisted on Nigerians by the APC-led administration ended.
Source: Legit.ng