Osinbajo Most Fearless Champion of Federalism in Nigeria, Says Senator Adeyeye
Professor Sola Adeyeye, an outspoken advocate of restructuring, has declared that VP Osinbajo is a fearless champion of federalism in Nigeria
Adeyeye said his stance is informed by Osinbajo's impeccable record and antecedent as Lagos state Attorney General and now as vice president of the country
The ex-Osun senator further stated that Nigeria will be lucky to have VP Osinbajo as the next president of the country
FCT, Abuja - Professor Sola Adeyeye has declared that Vice President Professor Yemi Osinbajo, SAN is unarguably the most fearless champion of federalism in Nigeria.
Adeyeye who represented Osun Central senatorial district at the National Assembly from May 2011 to May 2019, stated this in a chat with the press recently with the Daily Independent newspaper.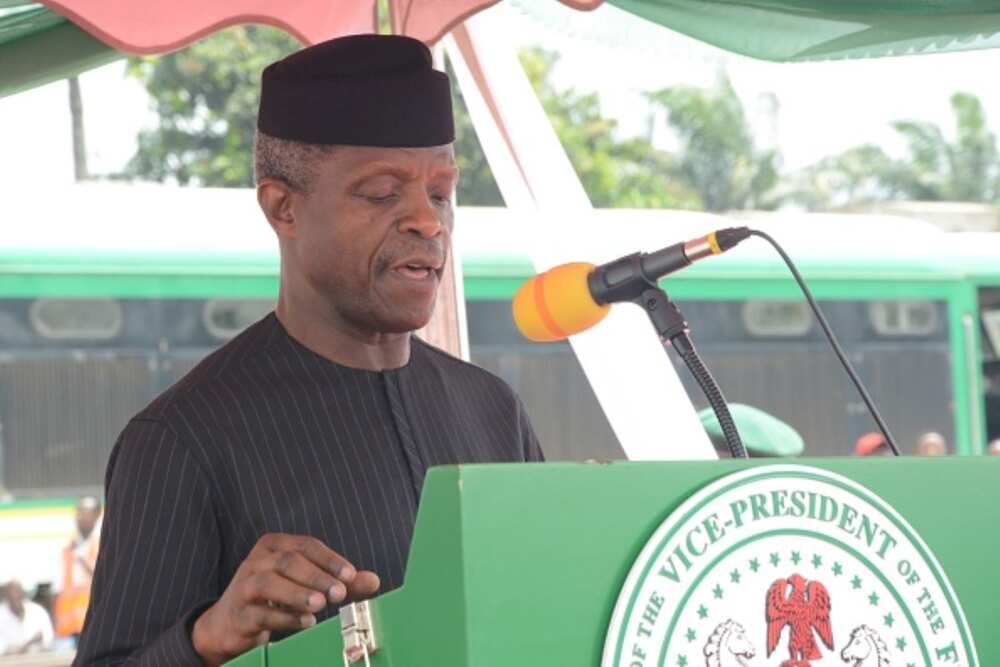 He explained that Professor Osinbajo has over the years, through actions and comments, demonstrated his commitment to the ideals of true federalism.
Justifying his stand about the vice president, he said:
"If you are talking of the success of Tinubu, you will remember that six times, Tinubu took the federal government to court, six times he won.
"The brain behind that victory was Yemi Osinbajo. Osinbajo has been the most fearless champion of federalism in this country.
"Every time that Buhari had to travel and Osinbajo steps in, things have run very smoothly. He has the temperament, intellect, sagacity, capacity, and dexterity required of a true leader.
"He did not become Vice President by accident. Actually, I was in Asokoro on the night that Osinbajo's name was submitted as running mate to President Buhari who was our candidate then.
"It was the nomination of Tinubu, let's be honest about that. What did Tinubu see that made him nominate Osinbajo?
"He must have seen a trait that is unique, singular, and presidential because when you are vice president, you are just one breath away from the presidency."
Speaking further about the contributions of Professor Osinbajo to the advancement of Lagos state during the administration of Tinubu as governor, he said:
"If you look at the record of both of them, the truth is, they are most impressive characters. Tinubu is a most impressive politician.
"Within eight years as governor, Tinubu made a geometric increase in the generation of Lagos state. In doing so, he assembled a cadre of talents that those who admired him have continued to tout everywhere.
"Among those talents, probably the very best of them include Babatunde Fashola and Vice President Yemi Osinbajo. If any of those three men become the president of Nigeria, we will be a lucky country."
2023: Declare for Presidency, Ogun Youths beg VP Osinbajo
Meanwhile, youths under the aegis of Ogun Youth Network have urged VP Osinbajo to step forward and contest for president.
According to the group, Osinbajo remains the best candidate to succeed President Muhammadu Buhari having worked closely with him.
Oluwagbenga Odumosu, the chairman of the Ogun Youth Network, also noted that the vice president has what it takes to govern Nigeria.
2023: Group Warns Against Fresh Plots to Defame VP Osinbajo
In a related development, the Osinbajo Grassroot Organisation has disclosed that plans are being perfected by some unscrupulous element to defame VP Osinbajo ahead of the 2023 presidential election.
According to the group, the plans include a smear campaign and character assassination of the vice president.
The group made this known through a statement signed by its national convener, Ojo Sylvanus Foluso, and sent to Legit.ng on Wednesday, December 8.
Source: Legit.ng