Akande Relieves Bola Ige's Life on Earth, Describes Olusegun Obasanjo In a Most Unbelievable Way
A former national chairman of the All Progressives Congress party has eulogised his late friend and associate Bola Ige
The APC chieftain said ex-president Olusegun Obasanjo had met with Ige at a meeting they both attended in 1960
According to Akande, Obasanjo had always sort Ige's support many times when vied for presidency
In what appears former interim national chairman of the ruling All Progressives Congress (APC), Bisi Akande, has relieved some of the details that led to the death of Bola Ige, a former minister of justice in Nigeria.
Akande in his new book titled, 'My Particpations', which was launched in Lagos on Thursday, December 9, said the assassination of late Ige left many of his friends and associates rudderless.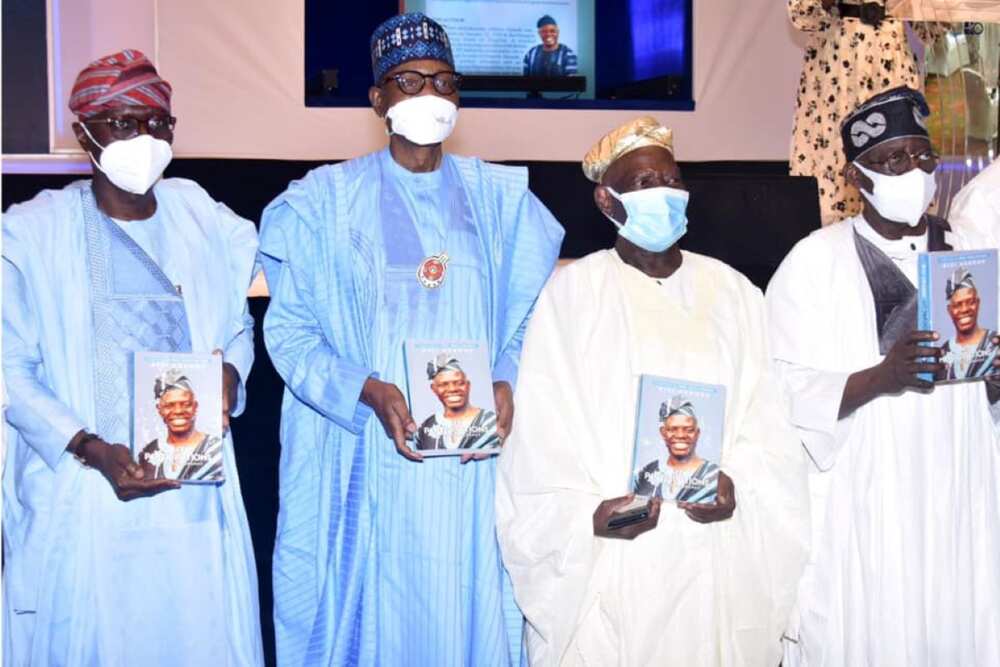 A former governor of Osun state, Akande said after Ige's death, they were like sheep without a shepherd because the Alliance for Democracy (AD) party which they belonged to at the time had lost a gem.
The Punch reports that shortly after Ige's death, Akande alleged that some of his associates were being hunted by former president Olusegun Obasanjo who he described as a faithless suitor and unblinking political philanderer.
According to Akande, the former president and the late Ige had been friends after a meeting in 1960 when they both served in the government of Colonel Adeyinka Adebayo.
Akande said:
"The man who came hunting for us was President Olusegun Obasanjo, Ige's friend for many years who became our relentless foe."
"During his reign as military Head of State, Ige gave him a wide berth, yet Obasanjo would not disappear from Ige's path.
In 1982, it was Obasanjo's unsolicited intervention into the crisis in the Oyo State UPN that led to the 'Night of the Long Knives' in Yola which almost cost Ige his job as the governor of old Oyo State. His final dalliance with Ige eventually cost Ige his life."
Continuing, Akande said that when Obasanjo made up his mind to contest for the presidency, he met with Ige for support.
PM News reports that Ige had declined, promising him however that they would meet on the field of electoral combat on opposing sides.
Akande added:
"Obasanjo won and yet, would not leave Ige alone. Obasanjo visited Ige three times in his Bodija home, Ibadan, after he emerged as the President-elect, pressuring him to come and take up the ministerial appointment."
"Ige finally agreed to serve when he was given the go-ahead by our movement Afenifere, and our party, the AD. It was late before he realised it was a kiss of death."
President Buhari speaks on Akande's new book
Meanwhile, Legit.ng previously reported that encomiums have continued to trail the launch of Akande's new book.
One of those who praised the former APC national chairman for his outstanding values was President Muhammadu Buhari
President Buhari also mentioned that Akande's political career was tragically affected by the alleged power-play of Olusegun Obasanjo.
Nigeria's president lands in Lagos as Governor Sanwo-Olu receives him
The Lagos state governor, Babajide Sanwo-Olu was at the airport on Thursday, December 9, to welcome President Buhari.
The president had departed Abuja, Nigeria's capital city for Lagos where he attended the book launch of a former APC national chairman and governor of Osun state, Bisi Akande.
He touched down at the Presidential Lounge of the Murtala Muhammed Airport in Lagos in the early hours of the day.
Source: Legit.ng