Reactions as Buhari says Nigerians competitive abroad because of good education at home
Preside t Muhammadu Buhari has the competitive nature of Nigerians at home and abroad is due to the good quality of education the country provides them with
The president encouraged Nigerians in the diaspora to subject themselves to the rules and standards of the country
Meanwhile, Nigerians have reacted to the president's statement, with many people insisting hat the president is wrong
President Muhammadu Buhari has sparked reactions following his statement that the competitive nature of Nigerians at home and abroad is due to the good quality of education the country provides them with.
Buhari reportedly disclosed this during a meeting with Shakhboot Al Nahyan, minister of foreign affairs in the United Arab Emirates, on the sidelines of the Paris Peace Forum.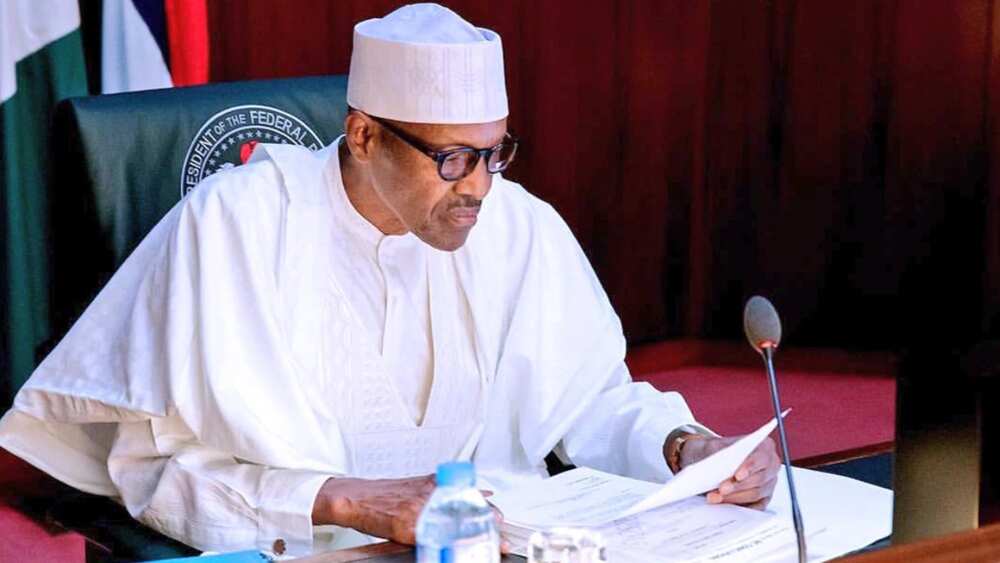 The president was quoted to have said:
"Nigerians are all over the place, very competitive. And the competitiveness starts from home, where they have acquired good education, gone into businesses, and then take all that abroad."
Meanwhile, Nigerians have reacted to the president's statement on Facebook.
Abiodun Kareem Raji
"Abeg who's talking? You are proud of them because they got educated before your tenure and tear race to further in another country. Wait and be proud of those that will come up in the couple of years who benefited from the insecurity you provide. Wait for your time."
Christian Chika Ezegolo
"What good education if I may ask? Is it with the dilapidated educational infrastructure and facilities, or outdated curriculum, or perennial incessant strikes, or poor remuneration of educational workers both teaching and nonteaching staff, or the obsolete scientific laboratories that dotted our schools and nonexistent linguistic labs...?
"Where are the incentives that promote and spur up learnings? For every student that does excellently well abroad is a self-made...quote me! Students put in extra effort, time, resources, and stress to breakthrough. The right thing to say is that Nigerian students are conditioned by tough environmental circumstances that enable them to be very successful in a more friendly and conducive academic environment. Anything said other than that is a blatant lie!"
FG reveals date for fuel subsidy removal
Legit.ng previously reported that the minister lamented the increasing pressure on Nigeria's revenue due to daily fuel subsidy payment.
She stated that actions are being taken to stop the payment, which is why there is no provision for payment of subsidies after the first six months of 2022.
The minister said:
"In our 2022 budget, we only factored in subsidy for the first half of the year; the second half of the year, we are looking at complete deregulation of the sector, saving foreign exchange and potentially earning more from the oil and gas industry."
NNPC: Report reveals billions of Naira petrol subsidy gulped in 7 months
Meanwhile, petrol subsidy payments gulped N714 billion in the last seven months, shrinking monthly revenue accrued to the federation account.
The report explained that the subsidy or under-recovery is the underpriced sales of premium motor spirit (PMS), better known as petrol.
The report also provided a month on month breakdown of all the payments made to oil marketers from January to September.
Source: Legit.ng