I am ready to take over from Buhari in 2023, Yahaya Bello declares
Governor Yahaya Bello has declared his interest in becoming Nigeria's president after the tenure of Buhari
According to the Kogi governor, his achievement in the confluence state is desired at the national level
Going further, he said he is not in support of rotational presidency, insisting that the best person with the capacity to unite Nigerians should be the one to rule
Governor Yayaha Bello of Kogi state has declared his intention to take over the leadership of the country from President Muhammadu Buhari come 2023.
He made this known while speaking during an Arise TV programme on Monday, October 5.
He said his achievements in Kogi state are desired at the national level.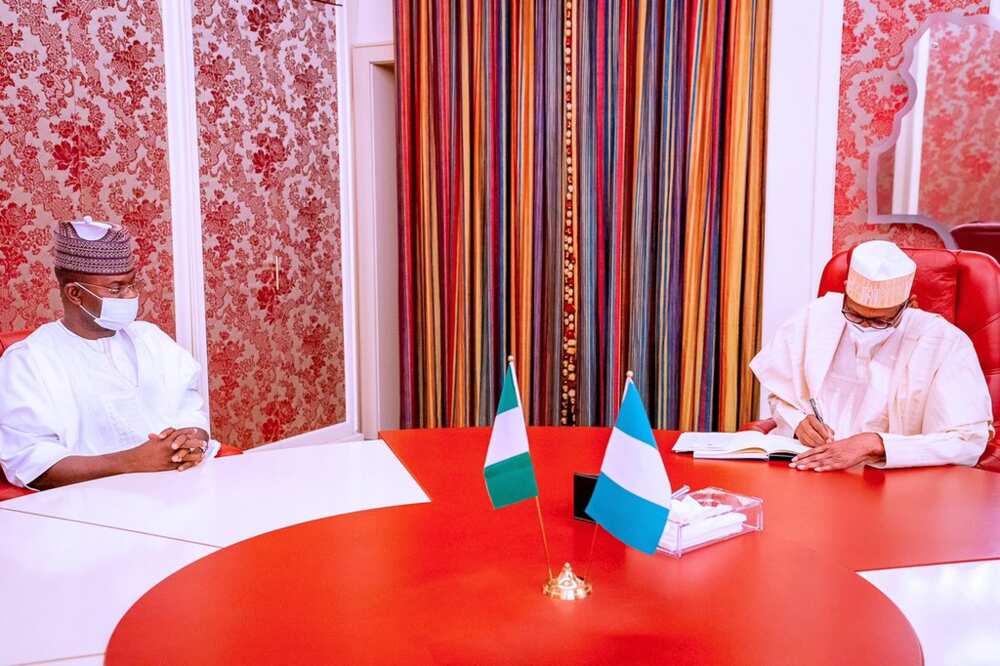 Going further, the governor disclosed that he is not in support of rotational presidency. He added that his track record in governing Kogi in the past six years is the reason Nigerians are "yearning" for him to become the president.
"Almost six years down the line, Kogi is united more than ever before. Now come to 2023, what I have been able to achieve in Kogi state is desired at national level which I'm sure you know we are living in a global village which whatever you do even in your bedroom is noticed out there," Bello said.
"If Nigerians across board; youth, women, leaders and followers seeing my leadership style, uniting the people, bringing in experts, adding value to governance, prudent and sincere way and manner of utilisation of our resources and getting the results, balancing the equation which is most desired in the country today, if this multitude is yearning and calling me to come and serve this great nation in the year 2023 after president Muhammadu Buhari, I will say, yes I'm ready."
In another report, Bauchi state governor, Senator Bala Mohammed has said he is not desperate to contest the 2023 presidential election because power comes from God.
The governor made the comment during the prayer session held at Government House, Bauchi on Tuesday, October 5 to mark his 63rd birthday.
He said:
"Calls for me to run for the presidency, maybe it is because of my modest contributions in Bauchi.
"I cherish what I have become. I know that there are some gaps here and there in terms of leadership and empowerment and so on. Whenever you find yourself on leadership you need to thank God for testing you because leadership is a responsibility."
Northern ruling class accused of trying to foist Jonathan on Nigerians
In a related development, an unnamed All Progressives Congress, APC chieftain has claimed that the northern oligarchy wants ex-President Goodluck Jonathan to replace President Buhari in 2023 because the Bayelsa-born politician can only serve four years in power if he returns.
Jonathan, 63, held sway as Nigeria's leader from 2010 to 2015 under the Peoples Democratic Party after his then-boss, Umaru Musa Yar'Adua died in office.
The APC chieftain said:
"They have perfected arrangements to ensure that one of them becomes Jonathan's vice preparatory to taking over from him if he finishes his remaining term."
Source: Legit.ng