List of 24 states that shun financial autonomy for judiciary
Many state governments are yet to do anything about financial autonomy for judiciary despite supporting it
In fact, report claims that only 12 states have passed the appropriate law for autonomy for state legislature and judiciary
The states are Plateau: Sokoto; Bauchi; Bayelsa; Enugu; Lagos; Imo; Jigawa; Kwara; Taraba; Nassarawa; and Kaduna
Despite signing a Memorandum of Action on autonomy for state legislature and Judiciary, most of the 36 governors have not encouraged the enactment of legislation to back it up.
Only 12 states have passed the appropriate law for autonomy for state legislature and judiciary.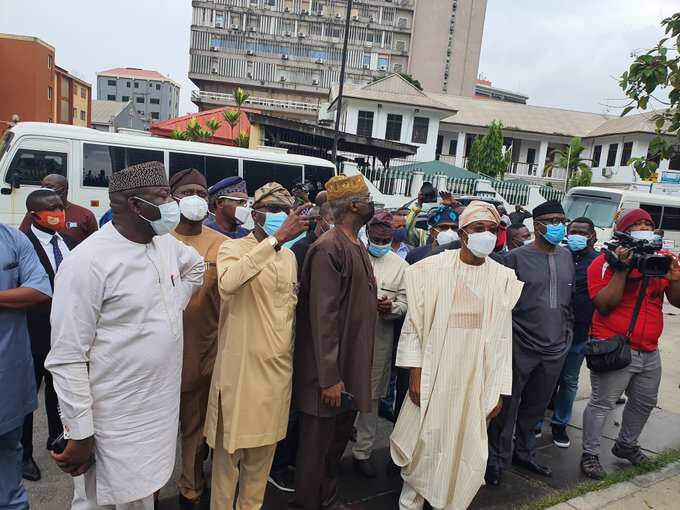 Out of the 12 states, eight did so in the North and four others in the South.
The states are Plateau
1. Sokoto;
2. Bauchi;
3. Bayelsa;
4. Enugu;
5. Lagos;
6. Imo;
7. Jigawa;
8. Kwara;
9. Taraba;
10. Nassarawa;
11. Kaduna.
The Secretary, Implementation Committee on Autonomy of State Legislature and Judiciary, Senator Ita Enang made the disclosures in a paper presented to the Chief Judges of 36 states, 19 Grand Khadis and 17 Presidents of the Customary Court of Appeal at the National Judicial Institute in Abuja.
Governors are lazy, do no more than go to Abuja: Agbakoba, ex-minister Chidoka tackle state govts
Meanwhile, a former president of the Nigeria Bar Association (NBA), Olisa Agbakoba (SAN), has come down hard on Nigerian governors, who according to him, have no regard for the Nigerian Constitution.
Speaking on Saturday, May 1, during ThePlatform, a programme organised and hosted by the Senior Pastor of Covenant Nation, Poju Oyemade, Agbakoba said the state governors have not shown that they are responsible towards the constitution. According to him, the governors seem to do nothing more than "go to Abuja and collect".
He accused the state leaders of paralysing the judiciary, saying they are yet to obey court orders in respect of financial autonomy.
Kukah knocks Buhari's government
Bishop of Sokoto Diocese, Matthew Kukah who was a speaker at ThePlatform criticised the President Muhammadu Buhari-led government for lacking empathy.
Legit.ng reported earlier that Kukah said Nigerians are crying about the continuous killings but they are getting the feeling that those governing them do not understand their pain.
According to him, where we are now as a country is not even what the greatest enemy of Nigeria could have foreseen.
Source: Legit.ng