"This Woman is a Blessing to Me": Grateful Man Gifts His Wife's Mum New Car after Her 'Omugwo'
In a lovely display of gratitude, a Nigerian man has rewarded his mother-in-law with a brand new car
The man gifted her the new car after she recently completed her three months 'omugwo' at his house
He recalled the many kind acts she did for him and his wife when he was at his lowest, including how she challenged the outrageous bride price list he was given
A realtor, Nelson Nwamara, has gifted his mother-in-law a brand new car as she completed her 'omugwo' at his place.
Omugwo is a cherished Igbo cultural practice of postpartum care that involves the mother, mother-in-law or close female relative coming to care for the new mother and baby.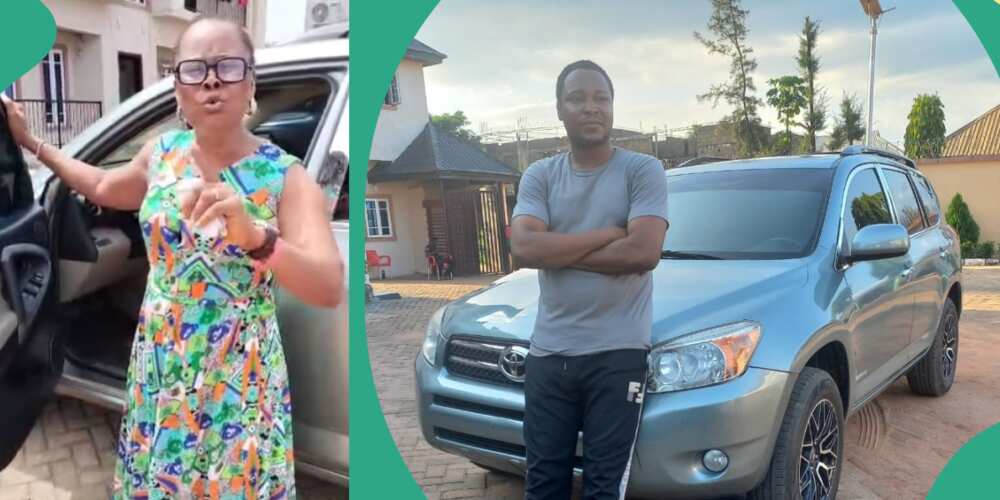 Nelson's wife recently welcomed their second child and his wife's mum was on ground to help out with postpartum care.
Why he bought his mother-in-law a car
In a Facebook post, the Abuja resident said his mother-in-law has been a blessing to him, adding that he also flew her in an aeroplane for the first time.
He opened up about the many kind acts of the woman which dates back to when he came for her first daughter's hand in marriage. He recalled how she challenged the outrageous bride price list he was given and how she shouldered their responsibilities as a result of his financial challenges.
His post in part reads:
"...This woman is a blessing to me.
"After my mum and my wife, she is another biggest gift God gave me. I am extremely lucky to have her as my mother inlaw.
"When my wife put to bed our first child Neto Boy, I was stuck in the hospital because i was completely broke. The POS i wanted to withdraw my last 40k debited without crediting me. I rushed to bank and they told me it will take 14 days to reverse.
"This woman, on hearing that my wife was on labour from Owerri local market where she sells Ogiri(melon), took off with speed and used her little business to come pay for hospital bill and we were discharged.
"During covid lock down 2020, I was still broke and still suffering from my crashed business. I didn't have money to take care of my pregnant wife and myself. She asked us to come back to village (Mbaise) while she took care of us with the litter money she was making from her petty business."
Nelson added that through it all, she never insulted or judged him and declared that her sufferings were over.
"Today, I am happy that all her pains are over. She doesn't know how to ask but anything she ask me i give her without thinking twice. She is not going back to local market again to sell ogiri.
"She will be selling internationally exporting her goods abroad.
"She came for me when I was down, I won't let her be down anymore.
"Hardship brought them back to village from Lagos where they live all their lives.
"Mummy, the suffering is over..."
Nelson said he planned the car gift
When asked if the car gift was unplanned or an afterthought, Nelson told Legit.ng's Victor Duru he actually planned it before the 'omuguo.' His response:
"I actually planned to buy her the car before she came for omugwo. This is my second child she came for the omugwo.
"When the first child came, I was still struggling and had no money then, so I sent my wife with the baby to her village for her mum to look after her and she showed me love then.
"So this second child, God showed me mercy. I have built a successful real estate company, Homland Group, and I decided to give her a car while going from the omugwo."
Nelson Nwamara's gesture earned him the admiration of people
Nonso Smart Okafor said:
"A million congratulations bro. You have blessed your both parents. The other time, you gifted your mum an SUV, today you gifted her mum an SUV too. Blessing your parents when they are alive attracts more blessings. Keep it up."
Brenda Nwokocha said:
"I actually cried reading this! Wow! She's a great mother I must say. Congratulations Ma. Weldone Nelson Nwamara you're doing well."
Friday Ekoyo Justus said:
"Wow! Thanks for remembering all these things She did for good. Congratulations to her."
Adolph Judith said:
"Nelson Nwamara This is so lovely to read. God bless you for not forgetting all that Mama did for you. God bless you for putting a smile on her face. Mama may you live long to reap the fruits of your labour, Amen. God bless you Sir. Congratulations Mama. Indeed the suffering is over! Thank you Jesus ."
Tessy NwaGod said:
"You have done noble. Big congratulations mummy."
Obed Your Marriage Counselor said:
"Wow! God bless and keep you ma.
"Boss, it's good to be good."
Mum travels to UK for 'omugwo'
Meanwhile, Legit.ng previously reported that a woman had travelled to the UK for her daughter's 'omugwo'.
A video, which was shared by the daughter on social media, showed the emotional moment the grandmother arrived in the UK and was taking out her luggage from the car boot.
She wasted no time in grabbing her bags and running to the door, where her daughter greeted her and gave the baby in her arms. The video captured the strong bond between the mother and daughter, who had not seen each other for a long time.
Source: Legit.ng