"Last JAMB Was a Disaster": Nigerian Man Drills His Village Youngsters after They Failed 2023 JAMB
Instead of waiting on the government to fix the problem, a Nigerian techie and his team took it upon themselves to change his village youngsters' bad UTME narrative
In the JAMB UTME of 2023, 70% of his village students failed woefully, with the few who passed doing so sparsely
The techie has provided an insight into how he is drilling his village youngsters via a different approach to ensure there's 90% success in 2024 UTME
A Nigerian techie, Alex Onyia, has been hailed on social media over the academic initiative he introduced for youngsters of his village to enable them to perform excellently in the Joint Admissions and Matriculation Board (JAMB) UTME of 2024.
Alex revealed on X that 2023 UTME was a disaster for his village students as they recorded 70% failure, with only a few escaping by the whiskers.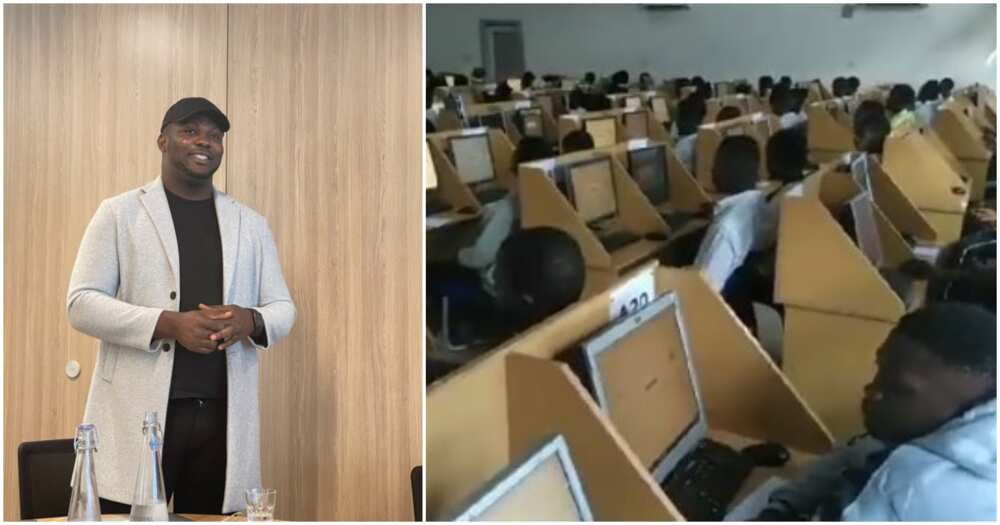 Alex Onyia drills his village youngsters for 2024 UTME success
Alex, CEO of Educare, said he and his team employed a different approach to solving the UTME problem instead of waiting for the government.
They put the students on intensive morning and evening drills as well as make them take CBT once a month. Alex explained:
"We took the challenge upon ourselves for it not to repeat itself again. Every youngster in my village right now is on an intensive morning and evening drilling for next year's Jamb and they undertake CBT once monthly with large pool of 16 years past questions across different subjects."
Alex said he noticed they were not computer literate.
"One common thing we noticed is that many of the youngsters are alien to computers and can't even use a mouse nor keyboards. How were they planning to succeed in jamb when they could had probably be using a computer for the first time on Jamb day?"
Alex and his team target 90 % success in 2024 UTME
The techie further revealed that the target is to have a success of 90% in 2024 UTME and spoke on scholarships for over-performing students.
"It's an eye opener and our mission is for all of them to score above 250. We will be paying for all their jamb exam fees and are also offering full scholarship to everyone that scores 300 and above."
See his tweet below:
Alex Onyia earned people's admiration
@henriwiZe said:
"This is highly commendable and laudable. You wise farmer I dare say. May god grant you bountiful harvest and keep you. Great work!@Credo_promotion.
"If you ask those that where voting in BBN to support this project.
"Guess what, you won't get 1 Naira from them.
"Alex jisie ike."
@omoelerinjare said:
"This is the type of program that needs the government and philanthropists' support in our society."
@_Dimkpa1 said:
"God bless you, bro!!! Nothing makes me happier than seeing young minds with no financial wherewithal do good. Dalu."
@n6oflife6 said:
"Education remains the surest path out of poverty. I love what you guys are Doing in the South East. God bless you all. "
@Ifechideere said:
"Say you leave this running and it becomes a school that trains all the children and teens in digital skills. Your village should be producing top tech CEOs in the next 10-20 years.
"I have such a plan for my village in Enugu and I'll do it.
"Well done!"
Man exposes app used in creating fake UTME results
Meanwhile, Legit.ng previously reported that a Nigerian man had exposed an app used to generate fake UTME results.
Facebook user, Mazi Ejimofor Opara, displayed the application named 'JambFun-Fake Jamb Result Maker', saying he found it on the Google Play Store.
With the application, the youth generated a fake result for himself, like a candidate who took the 2023 UTME, and stunned netizens with its outcome.
People also used the application to create fake results and expressed shock at the outcomes they got.
Source: Legit.ng