"It's Not a Welcome Idea": WAEC Announces Plan to Introduce CBT for WASSCE
The West African Examinations Council (WAEC) is in the advanced stages of introducing Computer-Based Testing (CBT) for its examinations
This is according to the head of WAEC's national office in Nigeria, Patrick Areghan
However, challenges remain, including concerns about conducting practical and essay papers in a CBT format and the lack of computer literacy and facilities in many schools
Lagos - After years of paper-based tests, the West African Examinations Council says plans to introduce the Computer-Based Test (CBT) mode for its examinations have reached an advanced stage.
This was disclosed by WAEC's head of national office in Nigeria, Patrick Areghan, in an interview with the News Agency of Nigeria on Saturday, September 23, in Lagos.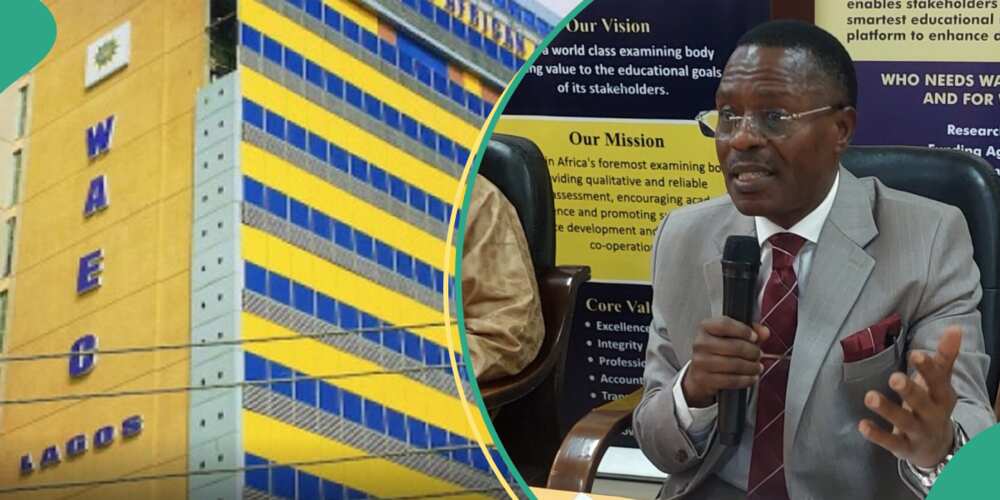 Legit.ng gathers that Areghan who is set to bow out of office on October 1 listed the CBT plans as part of his vision and achievements.
He, however, listed some challenges that have deleted the implementation of the plan.
The WAEC boss, for instance, noted that questions are still being asked on how to conduct CBT for practicals and essay papers for the West African Senior School Certificate Examination (WASSCE).
He said:
"We can only readily do that in the case of objective questions. But so many people will not see it from that angle. They argue that some others are doing it, so why can't WAEC do the same?"
CBT for WASSCE: Some schools not well-equipped
Areghan further noted that some schools are not well-equipped to handle the CBT exams.
"Now, no one even talks about energy; how many schools are exposed to computer literacy? How many have computer facilities and how many have electricity to run these things?
"Even where you have all these things on the ground, how do you handle the issue of theory and practical papers? So, these are the issues, but that is what I want the council to do very shortly.
"We should be able to conduct CBT examinations, even if it means starting with the objective questions," he said.
WAEC/WASCCE: CBT exams may be optional
Considering the noted challenges, Areghan hinted that the computer-based mode may be an option when it's implemented, The Punch also reported.
"But you can still be sure that not all schools will be ready. Maybe we can have a segregated market. Those who cannot afford the CBT will go for the pencil and paper mode," the WAEC boss said.
CBT for WASSCE: Nigerians react
Reacting on X (formerly Twitter), Yusan003, @IdrisYu39095063, said:
"It's not a welcome idea at all."
Fid Teacher, @fidelauveout, said:
"I love CBT exams...however, CBT is only suitable for aptitude tests and admission exams. But for certificate exams like WAEC/NECO& NABTEB. Section A, Theory and Practical is best tested on paper rather than software. One advantage though of CBT is efficiency."
Hosea, @D__Junior, said:
"Won't be easy as said bcoz hmmm plenty schools dy oo for villages way no even get constant light for even up to 2 hrs."
Odiboh Samuel Itoya, @Itoya01, said:
"How is that even possible in Nigeria? I think they should just jettison the idea and focus on other things because Waec is not a single-day exam."
YSD, @KoolTian, said:
"Wrong move but let's see how it goes."
WASSCE: How to eradicate exam malpractice, education expert reveals
In another report, Prince Adesegun Ogungbayi, the board chairman of MIMS Educational Services, has urged Nigerians to promote reading culture among young ones.
Reading culture, Prince Ogungbayi said, will help improve confidence in candidates writing WASSCE and other external examinations.
The education expert noted that poor reading culture is responsible for examination malpractices in Nigeria, and a change in attitude will boost students' performance in examinations.
Source: Legit.ng