"My Missing Rib": With Captivating Black Dress & Mesmerising Shape, Stunning Girl Dazzles Many at Beach
A stunning spectacle unfolded at a beautiful beach as a mesmerising girl, clad in an elegant black dress, captivated onlookers with her breathtaking beauty
The allure of her exquisite attire highlighted her already enchanting presence, turning heads and leaving an indelible impression on all who caught a glimpse of her
One admirer summed it up perfectly by saying, "Honestly, your beauty is naturally blended," as many shared similar views
In a picturesque coastal setting, a breathtaking scene unfolded as a stunning girl was spotted, capturing the hearts and lenses of onlookers by a beach.
Dressed in an elegant black dress, her presence commanded attention and left a lasting impression.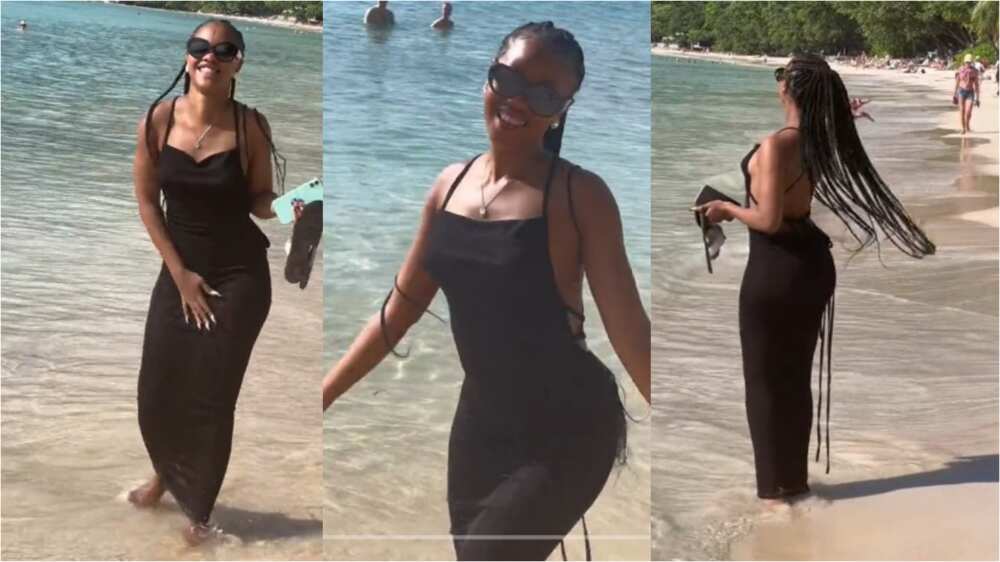 The alluring charm of her outfit perfectly befitted her enchanting beauty.
Many online were captivated by her captivating appearance, particularly her exquisite backside, which turned heads and caused a sensation online.
As admirers from around the globe came across this stunning footage, countless compliments poured in.
"Honestly, your beauty is naturally blended," one comment read, encapsulating the collective sentiment of those in awe of her unparalleled allure.
Social Media Reactions:
@phillipogbuabuo said:
"I just wish for only one thing....a happy woman.... u fyn."
@morenopengel noted:
"Waaaaaauuuuwwwwww my dream girl I like you soooooooooo much."
@glennlee769 expressed:
"Woman, you're looking dam!n good dam!n good and look like you having a good time so may the Lord continue to bless you and have a great day,"
@myqeltyre said:
"Honestly your beauty is naturally blended ☺️."
@user9209713176813 said:
"Get in the dam!n water and stop being cute."
@lewisjames58 confessed:
"Absolutely breathtaking my queen."
@indispensableb:
"Love Love Love the dress. It's super cute & you're rocking it well. ."
Watch the video:
Black & beautiful TikTok star catches attention online with funny dance moves
In a thrilling story seen by Legit.ng online, a beautiful, black and slim lady captured the interest of thousands as she effortlessly danced hilariously to an Afrobeat song.
The captivating lady not only mesmerised viewers with her rhythmic moves, but she also left them in awe of her extraordinary height and popping melanin skin.
Taking TikTok by storm, she quickly became a viral sensation, garnering admiration and applause from countless spectators.
Source: Legit.ng