"You Are Now Fighting Daily": New York Man warns VeryDarkMan in Viral Facebook Letter, Causes Stir
A New York resident has advised activist VeryDarkMan on the need to repackage himself and chase the right causes
The US resident warned VeryDarkMan, in an open Facebook letter, and mentioned Blessing CEO, Daniel Regha, Nkechi Blessing and Toke Makinwa
Mixed reactions have trailed the open Facebook letter as some people accused the writer of chasing clout, while others hailed him
A resident of New York in the United States, Innocent Okoro, popularly known as Innocent Tino, has written an open letter to Martins Vincent Otse, alias VeryDarkMan, on the need for a repackaging of personality.
In a post on via his Facebook handle on Friday, the Nigerian based abroad said VeryDarkMan started out well but seemed to have lost focus.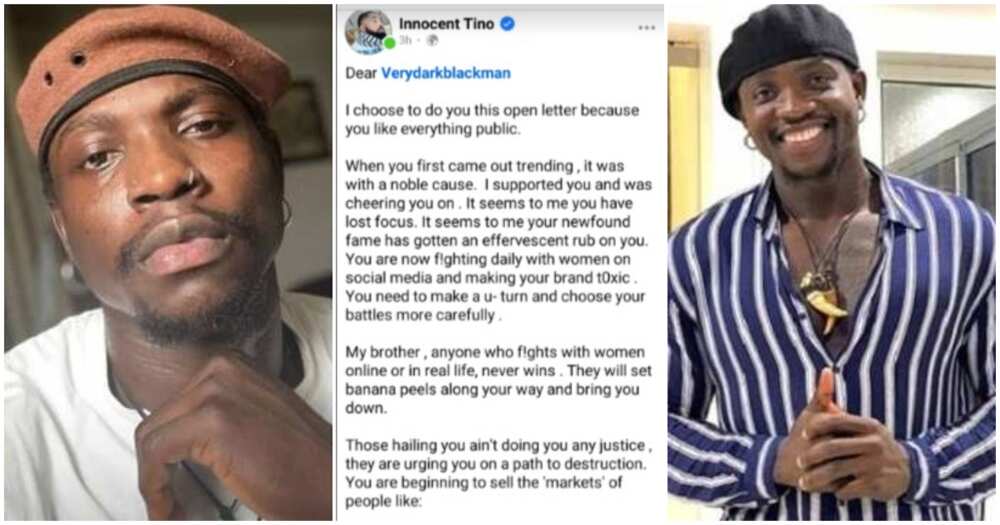 According to him, VeryDarkMan now engages in daily fights with women on social media, making his brand toxic.
Innocent, who claimed he wrote from a place of love, urged VeryDarkMan to make a U-turn and chose his fights, adding that no one wins fights with women either online or in real life.
PAY ATTENTION: Follow us on Instagram - get the most important news directly in your favourite app!
He shaded Blessing CEO, Nkechi Blessing, Daniel Regha and Toke Makinwa, all of whom he tagged toxic. He said VeryDaryMan was towing that path and may soon lose relevance. A part of the lenghty letter read:
"When you first came out trending , it was with a noble cause. I supported you and was cheering you on. It seems to me you have lost focus.
"It seems to me your newfound fame has gotten an effervescent rub on you. You are now f!ghting daily with women on social media and making your brand t0xic . You need to make a u- turn and choose your battles more carefully.
"My brother , anyone who f!ghts with women online or in real life, never wins . They will set banana peels along your way and bring you down.
"Those hailing you ain't doing you any justice, they are urging you on a path to destruction. You are beginning to sell the 'markets' of people like:
"Blessing CEO, Nkechi Blessing, Daniel Regha, and even the sophisticated Toke Makinwa- a market of t0xins..."
Reactions trail Innocent Tino's letter to VeryDarkMan
Engr Victor Oluchukwu Ngwuta said:
"Are women not human too? Some uninformed women may take this as a praise to them without seeing the insults around it."
Tom Ødegaard said:
"No no I don't think this letter is acceptable cuz he's doing what u Innocent Tino can't come out on social media and do so I think we should leave sentiment and support him since he's more like a mouth piece for many in this country bro."
Blessed Dōōzy said:
"If it is really from the place of love as you said, then send this epistle as a DM to him.
"Let people stand on the truth,it must not favor some set of individuals.
"....maybe you need a reply from him to grow your page too."
Uche Joy Chidi-Ononye said:
"He is beginning to feel too revelant. He talks too much and brags alot. So full of himself and too over confident. It's only a matter of time before he fizzles out same way he came, that's if he hasn't gotten himself into a big trouble he will find hard to wriggle out from."
Blessing CEO slams VeryDarkMan over video of his room
Meanwhile, Legit.ng previously reported that Blessing CEO has slammed VeryDarkMan after seeing the clip of his room.
The video of VeryDarkMan's room went viral on social media and it drew a series of comments from Nigerians.
Taking to her official Instagram page, the controversial relationship therapist pointed out how dirty the TikToker's house was. The relationship expert said it is one thing to be poor and it is another thing to also be dirty.
Source: Legit.ng