"It's Getting More Scary": Lady in Tears after Seeing Mohbad 3 Times in Dream, Begs for Help
A young lady's unsettling dreams about the late singer Mohbad have sparked an uproar among social media users
The dreams which she shared on the TikTok app involved her encounters with Mohbad and a mysterious aunty
In a chat with Legit.ng, the lady revealed that she tried her best to stop dreaming but yet she keeps having nightmares
In a video shared on TikTok, a young lady with the username @pointedbwess revealed her recurring dreams about Mohbad.
Despite not being familiar with the singer or his music, she claimed to have dreamt about him three consecutive times.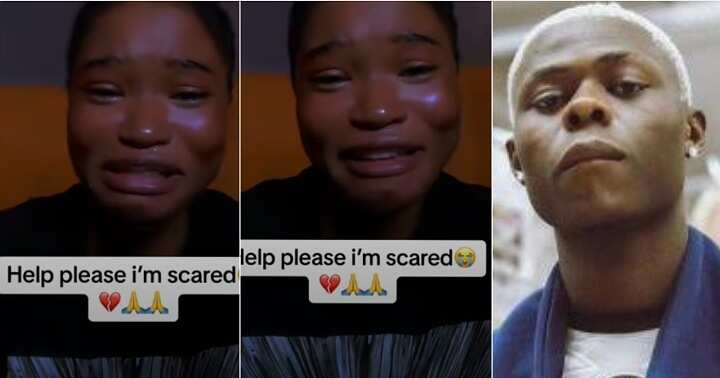 In her dreams, she encountered Mohbad in a room, but he was unable to speak or provide any explanation for his presence.
A mysterious aunty's involvement
The lady's dreams took a puzzling turn when she saw Mohbad again in the same room. This time, an aunty entered the room and greeted Mohbad, indicating a familiarity between them.
PAY ATTENTION: Share your outstanding story with our editors! Please reach us through info@corp.legit.ng!
However, as she approached, the aunty shouted something in Yoruba, causing Mohbad to fall and shake uncontrollably.
Before she could reach him, Mohbad vanished, leaving her bewildered.
In her words;
"I've been seeing Mohbad in my dream. The dream is getting scarier, first time, second time, third time last night, I'm really scared. It's messing with my mental health.
"I don't know Mohbad from anywhere, I'm not his family member, I'm not his friend, I don't even listen to his music. When he was alive, I didn't even know anything about him.
"Three days ago, I dreamt that I was inside a room, I saw Mohbad in the room, when I saw him he was looking at me. Cause I recognized him in the dream, I asked him wattsup, tell me what happened to you he was just looking at me, he couldn't talk.
"I told him, tell me what happened, I promise to tell everyone but he couldn't talk. What looked like the next day I still saw him in that same room, the room was looking so scattered not like that if a celebrity. I asked him to tell me what happened, he didn't talk so I stretched out my hand and he held my hand and told me to come back the next day that he will tell me what happened.
"The next day as I was going, I saw one aunty and she entered where Mohbad was and I was standing outside. The Aunty greeted Mohbad and Mohbad greeted her and smiled which means he knows the Aunty very well, when I now entered before I could enter the Aunty shouted something in Yoruba, Mohbad fell and was shaking.
"The Aunty just left the and I met Mohbad and asked him to stand up before I knew it, he disappeared. The next day I still dreamt about him. I was not even thinking about him."
When Legit.ng contacted her, she confirmed that she had been dreaming about the singer and all efforts to stop it from recurring proved futile.
In her words:
"Different weird dreams. If I make a video about it again I'll be bashed d more. It's scary. I don't know this guy from anywhere. I don't even listen to his music I'm not Yoruba. And I'm making sure not to even put my mind on anything concerning him but these weird dreams won't stop."
Netizens share similar dream experiences about Mohbad
Following her revelation, social media users flooded the comment section, sharing their dreams involving Mohbad.
@itzkweenayokade reacted:
"I swear i dream about him too."
@mhiz Tina commented:
"I even saw him yesterday in my dreams I even wakeup late to work."
@Gift kensh reacted:
"Even me I saw it on my dream yesterday and he was crying and asking for justice."
@Annie commented:
"Anyone who thinks about him deeply, dream of him, that's what have been happening to me."
@Ask-of-Ayomide said:
"I see mohbad in my dream yesterday night."
Watch the video below:
Lady who dreamt about Mohbad cries out
Meanwhile, Legit.ng previously reported that a Nigerian lady has painfully mourned the demise of late singer, Mohbad, days after he lost his life. She recounted a dream she had about the late singer months before his sudden death.
She earlier revealed that she had a terrible dream where the singer was dead and she had been praying for him not to die young. The heartbroken lady also shared a screenshot of a post she made back in November last year to warn the singer about the dream.
She said: "Do you know the worst part of it? I had a dream about this guy last year. I had a dream about him that he died and I commented on his post but he didn't reply. I prayed for him not to die young now see what is happening to him. Jesus, not now! not even Mohbad in all this at all."
Source: Legit.ng