"The Eba Is Gold-Plated": Luxury Garri and Soup Selling for N50k per Plate Stuns Many, People React
A viral video has garnered attention as it showcased an extravagant plate of eba and vegetable soup being sold for N50k
Many netizens expressed disbelief and stated that they would never spend such a hefty sum on a meal
Others acknowledged that they were not the target market for the luxury food and encouraged the seller to keep up the work
Netizens have been captivated by seeing eba and vegetable soup dishes adorned with gold-plated decorations.
The portion size appeared relatively small, adding to the intrigue surrounding its high price tag of N50k.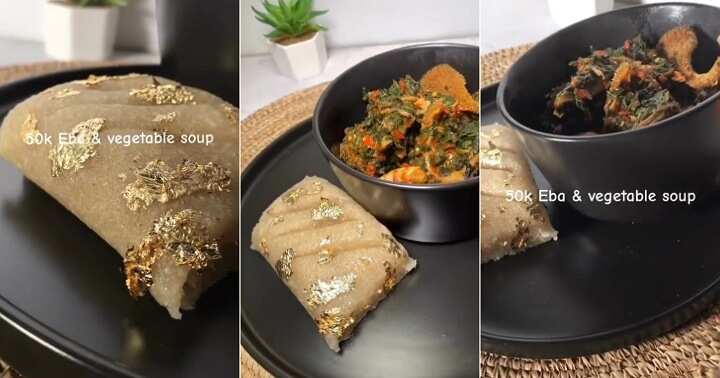 The visual presentation of the dish, coupled with its exorbitant cost, left viewers divided in their opinions.
Netizens share their thoughts about N50k eba and soup
The internet became a discussion hub as netizens reacted to the pricey delicacy.
Many expressed disbelief and said they would never consider spending such a substantial amount on a single meal.
They emphasised that they did not align with the target market for this extravagant food experience.
Others, however, acknowledged that personal preferences and budgets differ and respected the choices of those who could afford such luxury.
Social media reactions N50k gold-plated eba and soup
@ms_teemahh reacted:
"50k? Because of stretch marks and eczema for the eba?"
@michael._u said:
"Be like na because you dey drop am slowly the price high like that? Abeg try move faster."
@meetemmanueljacob said:
"Let this be the first and the last time you will try this. Don't desecrate Eba again!"
@fabhar_ reacted:
"For eba wetin I go just use hot water do."
@kittydtailor said:
"Eba in shiny amour."
@myslay.plug commented:
"Because of eba wey get tribal mark."
@dean_ability said:
"Without the gold na how much?"
@nomarichard reacted:
"So na "yellow foil" make an expensive? Abi wetin."
@official__teewealth said:
"Wait. Shey na the edible gold wey them put ontop cos the hike in price? Make them comot am, l'll pay 600 for the food abeg."
@iamgloria_vive reacted:
"This Eba come get design pass Cake self."
@thelagostourist commented:
"Looooool because of 2k edible gold?"
@oyinofjedi reacted:
"If you don't remove that foil."
@the_mafiostyle said:
"People wey go buy am go buy am. I am not people."
Watch the video below:
Lady pays heavily to get one bite meal
Meanwhile, Legit.ng reported that a woman wanted to try a fancy restaurant where some of the most expensive food was sold. When she got there, she ordered one of the items on the menu to see what it would look like, particularly the size.
On getting the food, she was so flabbergasted that she opened her mouth. A woman, who was behind the camera and could pass as her friend, was heard laughing so hard.
The surprise was evident on the woman's face till the end of the clip, which made the woman behind the camera laugh more.
Source: Legit.ng