Lady Leaks Upsetting Chat with Obsessed Admirer: "He's All Over Me"
A Nigerian lady has sparked mixed reactions from Twitter users after sharing her conversation with an admirer
The chat, which she shared via her Twitter account, showed the desperation of her admirer to get her attention
Social media users have reacted massively to the post, with many criticising her for exposing the chats online
A Nigerian lady identified as @anjolao3 on Twitter has shared her conversation with an obsessed man who has consistently sent her messages, despite her lack of reciprocation.
In the screenshots, the man tried to get her attention with several texts and calls, which she wasn't impressed about.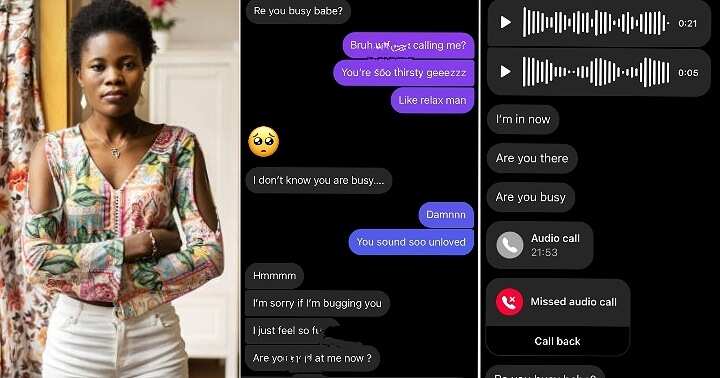 Lady slams obsessed admirer on Twitter
She immediately bashed the man and asked if he was so unloved at home to desperately want a woman.
"You sound so unloved," she fired at him.
However, her responses to the man's messages sparked a backlash from netizens, prompting her to post another tweet in response.
In her subsequent tweet, she wrote:
"All of you should stay pressed. But there's a difference between a nice man and a dumb person who acts so unloved. We're just talking and he's all over me like this?? Tf man? I'm not single and he knows. His mommy loves him more than all these rather rather."
Reactions as lady leaks her chat with obsessed admirer
The woman's tweets have generated mixed reactions from social media users, some supporting her stance on boundaries and others criticising her choice of words.
@Alpha Femalee reacted:
"This is not nice babe, even if you don't like him. Be kind with your words."
@dailyoffender_ reacted:
"Man, I really need most guys to realise their worth, cause if this guy knew his worth he won't be in this situation.
"You'd know when a girl is feeling you before it even gets to this stage. Quit giving sick women your attention."
@EMPIRE said:
"I dont blame the guy who's only expressing his feelings in a polite way. I only blame the girl who's senseless and just a cheap clout chaser. If you don't like him let him know than calling him toxic when you're the one who's toxic las las na ur papa you go marry odee."
@Slimzy12 commented:
"If you don't love him talk, don't use his obsession as excuse kal, but I don't know how some guys dey give woman attention like this can't Be me."
@lrunnia_ said:
"I am very very angry at the guy for continuing to reply and text after receiving a humiliation of this magnitude."
@iammrpunky reacted:
"Don't be the good guy, they won't rate you."
@zhurg_ commented:
"Nice guys have it hard in relationships."
@Cannonle said:
"You don't like the dude So quit the whole I want a toxic boy story."
@Alpha Femalee reacted:
"This is not nice babe, even if you don't like him. Be kind with your words."
@Oluwa_bamz said:
"You're enjoying the attention. Na the boy I blame."
See the post below:
Lady leaks her chat with married man
Meanwhile, Legit.ng reported that a young lady named Ayisa recounted her experience with a married man who claimed to be single. Ayisa said she had been talking to the man for a while and had no clue that he was already married to someone.
On a fateful day, she saw a photo of him and his wife on Facebook. Out of surprise, she told him congratulations, and he replied. However, she confronted him about the matter on WhatsApp, and he denied getting married or sharing photos on Facebook.
When probed further with glaring evidence, the young man claimed he needed to fake being married to get his visa. This excuse, however, didn't last, as he later alleged again that 'poverty' led him into many relationships.
Source: Legit.ng