"No Nigerian Needs £15k Master's Degree": Embattled YouTuber Emdee Tiamiyu Opens Up in New Video
Emdee Tiamiyu has reacted to his viral interview with BBC News which has earned him massive criticism from Nigerians
The embattled YouTuber, in a new video, said he considers himself a global citizen and is not tied to any country
According to Emdee, no Nigerian needs an N8.5 million master's degree and being factual offends people
Embattled Nigerian YouTuber Emdee Tiamiyu has broken his silence following his interview with British Broadcasting Corporation (BBC) News, which irked many Nigerians.
In a controversial interview with the BBC, the YouTuber claimed that Nigerians seeking admission into schools in the United Kingdom only consider it an alternative means to escape from Nigeria (japa).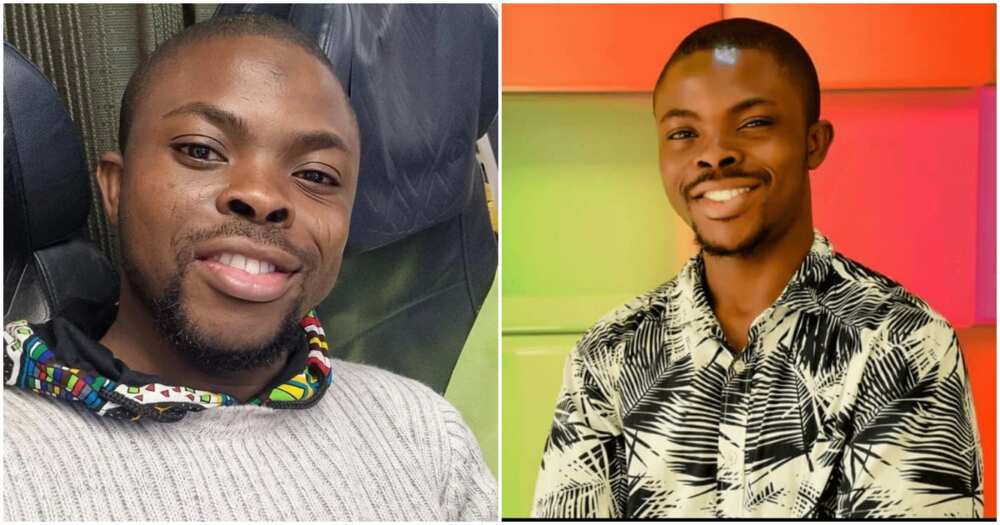 In a fresh interview with media personality Daddy Freeze, Emdee shed more light on his statements during the BBC interview.
The YouTuber who runs a channel that helps students with international studies migration said being real angers people.
PAY ATTENTION: Share your outstanding story with our editors! Please reach us through info@corp.legit.ng!
He added that he sees himself as a global citizen and is not tied to any country.
His words:
"...I consider myself a citizen of the world... I'd be honest with you, I'm not tied to any country. I'd like to consider myself a global citizen.
"...The UK is not heaven, let's be honest. I am here for now, cool, I could decide to live somewhere else tomorrow."
Emdee added that he is realistic in his dealings and meant everything he said in the BBC interview.
"If my memory serves me right, the conversation that led to that snippet (the BBC News interview) was a question of cost of education. No Nigerian needs a £15,000 (N8.5 m) master's degree, let's be honest," he said.
Watch the video below:
Reactions on social media to Emdee Tiamiyu's follow up interview
@mfon_umoh said:
"Best to avoid these kind of people.. Dude has Zero insight and inflated sense of importance..there's usually no point reasoning with them."
@_nessa.xo_ said:
"You don't feel remorse and nobody misunderstood you it is what it is and you meant exactly what you said it's either you wanted to feel like a stand out good person or you were clout chasing and wanted to trend because you have brains to think before you talk."
@adelakuntufayl said:
"There are still millions of Nigerians out here who are not move one inch to leave the country and they still believe they'll make it here! If you are one of them, may God continue to bless your efforts and May your dreams for this blessed nation come through! Very soon you'll see him crying out that his life is at risk and he needs an asylum."
@mz_lummy said:
"Seeing this guy just pis.ses me off,who made you a spokesperson for Nigerians. Just cos 15k pounds is a ridiculous amount for you to pay for education doesn't mean it's so for others !!!Some people genuinely want a master's degree to advance their education,bringing family members could just be a plus."
@smartladies_arena said:
"Nobody in Nigeria need £15,000 masters degree ? You said!!!! Omo oju orolari , even here in Nigeria private university are more expensive, are people still go there. See ehh is people like you that always low this our lovely country. Some of the students in Uk came because of Nigeria universities are always strake."
UK to ban Nigerian students, others from bringing dependents
Meanwhile, Legit.ng previously reported that the UK was set to ban Nigerian students and others from coming over with dependents.
According to the report, the crackdown will see all master's students and many other postgraduates banned from bringing family over.
However, the UK media house reported that the ban would not apply to PhD students, whose courses last between three and five years and are highly skilled.
This follows the reports that net migration into the UK has skyrocketed to 1 million, with Tory MPs asking the Prime Minister, Rishi Sunak, "to get a grip on the rocketing numbers."
Source: Legit.ng