"He Thought She Was Leaving": Little Boy Breaks Down in Tears Over Grandma, Video Stirs Emotions
A touching video of a little toddler crying for his grandmother has stirred emotions on popular app, TikTok
The little child still in diapers was stumping his little feet and banging on the glass door in tears as he yearned for his grandma
The grandmother who was working on her car outside the house immediately left the car to pick up her sweet grandchild
The relationship between grandparents and their grandchildren is so strong and lovely to witness.
Grandparents have a soft spot for their grandkids and often let them get away with some naughty behaviours.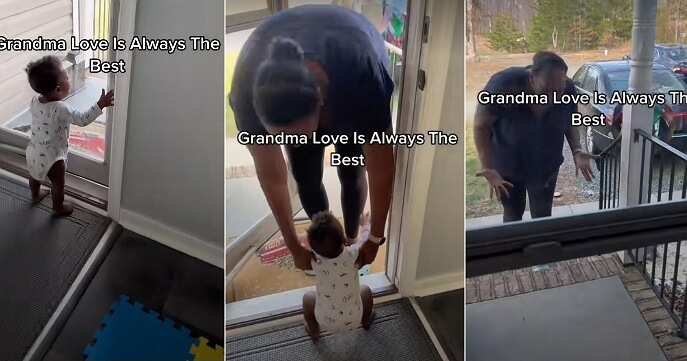 This is usually the reason most children cling to their grannies because they know that they are a perfect safe zone in the family tree.
A mother has shared an adorable video showing off her little son's relationship with his grandmother.
The older woman visited the family and stepped outside to work on her car. However, the toddler saw her leaving and held onto the door in tears.
He wept deeply and this got his grandmother's attention who immediately rushed back to pick up her baby boy.
As soon as she picked him up, he went completely silent.
Social media reactions
@Candygirl78 wrote:
"It's the footwork for me."
@Sierra commented:
"The instant silence when she picks him up this is exactly how my son is with my mom."
@Landon commented:
"I don't blame the child... grandmas always has love and has good snacks."
@Bhakti Misir wrote:
"That baby going to get you in trouble with your mama acting like he's being abused."
@NanaNutzie wrote:
"Yeah she is stomping his little foot on the ground HE IS LIKE' Grandmom better pick me up right now!"
@MY YOUBE CHANNEL exclaimed:
"So beautiful!"
@Gesaremoon commented:
"Oh the baby foot stop."
@trinahall830 wrote:
"That's so sweet!"
@Salvi_glazed7 said:
"Absolutely beautiful baby and grandma Love. I watched three times in a row "made my whole day up. Thank you."
@Idream_inpink_andgreen commented:
"That little foot stomp"
@triciaweigand948 said:
"Nothing like us grandmas. NOTHING!!"
@Barbiee wrote:
"I can just imagine when she do really leave the house."
@Mama Bear said:
"I look forward to that chapter when grandma leaves, whenever it shall come."
@annettejohnson605 said:
"That Michael Jackson stomp is on fire."
@user6639724025251 said:
"Awwwwwww that little leg was going to town hurry grandma."
Watch the video below:
1-year-old girl gossips with grandma
Meanwhile, Legit.ng previously reported that toddlers are just adorable, and a viral video of a little girl having a conversation with her grandmother has verified this fact.
The little girl took the conversation a step further as she made funny facial expressions while 'gossiping' with her grandmother in the African way.
Although the toddler didn't say much and was inaudible, some people claimed she was gossiping about her mother. Her giggles and hand clapping also gave a good, pure and innocent vibe.
Source: Legit.ng