Little Girl Abandons Her Bicycle, Runs to Daddy After Sighting Bee, Video Stirs Hilarious Reactions
A hilarious video shows the moment a little girl abandoned her bicycle while being supervised by her father
In the video, she was riding her bicycle nicely before suddenly jumping off and running towards her dad
The little girl saw bees while riding her bicycle and did not waste time escaping as fast as she could with her legs
A father has shared a funny video of his daughter running energetically to escape from bees.
In the video, she was seen riding her bicycle comfortably when suddenly she dropped the bike and ran towards her father.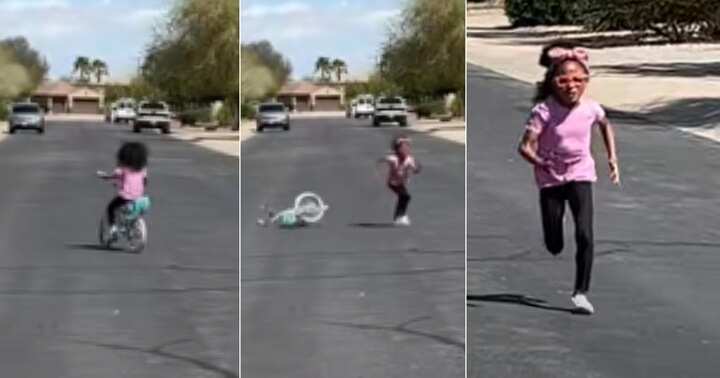 When asked why she ran, she revealed that she saw bees and decided to throw her bicycle away to run with her legs. Her father giggled and asked her why she preferred running with her legs rather than the bike.
The video has attracted many comments from netizens who believe the girl was smart and an excellent track star because of how fast she ran.
Social media reactions
@Le'ShaySlays said:
"She a runner she a track star."
@Happysavage89 added:
"She was trying to run faster than her body allowed."
@Brandel Butler commented:
"The way she got up out of there haha put her in the track team."
@Asiah reacted:
"She's perfect for the track. Look at that formation."
@Emmali Belle added:
"Bees are serious."
@idk replied:
"Bro her form is so good she could be a track runner."
@Kevin Hopkins said:
"She just wanted to show off her track skills lol."
@Angelica reacted:
"She did the right thing. And she got up out of there."
@Bold11 said:
"That young lady is an ATHLETE! Did you see the form?"
@Courtney replied:
"That's40-yardd dash form though!"
@user103947569733 said:
"Does she have any lens in her glasses or is it just the frame."
@Ramaj_king wrote:
"She was so focused on getting out of there."
@FeFe320 added:
"She left a whole bike."
@PaulB commented:
"And not once did she slow and turn! Off like a rocket."
@AriaJada wrote:
"She knew she would run faster than she would, riding the bike."
@Ethan Martin said:
"I'm allergic and terrified of bees. I once tried to run out of my MOVING car when a bee got in.. got trapped by the seatbelt and panicked."
Watch the video below:
Little girl screams after seeing her shadow
Meanwhile, Legit.ng previously reported that a little girl has caused a frenzy online over her reaction to seeing her own shadow. The little girl was walking on the road when she suddenly saw her shadow and immediately got traumatized.
The short clip showed the girl breaking down in tears and rolling on the floor as the shadow moved along with her. Mixed reactions have trailed the video as some people found it hilarious while others condemned the person behind the camera.
Source: Legit.ng