Nigerian Mum Sets Trap for Son's Fiancée, Cancels Their Wedding as the Lady Denies Lover in Prank Video
A Nigerian lady has been dragged online after calling off her wedding with her fiancée who claimed to have lost his job
The lady had no idea that it was a prank orchestrated by the young man, his mother and a friend
When she discovered it was all a prank, she regretted her actions and apologised in tears, all to no avail
The TikTok app has been flooded with videos of people trying to test the loyalty of their partners in different ways.
The aftermath of these pranks were different as some ladies passed the test while others failed woefully.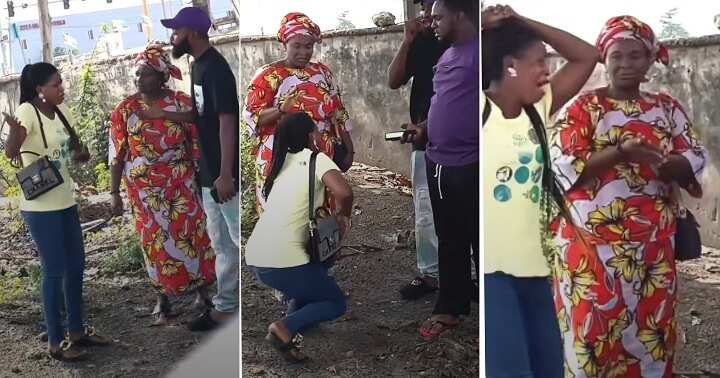 In a trending video, a Nigerian man decided to prank his fiancée after getting queries from his mother, who maintained that she wasn't suitable for marriage.
Alongside his mother and a friend, the young man called the attention of his fiancée, claiming to have lost his job just a few months before their wedding.
To start the prank, he called the young woman and asked her to meet him at a particular location.
When she arrived, he informed her that his job was terminated and he had lost access to all his funds.
The lady did not take the news well, as she ranted that she could not get married without money. She began by stating the fact that her friend's wedding was a very expensive one.
The lady also mentioned that her skin was too soft and clear to undergo any suffering with him. She refused to continue the wedding.
While they were still discussing, the third party and his cameraman came out from hiding and told the woman it was just a prank.
Immediately, she panicked and begged her fiancé and his mother to forgive her. Sadly, her pleas fell on deaf ears.
Social media reactions
@mysarahrajab said:
"Am happy for Olive He will get a good gal."
@dino eva commented:
"Make ur friends maintain ur skin for u."
@st_keisha XX wrote:
"After you will ask God why you're not married yet."
@KAIVic commented:
"And were is the skin."
@Kelvin Ricch wrote:
"Omo I come to realize that love is there but it's just because of the money no girl really love you without money."
@Augustina Yohanna wrote:
"Camera man ejor no vex zoom d skin biko."
@gennybunn22 said:
"Which skin dey fresh?"
@Kellio commented:
"Omo God please send me a wife."
@Violet Gowon wrote:
"You dey play prank few weeks to your wedding... dey play."
@user4453937419227 said:
"Pls give lenzi the cap to match is cloth."
@solomonwilliams710 said:
"Nice prank. Most Nigerian girls will fail this."
@user1605976992332 said:
"The fresh skin is it for me."
@Socute Taofeek said:
"She doesn't deserve the guy at all for his mother to come with him."
@rukkyrose commented:
"Friends don destroy ya life."
@Ayamwaog Iddrisu said:
"She is thinking about what her friends will say."
@godfrey0000 wrote:
"I love seeing mama smiling."
@ChiefMba commented:
"Like this am just scared, is there true love at all?"
Watch the video below:
Man cancels wedding after catching fiancee in hotel
Meanwhile, Legit.ng previously reported that a video posted on TikTok captured the dramatic moment a Nigerian man tested his fiancee and discovered she was a runs girl. The man made a plan with a TikToker (@soniaolauzoma) who pretended to be an escort and offered the fiancée a job to sleep with another man for money.
On the day of the hotel appointment, the man was waiting for her in the room, posing as the person who needed her service. The husband-to-be was disappointed that the lady was into such a job. He said their traditional marriage was already billed for April.
When the lady arrived and finally saw that she had been set up and her secret was out, she went down on her knees crying profusely.
Source: Legit.ng