"She's So Pretty": Little Girl Jumps for Joy as Teacher Calls Out Test Result, Video Trends
A trending video of a beautiful little schoolgirl rejoicing in class over her win has gone viral on the TikTok app
The girl was standing nervously in class after a written test while their teacher was assessing them
During the correction time, she found out that she got all the answers correctly, and she jumped for joy
It's always a remarkable moment for school children when they discover they passed their assessments.
In a viral clip, some school pupils had just finished a test, and they waited nervously for the teacher to make corrections and announce their results.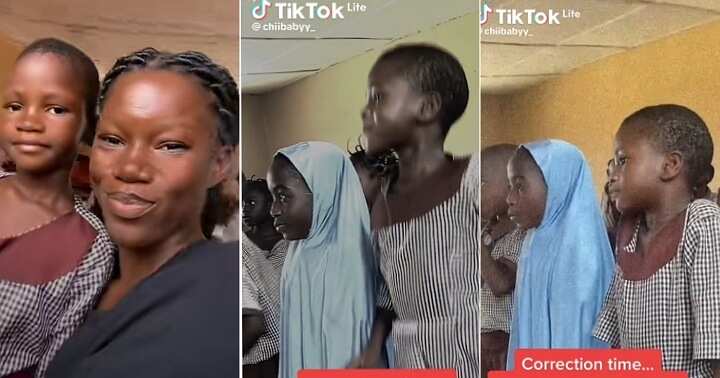 The teacher wrote the answers on the board so everyone could see whether they were right or wrong.
The pupils stood up and looked intently at the blackboard, as some seemed very nervous.
As soon as the teacher was done, one pupil discovered that she got all the answers correctly, and her face lit up.
She couldn't help but jump from her desk into the air with a big smile. Her happiness could be seen on her entire expression.
Other pupils wore similar smiles and expressions, indicating that they had good results too.
Social media reactions
@sabzzy commented:
"Those days, I always jump up during correction whether am right or wrong, I no fit carry last."
@Zehio1808 commented:
"Na me she resemble I too sabi book no be small."
@Motolani Nancy said:
Our Semilore! I've been following you for a while now. I must commend your efforts Ruby, you are really a lady with a good heart."
@shishi commented:
"The girl behind gat a good smile. Weldone to the little girl."
@BushMirembe said:
"I LOVE HER HAPPINESS NOW DAYS!"
@Matilda506 wrote:
"Wow I can feel her joy."
@millicentedeh said:
"I just followed u cus of her, nice job."
@Maabena commented:
"I just followed you dear, so heart melting."
@user7202143020765 said:
"Awwwwn."
@user3015451470611 said:
"God bless you,I love her energy now."
@hildah commented:
"I love this gal she gana become a successful woman a swear."
@sey love said:
"This girl is a happy soul."
@ItsAvians wrote:
"Ur apsolutely the best teacher in the world."
@moon_selene wrote:
"What a moment."
@nhyirabajosephine62 commented:
"The feeling is so strong."
@Obaapa commented:
"Aww sis May GOD bless you u really understand this profession."
@Eyrham commented:
"Awwn."
@mhiz zeezarh said:
"The joy na different one."
@dolaniracheal said:
"Wow i love her smile."
@Richy's comedy said:
"Loloz imagine if the teacher mistakenly marks her bad or down."
Watch the video below:
Little girl reveals who has been disturbing her in class
Meanwhile, Legit.ng previously reported that a young man (@kyk2224) made a video of the conversation he had with his little sister.
Without knowing he was filming her, the kid politely asked the brother for the opportunity to make a TikTok video with his phone. The brother wondered why she was in his room at night and had not gone to bed.
He told her he was busy chatting on his phone. Seconds into the clip, he asked the girl who was disturbing her phone in the morning with calls. She told him it was a boy she gave her number. The kid funnily said that she gave out her contact because she pitied the boy. Her brother was stunned.
Source: Legit.ng