"Can She Be Normal Again?" Video Shocks Many as Lady Displays her 'Before and After' Pregnancy Looks
An interesting video of a Nigerian lady showing off her pregnancy transformation has gone viral on TikTok
The young lady shared her looks before she got pregnant, hoping pregnancy would enhance her beauty
However, she received the shock of her life when her pregnancy altered her appearance in many unexpected ways
Pregnancy is always a turning point for every woman. It comes with physical, emotional, and psychological stress and alterations.
For some women, pregnancy's toll is minimal and hardly noticeable. For others, even from the first trimester, their bodies already show signs of a new being growing within them.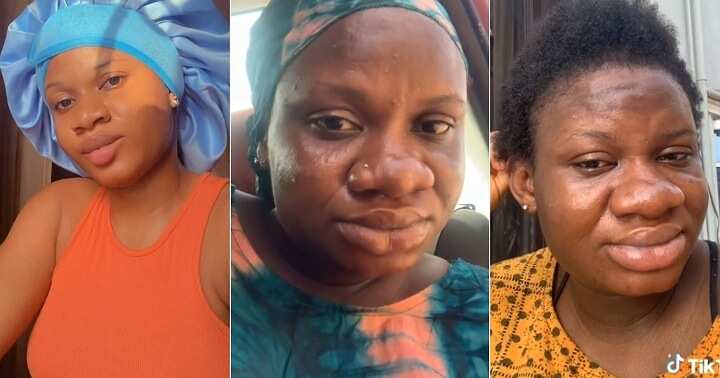 A Nigerian lady decided to give us highlights of her entire journey to motherhood.
She started by introducing us to herself before she got pregnant. She was hoping that pregnancy would cause her to glow and be radiant.
Her throwback pictures and videos revealed a light-skinned woman with an even nose and a round face.
The young woman, however, got more than what she bargained for as pregnancy changed her body in more unpredicted ways than one.
Her nose got bigger, and her lips, especially the lower lip, doubled in size. Her face also got bigger and rounder. Unexpectedly, her skin became darker. She was almost unrecognisable.
Some netizens found it hard to believe it was the same person at the beginning of the video that was the same at the end.
Social media reactions
@itstiyunnaj wrote:
"Girl this can't be the same person."
@naturallynerdlike wrote:
"THE BEST BIRTH CONTROL COMMERCIAL! Siiiiiiiiiiis! Idk what to even say lol."
@kanitria comment:
"That's two different people."
@phatgoochierairai said:
"Jesus Christ of Nazareth!!!"
@nataliee913 commented:
"The real question is... DOES IT GO BACK TO NORMAL?!"
@curvyshaz commented:
Why is it ALWAYSSS. the nose?! I never understand."
@stuckup.yaa wrote:
"Does it go back to normal after the baby?"
@beesolar_of_tiktok commented:
"I didn't expect this."
@bihbrenda828 wrote:
"Ur breathing oxygen for 5000 pipo may God bless all mothers."
@flowerlym commented:
"Get the girl with the list."
@broownshaawty wrote:
"No way."
@cherry4485 commented:
"I shouted Jesus my papa come dey ask me wetin happen."
@agray60 commented:
"I'm so glad I'm on my period right now."
@amanisamazondiscountcode commented:
"I wanted to say something nice."
@mamashae_ wrote:
"Do you at least go back to normal when it's all over?"
@realsavageoflaylay1 commented:
"Somebody should imagine how I shouted ahnahn."
@nana___yhao wrote:
"Dem for take ur nose teach respiration for school."
Watch the video below:
Pregnant woman with big baby bump flaunts transformation
Similarly, Legit.ng previously reported that some Nigerian women have been recounting their diverse experiences during pregnancy. While some disclosed that their skin colour changed, others said their teeth fell out, and their legs got swollen.
A Nigerian lady, Debby Phillips, has joined the host of others in recounting their pregnancy experience. In her case, her nose got visibly bigger, and her skin colour got darker.
A video on TikTok showed how she went from a fair, slim lady with a sizeable nose to a darker skin tone with a more prominent nose and swollen face.
Before pregnancy, all her pictures were bright, shiny and sun-kissed. The 'during pregnancy' pictures revealed a darker atmosphere with a chubby body. One of the reels in the video showed her dancing with her big tummy. Another showed how her face was rough and swollen, and her already big nose was now bigger.
Source: Legit.ng