"From Accountant to Fish Farmer": Pretty Nigerian Graduate Shares Her Experience
A hardworking graduate, Osinakachi Donatus, who sells catfish, has in an interview with Legit.ng's Shalom Ankrah disclosed how she started the business.
Osinakachi graduated from institute of management and technology (IMT) years ago with a degree in accounting.
Osinakachi said she delved into fish farming after she graduated from IMT, but was unable to get a well-paying job for years.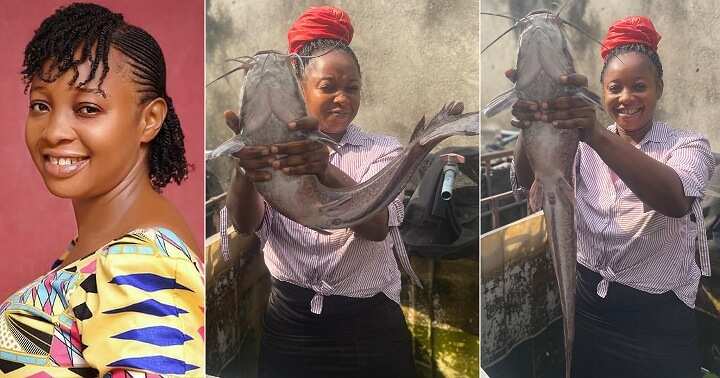 My journey with fish farming
Osinakachi said she graduated from IMT in 2012 and registered for her National Youth Service Corps (NYSC) the same year.
However, after serving in Calabar, she applied for several accounting jobs but was unable to secure any.
She said:
"My name is Osinakachi Donatus. I'm a graduate of Institute of management and technology, IMT Enugu. I am a fish farmer.
"I graduated in 2012 and served that same year in Calabar. Since then, I have been submitting to various companies and banks, to no avail. Some called for interviews while some failed. Others gave fake promises.
"After much waiting, I decided to go into teaching. From there I raised some money to set up ponds in my father's compound. I also took a loan to assist my business.
Why I chose fish farming
Osinakachi recounted how she learnt about fish farming through her brother who told her about it.
She decided to dump teaching to start farming since teaching wasn't so lucrative for her.
"I came to know fish farming through my younger brother who told me about it. He said instead of teaching, although it is a noble job, I should go into fish farming.
"I disagreed initially because I thought there was a very high rate of death of fishes in the business. He still encouraged me to give it a trial which I yielded. Now I can proudly say I am a full blown fish farmer", she said.
My experience so far
Speaking on her experience, Osinakachi said she had the mortality rate of her fishes was a bit high when she started.
However, with time, she has been able to work on this and reduce the mortality rate of the fishes.
In her words:
"The business has been up and going and God has seen me through. The business has been going so well. I've learnt about the business and how to reduce the rate of mortality.
"I know more about the growth of the fish and how to aid it. I have also been managing fish ponds for new farmers."
Is fish farming lucrative?
Osinakachi maintained that the business is lucrative for her and she doesn't regret leaving teaching to become a farmer.
"Yes it is. In fact I will advise the young ones to look into it. Not only fish, there are some other farming jobs youths can also go into. Like snail, pig farming, e.t.c.
"At the time I started, I had just 1000 fishes, but now I have been training over 5,000 fishes."
My challenges as a fish farmer
Speaking on the challenges she's facing, Osinakachi said:
"My major challenge is finance because I want to go into large scale farming. I also want to expand my business to poultry. I need more money to achieve this.
"Also, I need more space to train more fishes. I'm using a small portion of land for my ponds and I need more space to buy and train more fishes."
What I will do if I get an accounting job now
"I won't leave fish farming if I get an accounting job now. Fish farming is lucrative. I just need to expand and make the most out of it.
"Through this, I can also help the unemployed and even help them in the business. Currently, I have trained over four people in the business and also helped them to say up their ponds.
Nigerian graduate begins frying akara
Meanwhile, Legit.ng previously reported that a Nigerian graduate, Justice Emmanuel Onehi, went into akara (beans cake) business after he could not get a job with his certificate.
In an interview with BBC News Pidgin, the man said that being the firstborn of seven children, he knew he had to make ends meet the hard way to look after his siblings. He revealed that he could never be discouraged from what he is doing, saying that he learned how to cook at home.
The akara seller said he realised that the business is what puts food on his family's table. With a voice laced with strong determination, the man said that he one day hopes to stop using firewood and switch to gas as soon as he gets funds.
Source: Legit.ng