"I'm Rich Beyond My Wildest Dreams": Lucky Man Finds Shocking Precious Gems Inside Rock in Viral Video
A man has gone viral owing to the expensive item he found inside a rock he had acquired at over N36 million
The narrator of the clip said that people in his village gathered around as he broke the rock, hoping he would cry
As he shattered the rock with the help of some persons, he discovered rare purple jade gems inside
A man's fortune is about to skyrocket after what he found inside a big rock.
In a TikTok video, the man reportedly bought the rock at $80,000 (over N36 million) and was surrounded by people in his locality as he tried to break it open.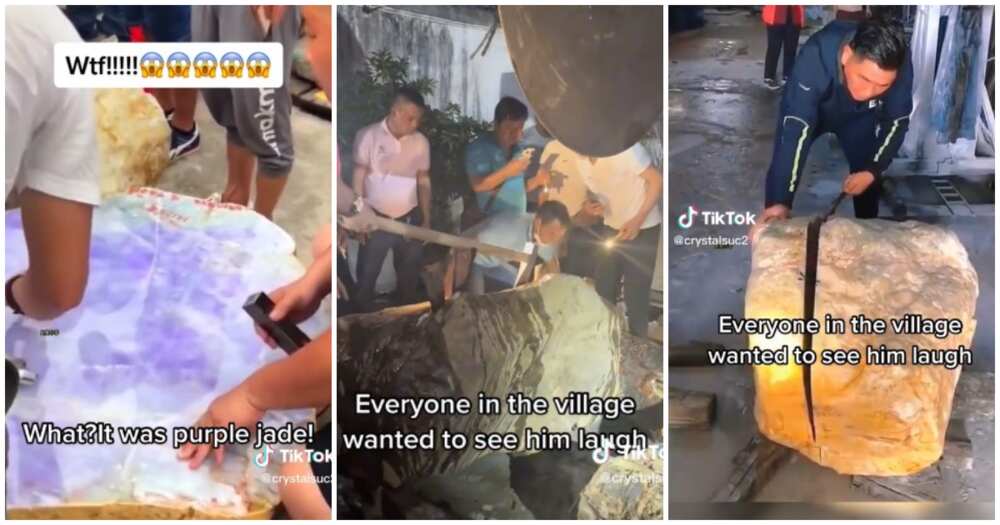 According to the narrator of the clip, people expected the man to cry or laugh, but what he found shocked everyone.
Inside the rock was a large number of purple jade gems which are not only rare but expensive. While there are white, black and red gems, purple jade is the second most expensive, according to Vipartfair.
Netizens who watched the video wondered how the man figured out that such a thing would be inside the rock.
Watch the video below:
Social media reactions
Francis Neenee said:
"It's more expensive than green jade very rare properly worth twenty million it's scared amen."
hazelhowden21 said:
"I'm rich beyond my wildest dreams."
Alfi3m88 said:
"Bro went from loosing 80k to gaining about 80M lol."
Daddy moe said:
"M assuming only average price min 20$ to 100$ max per gram let's say 50KG that's an easy 1 million dollars."
Bisharah said:
"Purple jade is one of the most precious and expensive gems you can find! (I have no idea what I'm taking about)."
Ingeniero de poemas said:
"Clear example of how knowledge is very useful IF you know how to use it (He must be a geologist)."
Sea said:
"What! Took me forever not notice! How possible?"
Coffin maker becomes a millionaire after selling space rock
Meanwhile, Legit.ng previously reported that a young coffin maker had become a millionaire after selling a space rock that fell inside his house.
The man identified as Josua Hutagalung from Indonesia sold the football-sized meteorite to a specialist collector for an outrageous £1.4million (N766 million).
The incident which took place in the year 2020 happened on a fateful day Josua was at home. When the thunderous sound rent the area because of the fall, Josua wondered what it could be as it was a sunny day.
He went to the place where it fell and found the rock weighing 2.2kg in his house. It is calculated that the whopping sum he sold the rock is the sum of his entire salary for 30 years.
Source: Legit.ng