"You've Been Sleeping With My Dad": Angry Lady Confronts Side Chic at Work With Evidence, Creates Scene
A video which surfaced on TikTok shows the moment a lady confronted her father's side chick at her workplace
According to the heartbroken girl, the side chick had been a friend to her parents for more than 20 years
While raging at the lady's workplace, she warned her to stay away from her dad but the side chick called the police
PAY ATTENTION: Сheck out news that is picked exactly for YOU ➡️ click on "Recommended for you" and enjoy!
A lady has shared a video on TikTok after confronting her dad's side chick at her workplace to warn her.
In a viral video, she tackled the woman and warned her sternly to stay away from her father.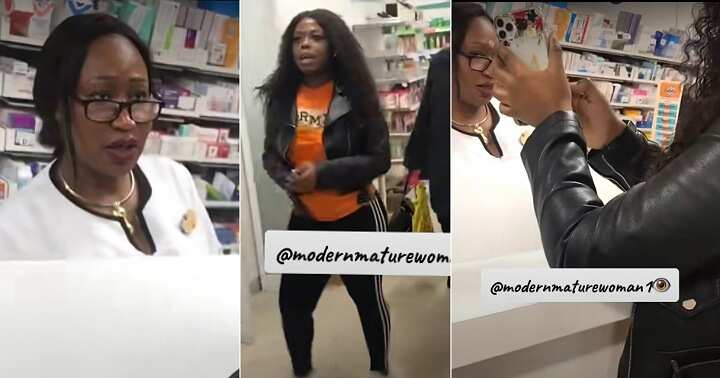 According to the girl, the woman has known her parents for over 20 years and her mother respects the woman so much that she calls her "aunty".
The girl was so pissed and asked if she thought her dad would choose her over her mother.
While raging at the mall, she also asked her if that's how she sleeps with other people's husbands.
She screamed in the video:
"Have you been sleeping with my dad? Do you have sxx with my dad? Are you sure? Don't lie to me cus why do I find this in his back? This is your address right?? Is this not your house?
"So you've been sleeping with other people's men. And my mom fukin respects you, she calls you aunty. You can call the fukin police, I'm not scared of no police, I'm not here to attack you, I'm here to talk sense into you. I'm warning you now to stay away from my dad.
"You think my dad will ever pick someone like you over my mom, over a skunk like you that can't even close her fukin legs. You've known my dad for 20+ years. You know you can hear me, don't walk away."
The side chick tried to deny the accusation but the lady provided evidence on her phone to shut her up.
After all efforts to calm the lady proved futile, the side chick called the police and informed them that the young girl was harassing her.
The police came and the girl explained that she just wanted to "talk sense into her head" and warn her to stay away from her dad.
The video has elicited so many mixed reactions from netizens, some supporting the girl's actions while others were against it.
Social media reactions
@Sourapple said:
"She's sticking up for her mom, I love that."
@tessaleanne wrote:
"At first I was like, no - go after your dad, but she's a family friend of over 20yrs. Yes - confront her."
@sandrapaltoo281 commented:
"Sweetheart don't blame the woman any blaming blame your father he has no respect for your mom."
@EYEZ reacted:
"She know that man had a family regardless of what he told her and she know this was coming. This is a lesson for everyone."
@Tiffane added:
"I love the fact she is sticking up for her mom but her dad is for the streets. she knows who her father is, So does mom!"
@Chanel said:
"I don't blame sis. Especially when that's suppose to be family that is trifling."
@VaVa said:
"I'm sorry this but this is me!! Don't even play with my mom!! She did what needed to be done!"
@Louise Foley353 added:
"Well done for protecting your mom, lots of love for you."
@NeverGrowingOld replied:
"If I had a daughter I'd want one just like this please."
@L Jackie Morone reacted:
"She's really hurting. Poor thing. Hope she called out her das also."
@Laina lain commented:
"Instead of calling the morale police on herself.. she call the police on the daughter that's been traumatized."
@cindywatson921 wrote:
"Well done girl tell her she has no shame about what she has done."
@God is in control added:
"I wish there was more daughters like this that refuse a breakdown of their family home and see their mothers broken."
@Michelle_fino said:
"Fair play to girl behind and respect you so much."
Watch the video below:
Wife bumps into husband and side chick at eatery
Meanwhile, Legit.ng previously reported that a Nigerian woman was so heartbroken after catching her husband and his side chick at an eatery. It was gathered that the married woman immediately created a scene when she saw her husband with another lady at Kilimanjaro in Port Harcourt, Rivers state.
In the video, the wife who wore a tightly fitted dress yelled at the top of her voice as she slammed her husband with strong words. Reacting to the outburst, her husband tried to calm her down and told her to join him back home so they don't cause a scene.
A security guard also stepped in but all efforts to calm her down proved futile, as the married woman already had it to her neck.
Source: Legit.ng