"She's So Adorable": Little Girl sits on Floor in Frustration after Dad Gave Her a Chore to do, Video Trends
After her father told her to clean up, a little girl did something that shocked many people on social media
The kid sat on the floor dejectedly with her head bowed and did not follow through with his directive
When he approached her to know why she reacted that way, the kid said that she needed time to herself
A little girl remarkably expressed herself like a grown up after her father told her to clean up.
In a touching TikTok video shared by her dad, the man saw his kid seated on the floor and approached her.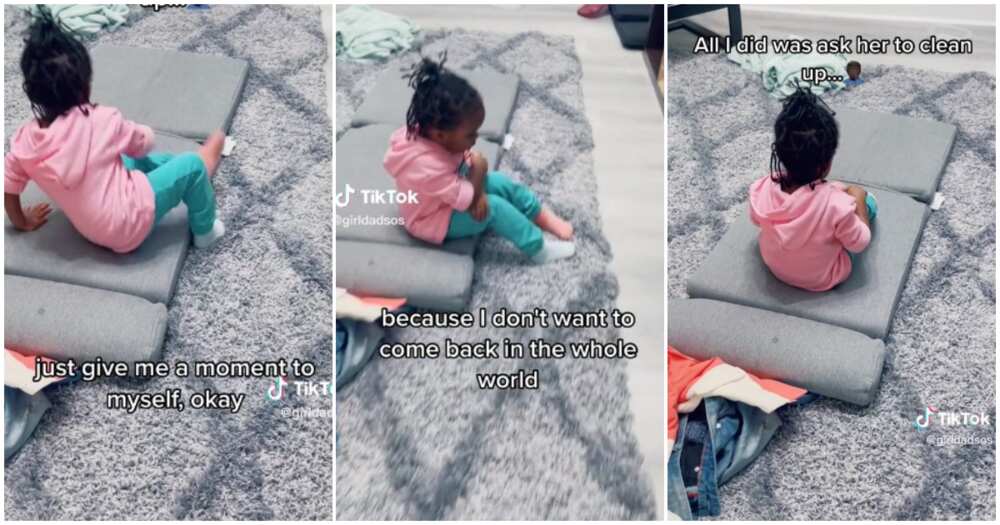 In the clip, he explained that all he did was ask her to clean up.
Looking troubled, the kid bowed her head and could be heard saying that she doesn't want to return to this world.
"Because I don't want to come back in the world," she said.
When her father calmly asked her why she sounded that way, she replied that it is because she is frustrated.
"Because I am so frustrated."
She then appealed to her dad to give her a moment to herself.
Watch the video below:
Social media reactions
Fayre said:
"I totally understand… I get the same way. Overwhelmed by my "todo lists" for my day sometimes."
Spady_Luxe_Escape said:
"She is so adorable!!!! And boy can she communicate her feeling better than most!"
Adults Only said:
"Oh, you got the new an exclusive model, she said, and I quote give me a moment to myself."
@LadySo said:
"Omg I love this. Boundaries are v. important no matter the age. Great job lil one & Papa Bear. Such a refreshing TT to Grace my fyp."
VeroniQue said:
"OMG, she's able to communicate at any early age!!! Already solving problems within! Hugs & Sugars."
Kisha said:
"Aww she needed a moment, I love that she can express that !!"
Fearless girl tells her mum to do chores
Meanwhile, Legit.ng previously reported that a kid had told her mum to do chores.
The girl expressed her dissatisfaction over the house chores her mother left for her. She asked why her mother does nothing in the chores and leaves everything for her.
She said she lays bed, cleans and arranges the house and told her mother to learn how to do these chores.
The girl told her mum to give birth to another child, adding that she would stop doing house chores in the house.
Source: Legit.ng