Nigerian Man 'Kicked out' of School after 5 Years, Starts Again & Bags First-Class, Many Awards in Cute Photos
A Nigerian man, Timilehin P. Abayomi, who was 'kicked out' of the university after studying for 5 years has been celebrated on social media for his academic feat
Timilehin wept and attempted suicide after his poor outing at OAU that resulted in his studentship being withdrawn but he picked himself up
He later applied for admission into the Federal University of Technology, Akure where he finished in the top 5% of the university's graduating set with his first-class
Against all odds and failures of the past, a Nigerian man has shown determination to finally become a university graduate.
Timilehin P. Abayomi said that his studentship was withdrawn after 5 years at Obafemi Awolowo University, Ile-Ife.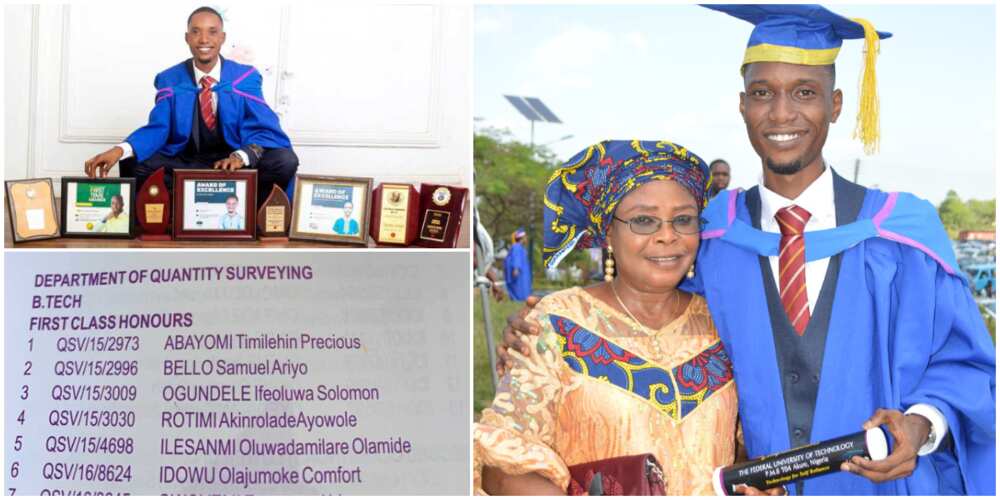 In a celebratory LinkedIn post, Timilehin while keeping mum on the reason for the studentship withdrawal said the news reduced him and his mother to uncontrollable tears.
He almost gave up
Feeling the pains of wasted years in school, the man said he had attempted suicide and was also exiled from home.
But rising from his academic misfortune, Timilehin stated that he decided to return to the university in 2015 and this time, he chose the Federal University of Technology, Akure.
Sharing photos from his graduation ceremony, Timilehin announced he graduated with a first-class in his course of study clearing numerous honours while on campus.
He described his story as that of a failure who never gave up.
In the quantity surveyor graduate's words:
"I owe this eventual success to God, who gave me a second chance; to my dear Mother, who never gave up; family, who believed in me again; and friends, who were always there. My deepest appreciation to three of my friends who encouraged and supported me through this phase - Adesida Thompson, Anjolaolorun Alabi, ACIM & Opeyemi Fawole.
"This story is that of a failure who never gave up; a story of strength and courage. If you come across this, pray that God grants me speed for the years I have lost."
Social media reacts
Ademiku Adeleye said:
"I always knew there was something spectacular about you and I am sure there is still more. I have that feeling always when I'm with you.
"Knowing you in person is an addition to me. Your story has inspired me as well as many.
"God bless you more Hon. Timbus. Much love!"
Adeola Alle wrote:
"Inspiring Timi! Since the first time we met, I knew you had it in you. Never knew you even had a greater motivation to excel.
"I am proud of what you have achieved, and what you are about to achieve man!
"Congratulations!"
Olufemi Ogunlade
"Congratulations once again brother & colleague Timilehin P. Abayomi . Meeting you on your first day back on the job, I simply thought of you as a well rounded intellectual individual with a generous view of life and a clear sense of direction. Moreso knowing you were about graduating with a first class from my alma matter was simply a testament to that fact..."
Opeyemi Akinniyi opined:
"This is the story: dynamic students are rare. Congrats, Timilehin P. Abayomi. You are among the very few graduands that conquered every activity in FUTA. We are proud of you champ"
Man who had F9 parallel in NECO bags first-class in style
Meanwhile, Legit.ng previously reported that a young Nigerian man who had F9 parallel in his NECO had graduated from university with a first-class.
Sharing a copy of the F9 parallel result, the graduate added that he was able to clear his WAEC papers after 3 sittings. The young man said he proceeded to Polytechnic of Ibadan to further his studies.
At Ibadan Polytechnic, Mayowa performed well, finishing with a distinction and decided to cross over to the University of Ibadan (UI). As if suffering post-failure effects, Mayowa said he was reluctant to register for UI's POST-UTME as he feared not scaling it.
Source: Legit.ng