Iluromi Emmanuel: FG Rewards Teacher Who Invented Technology To track Fuel Usage in Vehicles
Iluromi Emmanuel, a teacher at the Federal Science College, Orozo, Abuja, has developed a technology to track fuel usage in vehicles
To appreciate Emmanuel, thefederal government through the civil service of the federation, has rewarded him with N3 million
On his part, Senator Ibrahim Shekarau who attended the event encouraged other government agencies to key into rewarding outstanding staff
Abuja - The federal government has rewarded Iluromi Emmanuel, a teacher at the Federal Science College, Orozo, Abuja, with N3 million for developing a technology to track fuel usage in vehicles, to win the 2022 Innovation Challenge.
During the award ceremony for the 2022 Innovation Challenge, in Abuja on Thursday, March 23, the head of the civil service of the federation, Dr. Folashade Yemi-Es, confirmed that the winner of the challenge got N3m, the first runner-up got N1.75m, while the second runner-up took home N1m respectively, Vanguard reports.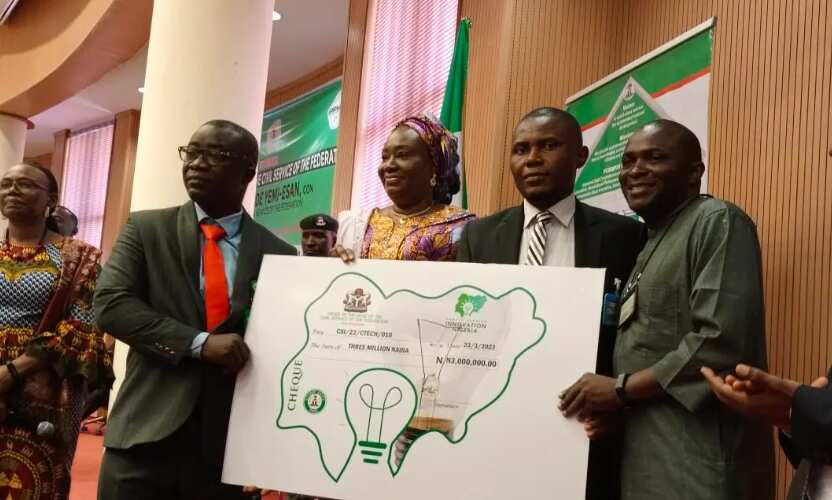 Consequently, Yemi-Esan urged other civil servants to seize the opportunity to be creative as they prepare for the next edition.
On his part, Emmanuel explained that his technology is capable of measuring fuel level during driving, and process the result via SMS.
He said:
"If for any reason you have to send your driver to buy fuel, just ping the app before he leaves, and then ping it when he returns, you will be able to monitor his fuel usage."
In his speech, Senator Ibrahim Shekarau who attended the event encouraged other government agencies to key into rewarding outstanding staff, stating that it will spur them to perform better.
Innovators Across Nigeria set to Win Huge Amount of Dollars as Top FG Agency Launches New Initiative
The Nigerian Sovereign Investment Authority is set to launch the portal for the innovation of the maiden edition of the NSIA innovation prize.
A statement from the NSIA seen by Legit.ng said that a total of $255,000 will be awarded as a combination of cash and equity investment in the underlying businesses of the winners - including innovators, technopreneurs, and startups.
The NSIA noting that the innovation prize programme is structured as a business enhancement initiative to support early-stage, scalable solutions through education, mentorship, and financing said the application for innovative business owners will open in March 2023.
Source: Legit.ng