Nnamdi Kanu's Brother Loses Big as UK Court Makes Fresh Ruling
Kingsley Kanu, a brother to Nnamdi Kanu, the leader of the Indigenous People of Biafra has lost a legal battle against the government of the United Kingdom
The court in London dismissed the case by Kingsley against Britain's Foreign Office for refusing to recognise the IPOB leader as a victim of an extraordinary rendition from Kenya to Nigeria
Kingsley said he believes a positive decision by the court on his brother's behalf will help provide steps that could assist Kanu
A court case filed against the British government in London court has been lost by Kingsley Kanu, a brother to the leader of the Indigenous People of Biafra (IPOB), Nnamdi Kanu.
Reuters reports that Kanu's brother lost a case for judicial review against Britain's Foreign Office over its alleged rejection to recognise that the IPOB leader who holds a British passport was the victim of an extraordinary rendition from Kenya to Nigeria in June 2021.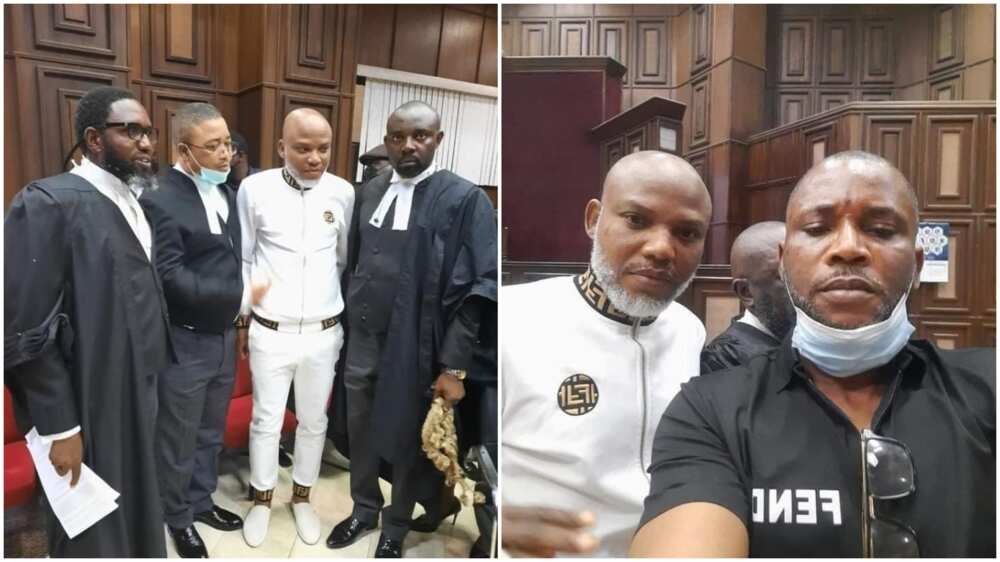 Counsels to Kingsley had in their argument urged the British Foreign Office to reach a conclusion on whether his brother was a victim of rendition by the Nigerian government.
In his suit, Kingsley said he believes a positive decision by the court on his brother's behalf will help provide steps that could assist the IPOB leader in his trial for terrorism and a treasonable felony in Nigeria.
However, delivering his judgement, Jonathan Swift dismissed the case by Kingsley against Britain's Foreign Office.
Swift in a written ruling described the decision of the office not to take a stance on Kanu's view whether privately or publicly as a matter for the government.
In addition, the judge noted that the British government's approach will now be informed by a ruling given by Nigeria's Court of Appeal on October 13, which declared that Kanu had been unlawfully abducted and rendered to Nigeria.
The Court of Appeal in Nigeria had earlier also dropped seven terrorism charges against Kanu, who remains in detention pending an appeal against that decision by the Nigerian government.
Nnamdi Kanu: Soludo books appointment with Buhari, details emerge
Governor Chukwuma Soludo is seeking an audience with President Muhammadu Buhari to discuss Nnamdi Kanu's release.
The governor said he had booked an appointment with the president as the IPOB leader's release is crucial to maintaining peace in the Southeast.
According to Soludo, he is ready to stand as surety for Nnamdi Kanu should the Federal Government unconditionally release the IPOB leader.
Nnamdi Kanu: Appeal Court takes strong decision against FG's moves
Legit.ng earlier reported that the Federal Government had earlier made moves to adjourn the stay of execution of a judgement of the Appeal Court in favour of Nnamdi Kanu, the IPOB leader.
The move by the Nigerian government was made public at the court on Monday, October 24, during a sitting at the Appeal Court.
In its ruling, the court gave the FG till 12 pm the same day to move its application for the stay of execution of the judgment.
Source: Legit.ng