Speaker Gbajabiamila Eulogises Outgoing UK High Commissioner Catriona Laing
The United Kingdom High Commissioner to Nigeria, Catriona Laing, has begun to say her goodbyes to the country
Laing, whose tenure will come to a close in a matter of days, will be replaced by Richard Hugh Montgomery
Nigeria's Speaker of the House of Reps, Femi Gbajabiamila, praised the UK high commissioner for representing her nation excellently
The Speaker of the House of Representatives, Femi Gbajabiamila, has praised the successful stint of Catriona Laing as the United Kingdom High Commissioner to Nigeria.
Gbajabiamila, who met the outgoing diplomat on Tuesday, March 14, at the national assembly, said he enjoyed working with her, and she was very supportive, especially in the passage of some critical bills at the green chamber.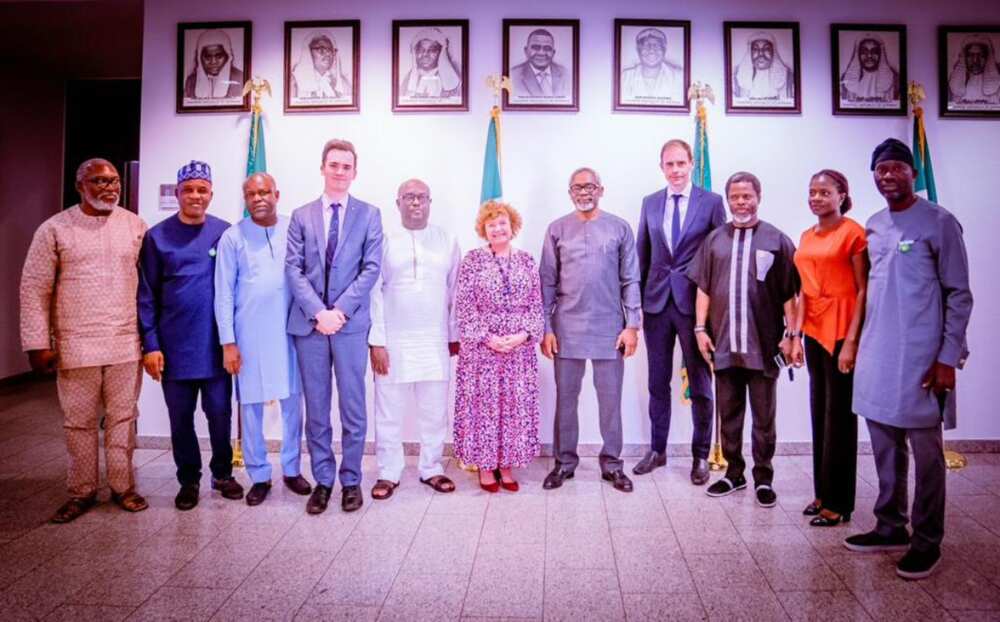 As reported by TheCable, Gbajabiamila said:
"I have enjoyed a great working relationship with you, you and over time had robust engagements and interactions both formal and informal. You've been very supportive. It's been a very enriching time for me.
"Your passion is so evident in many of our discussions, and my hope and my prayer are that whoever succeeds you will carry on in that same trajectory in building and fostering an even more sustainable relationship between our two countries. I really do thank you very much."
While delivering his speech, the honourable speaker expressed how Laing's exit would be missed by parliament and the nation.
He said:
"We will miss you. Nigeria will miss you. The parliament will miss you and your various engagements. I thank you once again very profusely for the interest that you have shown in the work we do here in Parliament."
Meanwhile, the outgoing UK high commissioner also expressed her gratitude, noting that she has enjoyed a good working relationship with the parliament and that her experience has further been sharpened by her time in Nigeria.
She said:
"So, I've had some highs, many highs, a few lows, but overall, it's been an absolutely wonderful experience. And it's a very strong foundation and it's been really a good working relationship with Mr Sspeaker and his team."
Despite Controversies, British High Commissioner Urges Nigerians to Be Proud of 2023 Presidential Election
Meanwhile, Nigerians have been urged to be proud of the Saturday, February 25, presidential and National Assembly elections.
The call was made to Nigerians across the world by British High Commissioner Catriona Laing.
According to the High Commissioner, Nigeria's politics is quite fascinating, and there is evidence that the nation's democracy has evolved.
UK Envoy States Reasons Nigerians Are Trooping to the Country
In another development, the United Kingdom envoy to Nigeria has listed reasons Nigerians prefer to go to the country.
Catriona Laing said many Nigerians in the UK are studying in the medical field.
She identified the English Language, education and other factors as reasons Nigerian flocking to the UK.
Source: Legit.ng