Naira Redesign Policy: How Buhari's Chief Economic Adviser Disagrees with Emefiele, El-Rufai Speaks
Governor Nasir El-Rufai of Kaduna state has tackled the CBN governor, Godwin Emefiele, over the Naira redesign policy
In a statewide address, the Kaduna governor said the architects of the policy intentionally designed it to fail
According to El-Rufai, President Buhari's chief economic adviser, Dr Doyin Salami, disagreed with the CBN on the amount of cash needed for an economy to function well
Kaduna - The governor of Kaduna state, Nasir El-Rufai, has claimed that the Central Bank of Nigeria (CBN) designed the naira redesign policy to fail.
The governor made the allegation in a statewide broadcast in Kaduna on Thursday night, February 16.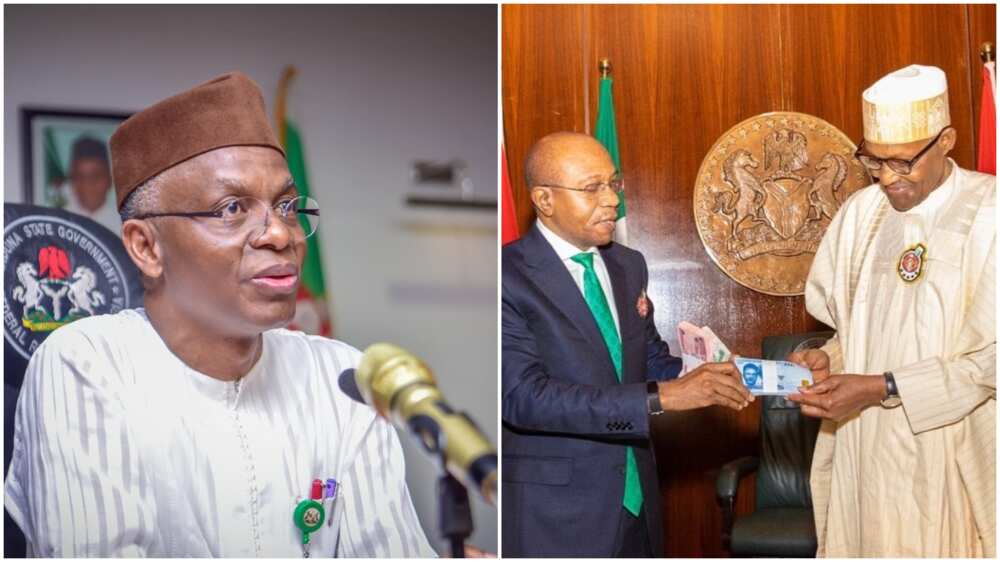 El-Rufai said President Muhammadu Buhari's Chief Economic Adviser, Dr Doyin Salami, disagreed with the CBN governor, Godwin Emefiele, on the amount of cash needed for an economy to function well.
His words:
PAY ATTENTION: Follow us on Instagram - get the most important news directly in your favourite app!
"My dear people of Kaduna State. Let me explain how the architects of this policy intentionally designed it to fail. The total currency in circulation in Nigeria was estimated at N3.2 trillion at the end of 2022.
"According to the Central Bank of Nigeria, N2.1 trillion has been withdrawn as at early February. The CBN claimed that N700bn is the amount of cash needed for their functioning vision of a "cash-less" Nigerian economy.
"The Chief Economic Adviser to the President, Dr. Doyin Salami disagrees with this estimate, and believes at least N2 trillion of currency needs to be in circulation for our economic sustainability. Other experts variously estimate this to be between N1.2 trillion and above, so the CBN number of N700bn is not realistic."
Governor E-Rufai asks Kaduna residents to continue spending old Naira notes
Meanwhile, in a direct challenge of President Buhari's directive, Governor El-Rufai has asked residents of Kaduna state to accept the old N500 and N1000 notes as legal tender.
He asked the residents to continue to spend the old notes until the Supreme Court gives a final verdict.
"For the avoidance of doubt, all the old and new notes shall remain in use as legal tender in Kaduna state until the Supreme Court of Nigeria decides otherwise," the Kaduna governor said.
Source: Legit.ng