Naira Redesign Policy: Buhari Reveals What Nigerians Should Do to Their Old N500, N1000 Notes
President Muhammadu Buhari has directed Nigerians to swap their old N500 and N1000 notes at the CBN and other designated places
Nigeria's leader gave the directive in a national broadcast on Thursday morning, February 16, indicating that the two notes are no longer legal tender
Meanwhile, Buhari extended the validity of the old N200 notes till April 10
State House, Abuja - President Muhammadu Buhari has asked Nigerians to swap old N500 and N1000 notes at the Central Bank of Nigeria (CBN) and designated places.
Buhari said this in a national broadcast on Thursday morning, February 16.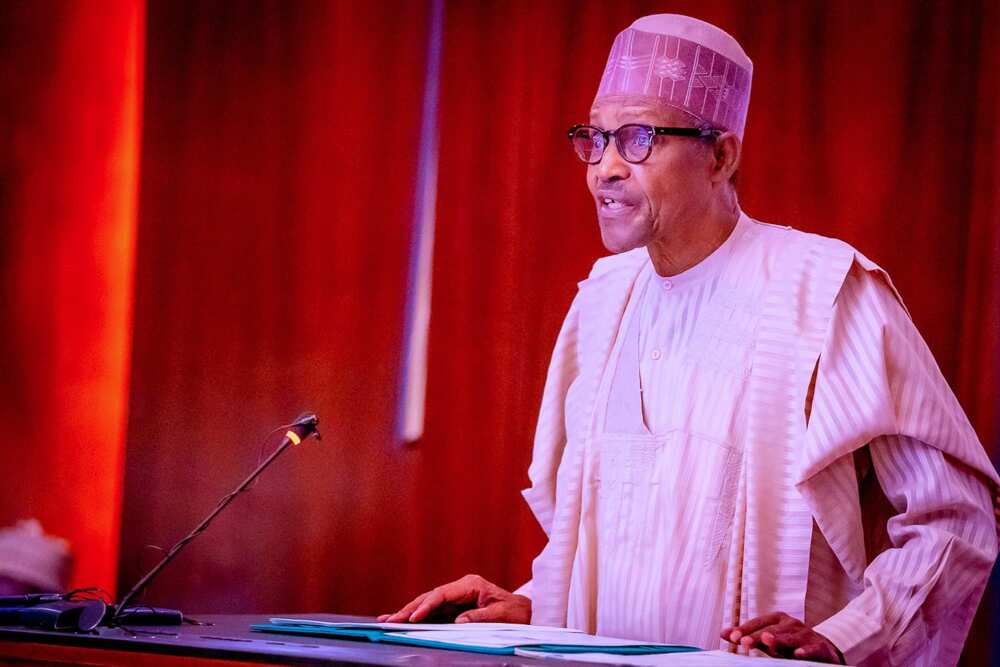 In his broadcast, Buhari said he is aware of the hardship Nigerians are facing because of the naira redesign policy, adding that he had directed the Central Bank of Nigeria (CBN) to make new notes available.
His words:
"In line with Section 20(3) of the CBN Act 2007, all existing old N1000 and N500 notes remain redeemable at the CBN and designated points.
"Considering the health of our economy and the legacy we must bequeath to the next administration and future generations of Nigerians, I admonish every citizen to strive harder to make their deposits by taking advantage of the platforms and windows being provided by the CBN.
"Let me assure Nigerians that our administration will continue to assess the implementation with a view to ensuring that Nigerians are not unnecessarily burdened. In this regard, the CBN shall ensure that new notes become more available and accessible to our citizens through the banks."
Buhari's directive goes against Supreme Court's order
Legit.ng notes that President Buhari's directive, which indicates that old N500 and 1000 notes are no longer legal tenders, goes against an order of the Supreme Court.
The apex court had ordered the Nigerian government to allow the continued use of old N200, N500 and N1,000 notes until it hears the suit filed by some state governments against implementing the Naira redesign policy.
Buhari announces new deadline for validity of old N200 notes
Meanwhile, President Buhari has announced the extension of the validity of old N200 notes till April 10, 2023.
He said:
"To further ease the supply pressures, particularly to our citizens, I have given approval to the CBN that the old N200 bank notes be released back into circulation and that it should also be allowed to circulate as legal tender with the new N200, N500, and N1000 banknotes for 60 days from February 10, 2023 to April 10 2023 when the old N200 notes ceases to be legal tender."
Old Naira notes: Nigerians react to Buhari's directive
Kay Kay said:
"And our politicians' major problem is 1k and 500 and they can't take it to CBN."
Martins Smart said:
"We heard your version, we are waiting for that of the CBN."
Ima LittleApple said:
"Good idea! Force the politicians to bring out the monies starshed in secret vaults. The CBN should not have released the 500 and 1000 denominations like they did earlier, seems Emefiele has learned his lesson."
Jimita Owan said:
"They want to take your 1000 and 500 so that when you go to take the 200 they will tell you that bank don't even have the 200."
Idrees Ibrahim said:
"We don't need the 200."
CBN creates portal for Nigerians to return old Naira notes being rejected by commercial banks
Earlier, Legit.ng reported that the CBN told Nigerians who still have the notes to visit any of its branches across the country to deposit them.
On Monday, February 13, 2023, Haladu Idris Andaza, CBN's Branch Controller in Bauchi, informed the press that, despite a pending Supreme Court ruling, the old naira notes were no longer legal tender from February 10, 2023.
He, however, reiterated the promise from Godwin Emefiele that no Nigerian would lose their money.
Source: Legit.ng