Diezani Loses Properties, Cars Worth N1.6bn as Court Gives Final Forfeiture Order, Photos of Mansions Emerge
The former minister of petroleum resources, Mrs Diezani Alison-Madueke, has just lost some of her properties to the federal government
A Federal High Court sitting in Abuja gave an order for the final forfeiture of the properties on Monday, October 24
Among the forfeited properties is a mansion located at Plot 1854 Mohammed Mahashir Street valued at $2,674,418 (about N1.2 billion)
FCT, Abuja - A Federal High Court sitting in Abuja on Monday, October 24, has ordered the final forfeiture of two Abuja properties and two luxury cars belonging to a former minister of petroleum resources, Mrs Diezani Alison-Madueke, to the federal government.
This was disclosed in a statement released by the Economic and Financial Crimes Commission (EFCC) on Monday evening.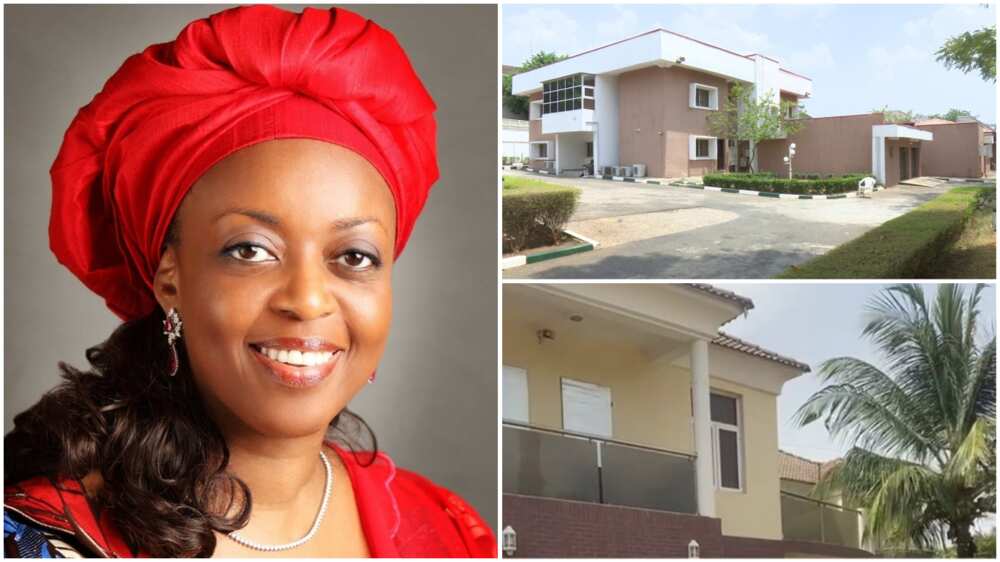 Diezani Alison-Madueke: Forfeited properties of former petroleum minister and their values
Legit.ng gathers that the two properties are located at Plot 1854 Mohammed Mahashir Street, and No. 6, Aso Drive, in the highbrow Asokoro and Maitama Districts of Abuja, are valued at $2,674,418 (about N1.2 billion, using the CBN rate of N437 per 1 dollar) and N380 million respectively.
The luxury cars are a black BMW saloon with Chassis No B8CV54V66629 and registered number, RBC155 DH and a black Jaguar saloon car with Chassis No SAJAA.20 GRDMv43376, valued at N36 million.
The EFCC's case against Diezani Alison-Madueke: Why the properties were forfeited
Justice Mobolaji Olajuwon gave the order forfeiting the assets to the FG while ruling on the application by the EFCC in Suit No. 1122/2021 and Suit No 1123/2021, asking for the final forfeiture of the assets.
Recall that the commission had in November 2021 secured the interim forfeiture of the assets in a ruling on a separate motion ex-parte filed in September 2021, which prayed the court to order the interim forfeiture of the assets on the grounds of reasonable suspicion that they were proceeds of unlawful activities.
In granting the interim forfeiture Order, Justice Olajuwon had ordered the EFCC to publish a notice in a national newspaper, inviting anyone with interest in the assets to show cause why they should not be finally forfeited to the federal government.
The court consequently adjourned till January 22, 2022, for report.
In compliance with the Order of the Court, the Forfeiture Order was published in Thisday Newspaper of Wednesday April 6, 2022.
In the absence of any contestation of the Interim Order, the Court, on Monday, forfeited the properties to the federal government.
Diezani Alison-Madueke's forfeited properties: Nigerians react
Prince Ogbudu said:
"When these properties are forfeited to the Federal Government what become of them? That is what EFCC should let the public know!"
Henry Jonathan Akpasubi commented:
"Just imagine a woman for that matter... EFCC Nice one ."
Petit Osinachi said:
"EFCC and NDLEA really need to answer Nigerians what they do with all the recovered funds."
Chima Emmanuel Nnamani said:
"Crime is crime it doesn't matter who committed. But they pass this kind of judgement only to few in this country. Because at the end what is recovered is looted by greater crime giant."
Ogiemwonyi Osazuwa said:
"It will serve as a deterrent to other corrupt leaders in Nigeria. Kudos to EFCC."
Terkura Usu said:
"What do EFCC do with all this money and assets they recover?."
Abduljabbar Dare Makanjuola said:
"Why has she not come home, not even try to step into the airplanes and fly to her motherland. All just waiting for the administration to favor her. And i know we have a short memory, but this woman is among those that let down a noble man Jonathan."
Ezekiel Babalola Alabi said:
"All these houses seized should be used by National emergency commission to accommodate flood victims and other victims of natural disaster. At least tentatively."
We're working on Diezani's extradition, EFCC tells court
Alison-Madueke is being tried in absentia as she is currently out of Nigeria.
In December 2020, the EFCC said it was intensifying efforts to ensure the former petroleum minister was extradited back to the country to face her trial.
As of the time of this report, the commission has been unable to get Alison-Madueke extradited to the country.
Source: Legit.ng