Insecurity: Buhari Asked to Resign by Northern Elders Forum
President Muhammadu Buhari has been asked to vacate his position as the number citizen of Nigeria
The demand was made by the Northern Elders Forum which accused the president of failing to protect Nigerians
The forum said it will be a monumental disaster to allow the president to remain in power until May 2023
FCT, Abuja - The Northern Elders Forum (NEF) has demanded the immediate resignation of President Muhammadu Buhari, over the raging killings across the country, especially in the north.
The spokesman of NEF, Dr. Hakeem Baba-Ahmed, made the call on Tuesday, April 12, saying the forum took the decision over the raging killings across the country, especially in northern Nigeria.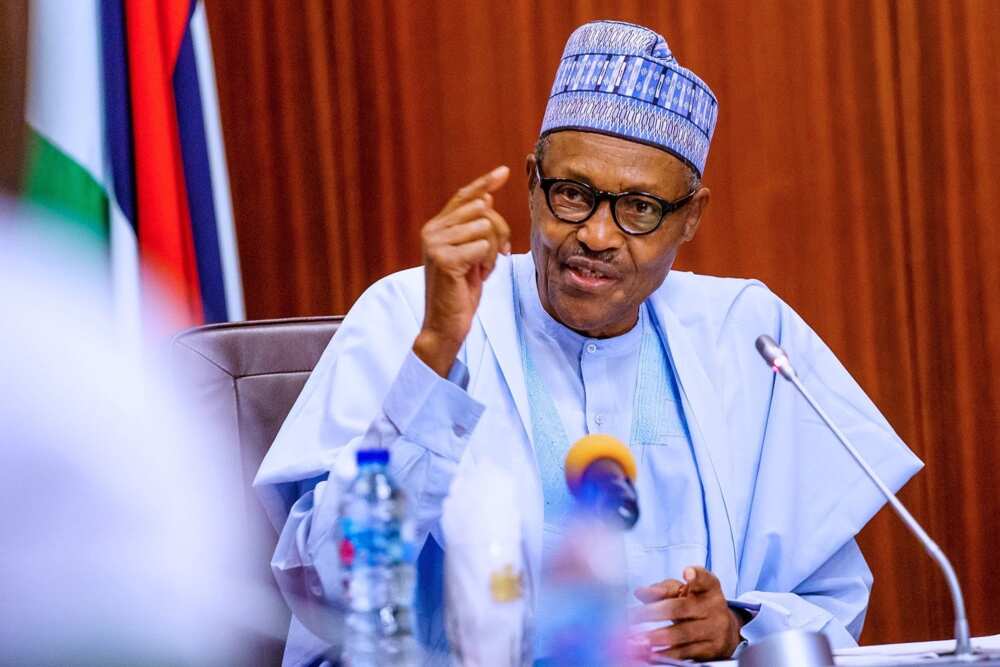 Part of the statement read:
"The administration of President Muhammadu Buhari does not appear to have answers to the challenges of security to which we are exposed.
"We cannot continue to live and die under the dictates of killers, kidnappers, rapists, and sundry criminal groups that have deprived us of our rights to live in peace and security.
"Our constitution has provisions for leaders to voluntarily step down if they are challenged by personal reasons or they prove incapable of leading.
"It is now time for President Buhari to seriously consider that option since his leadership has proved spectacularly incapable of providing security over Nigerians.
"Our forum is aware of the weight of this advice, and it is also aware that we cannot continue to live under these conditions until 2023 when President Buhari's term ends."
He said the forum made the recommendation with the highest sense of responsibility and expressed hope there are enough Nigerians who enjoy the confidence of President Buhari to advise him to consider resigning.
He lamented that killings and assaults on communities have now become daily features of the lives of all Nigerians, as traveling anywhere is now risky, and the option of staying put does not make anyone safer.
He added:
"Killers and other criminals appear to have sensed a paralyzing vacuum at the highest levels of leadership, and they grow more confident and acquire more competence in subverting the state and our security.
"Nigerians have shed enough tears and blood without an appropriate response from those with responsibilities to protect us."
Kogi state govt makes progress in rooting out bandits
Meanwhile, in Kogi, the story is different as the state government is using vigilante groups alongside security agents to root out bandits in their domain.
Explaining the situation to Legit.ng, Kogi state commissioner of information, Kingsley Fanwo, said:
"We have engaged vigilantes in all local government areas because they know their terrain better than anyone else.
"They are also collaborating successfully with the security agents by providing them information, leading them to criminal hideouts, and tracking down criminals in local areas, among others.
"All of these would have not been possible if Governor Yahaya Bello did not provide the moral, financial, and psychological support for all stakeholders in the Kogi state security chain."
Soldiers on red alert in Abuja over alleged planned attack by terrorists
Meanwhile, Nigerian soldiers have been placed on red alert following an intelligence report of a planned terror attack on the Federal Capital Territory (FCT), Abuja.
According to a recent report, troops have been specifically deployed to villages and area councils located along the Abuja/Lokoja expressway namely Abaji, Kwali, and Gwagwalada.
Some of the soldiers are already on condone and search operations at Giri close to the University of Abuja where they mounted security checkpoints on all entry/exit points into the FCT.
Armed bandits kidnap Lagos-bound passengers in Kogi state
Recall that seven passengers on board Benue state-owned transport vehicle, Benue Links were recently kidnapped by armed bandits in nearby Kogi state.
The captors have since opened talks with families of their victims while demanding N5 million each on a pastor and his son.
Narrating the incident, the wife of the abducted pastor, Hannah Orhena, said her husband and son alongside five others were taken into captivity on Tuesday, March 29 about 3 pm around the Kabba area in Kogi state.
Source: Legit.ng