Over Few Kidnappings? Gumi Blows Hots, Blasts Sheikh Khalid Over His Sermon
Shiekh Nuru Khalid has been criticised for his recent sermon that sparked controversy in the country
The respected Muslim cleric was blasted for his sermon by controversial Dr Ahmad Abubakar Gumi
According to Gumi, Shiekh Khalid is wrong to have given such sermon, labeling it a misplaced judgement
In a reaction that has amazed Nigerians, Dr Ahmad Abubakar Gumi has blasted Shiekh Nuru Khalid, Chief Imam over his recent sermon before he was sacked from Apo Legislative Quarters Mosque, Abuja.
According to Gumi, Khalid sermon was a misplaced judgement, which is "worse than kidnappings."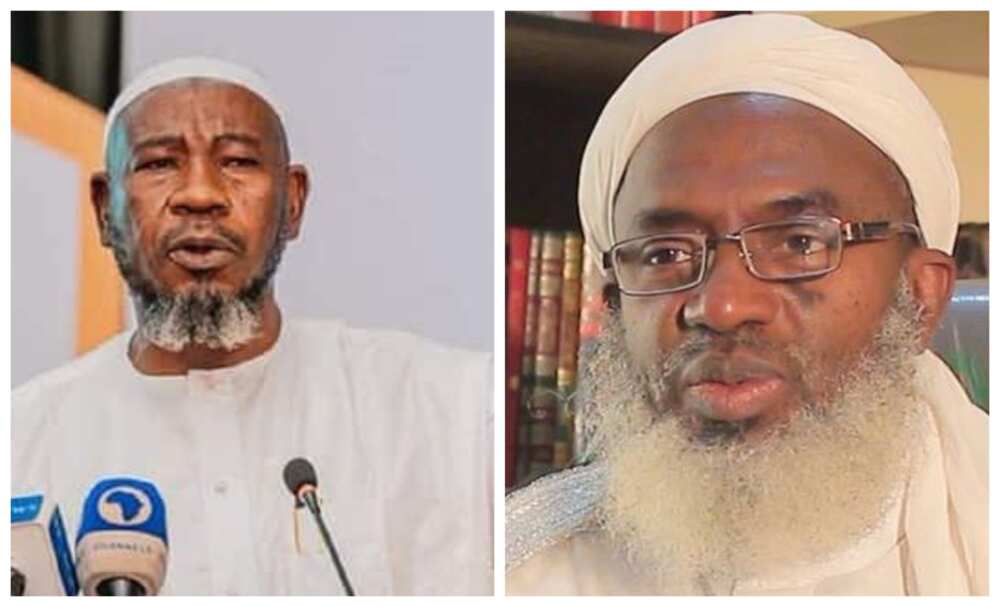 Recall that the Sheikh had recently criticized Buhari's government over its failure to tame the escalating insecurity and killings in the country, Daily trust reports.
In his reaction to the suspension, Gumi described Sheikh Khalid's sermon as a "misplaced judgement" because "calling masses not to vote incompetent government is worse than the few kidnappings."
PAY ATTENTION: Install our latest app for Android, read best news on Nigeria's #1 news app
"It's a case of sentiments overriding intellect. Calling masses not to vote out incompetent government by massive voting is worse than the few kidnappings, and a misplaced judgment."
Insecurity: Notable presidential aspirant meets Gumi, makes crucial revelation
Meanwhile, Legit.ng reports that concerned about the rampant insecurity in Kaduna state which used to be a city of affluence and influence in the north, Dele Momodu has met with Ahmad Abubakar Gumi, an Islamic cleric.
Via Instagram, the presidential aspirant disclosed that he recently visited Kaduna to gather ideas from the Islamic scholar on ways to deal with causes of attacks and killings in the state. Momodu added that Gumi's analysis on the pressing issue was rich, robust and insightful.
Ultimately, the drive is to restore order and sanity in a state, where, according to the Peoples Democratic Party (PDP) chieftain, travelling by road is currently too risky.
His words:
"The story of how Kaduna fell from grace to grass is a very sad one and a tragedy of monumental proportions. Kaduna used to be the preferred home of retired military Generals where they constituted themselves into a Mafia gang.
Sheikh Gumi says he will no longer mediate for bandits, gives reason
Meanwhile, Gumi had said he has stopped mediating for armed bandits following their declaration as terrorists by the court.
Gumi said this in an exclusive interview in Kaduna on Wednesday, December 8.
With the declaration of the bandits as terrorists, Gumi said it will be dangerous for him to continue to engage the bandits.
He said:
"Since the federal government has declared them terrorists, I don't have anything to do with them anymore."
Source: Legit.ng