Lawan Reveals Salaries of Senators, Reps Says it's Lowest of Any Presidential Democracy
Ahmad Lawan, Senate president has openly cleared the air regarding the salary scale of federal lawmakers
Lawan also expressed deep satisfaction over President Muhamadu Buhari's response on assent to bills amongst his predecessors
The senate leader also gave a detailed account of the annual running cost of the office of the lawmakers and while noting that their salary is the lowest across board
Abuja- Senate President, Ahmad Lawan, on Monday, December 13, made public the salaries and emoluments of members of the National Assembly in Abuja.
Lawan also showered praises on President Muhammadu Buhari saying he has surpassed his predecessors on assent to bills.
The Punch reports that he made this disclosure in a paper presented at the First Distinguished Parliamentarians Lecture Series organised by the National Institute for Legislative and Democratic Studies.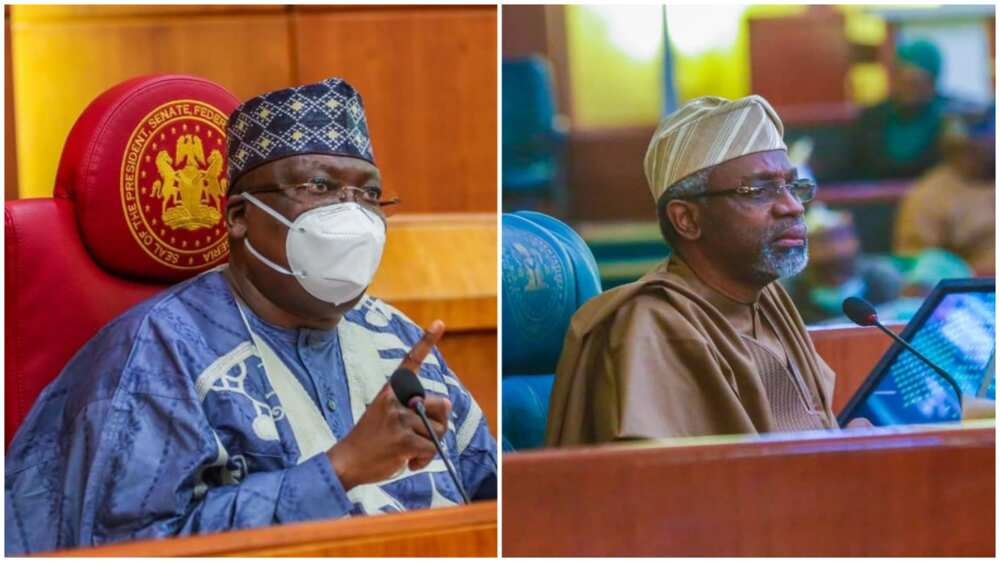 The salary of a senator and House of Reps
The Senator said the monthly Salary of a Senator was N1.5 million while that of a member of the House of Representatives is N1.3 million.
He said the N13 million thrown into the public space a few years back as the monthly salary of a Senator was actually their quarterly office running allowance.
Lawan said:
"The average office running cost for a senator is about N13m while that of a member of the House of Representatives is N8m."
The annual cost
When calculated, the N13m office running cost for a Senator amounts to N52m per annum while the N8m for a member of the House of Representatives amounts to N32m in a year.
Lawan's lecture was titled, 'The Legislature, Legislative Mandate and People – The Reality and the Public Perception.'
Lawan's position on office cost
He said the N13m and the N8m quarterly office running cost for a member of the Senate and House of Representatives respectively, were the lowest of any Presidential democracy in the world.
The allowances as enumerated by him, cover costs of local/international travel, consulting of professional services, medical services, office stationeries/computers, consumables, books, newspapers, magazines, maintenance of motor vehicles and office equipment among others.
President Buhari writes Senate, seeks passage of crucial 2021 Bill
Meanwhile, Legit.ng had earlier reported that President Muhammadu Buhari has written to the Nigerian Senate seeking the consideration and subsequent passage of the Finance (amendment) Bill 2021.
It was reported that Buhari made the request in a letter read by the Senate president, Ahmad Lawan, during plenary on Tuesday, December 7.
The Nigerian leader in the letter noted that the Bill when passed would guide the implementation of the soon-to-be passed Appropriation Act, 2022.
Source: Legit.ng