Megan Olivi bio: age, height, husband and hot photos
One of the signs of progress that human beings can be proud of is the acceptance of beautiful women presenters in sports channels. With impressive interviews and ability to host Ultimate Fighting Champion (UFC) programs with elegance, Megan Olivi has earned the right be on the list of one of the best reporters, and her explanation of the martial arts fights will make even a newbie love the game.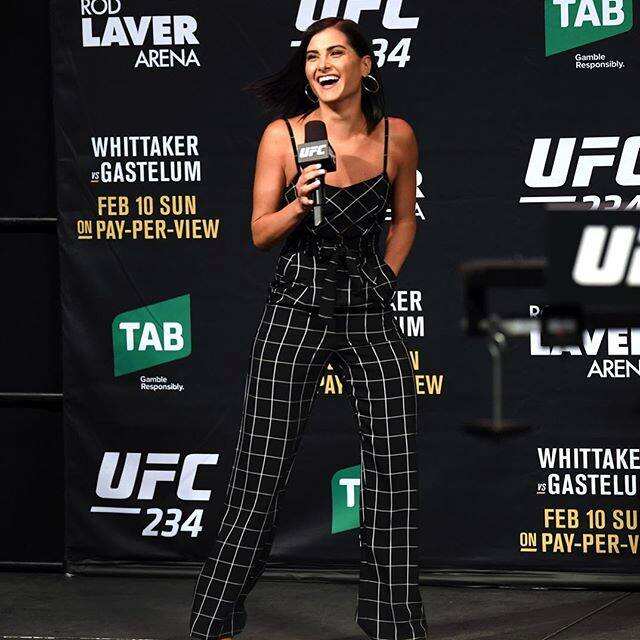 With her girl next door look and popularity in the profession, Megan continues to wow fans such that she has gained over a quarter a million Instagram followers alone. While she may look friendly and down to earth, Megan Olive Instagram is filled with adorable pictures of her at various UFC events as well as on vacations. With such a busy career and happy personal life, how did she end up becoming a household name in a field that is dominated by male presenters?
Megan Olivi profile summary
Date of birth: August 29 1986
Nationality: American
Occupation: Sports reporter
Ethnicity: White
Marital status: Married
Husband: Joseph Benavidez
Citizenship: American
Height: 5 feet 2 inches
Megan Olivi bio and early life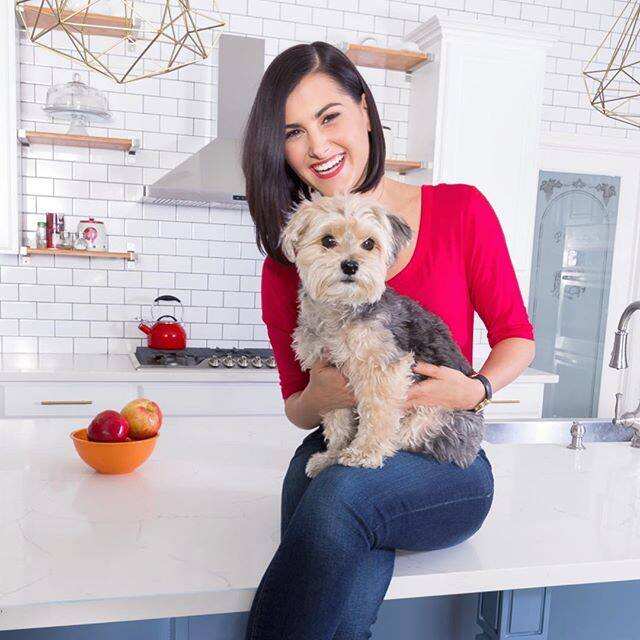 Megan who was born in Nazareth, Pennsylvania is the youngest of three children. After completing high school, she joined Seton Hall University where she majored in Political Science.
While in college Olivi went on to intern at Fox news, an opportunity that enabled her to work as an assistant for the famous journalist Megan Kelly who at that time was covering the 2008 presidential election. Because of her zeal for academic excellence, after completing her undergraduate studies, she then went on to enrol for a master's degree at Fordham University where she pursued Public Communications and Mass Media studies. She went on to graduate with honours.
Megan Olivi career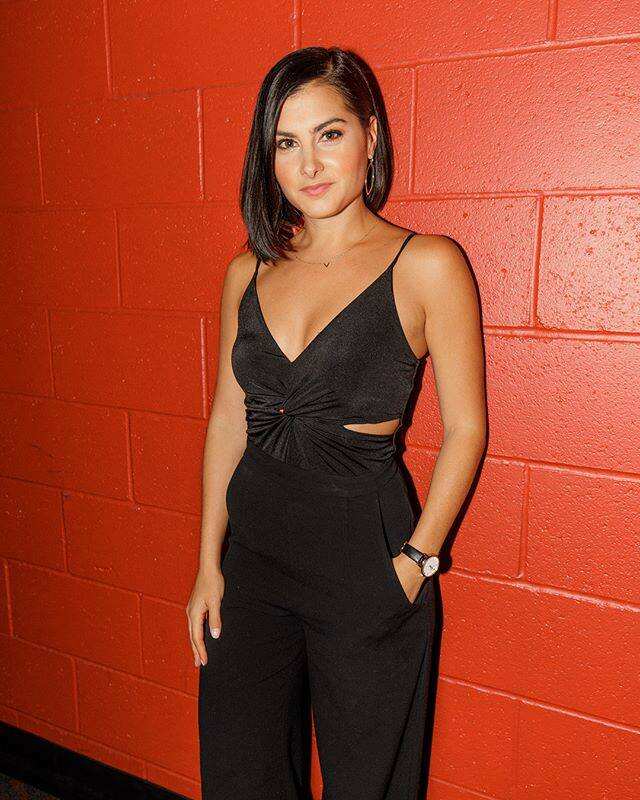 Megan Olivi is a talented and stunning host who after completing her master's degree got an opportunity to work in Las Vegas Nevada covering mixed martial arts sports. Other notable achievements in Olivi's career include:
In 2010, Megan decided to move across the country to Las Vegas to be a mixed martial arts reporter.
She co-hosted the live ultimate fighting championship preshow fight day.
The lady works on Fox sport 1 where she hosts UFC ultimate insider.
She was a pageant judge for the 2017 Miss Universe Pageant at Planet Hollywood Resort & Casіno.
The talented reporter also has a television show on UFC Fight Pass titled The Exchange with Megan Olivi. In this show, she gives UFC viewers an inside look on the fighters who step in the octagon. That way fans are able to know each fighter not only as an athlete but also as an individual.
In February 2013, she was hired as a correspondent for Fox news San Diego to cover the San Diego Padres. Her role in this particular job was a social media reporter.
She was also involved in producing and hosting a weekly magazine show titled Padres Pov.
Currently, she travels all over the world to cover various UFC events.
Who is Megan Olivi married to?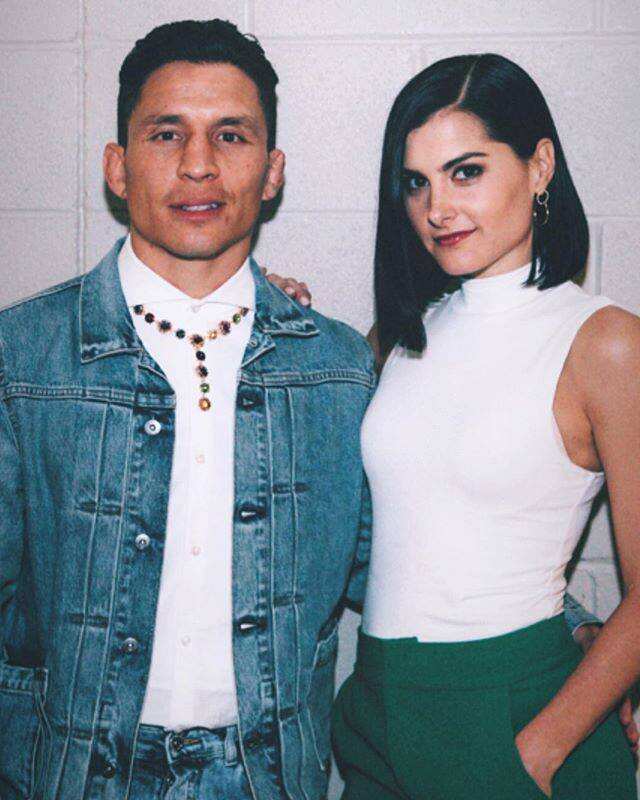 Megan Olivi married the man of her dreams Joseph Benavidez after he proposed in 2014. Megan Olivi Joseph Benavidez love story started in 2009 when she met the UFC mixed martial arts fighter while working as a UFC reporter in Las Vegas. They began as friends until the friendship developed into romance and eventually Benavidez got down on one knee and popped the question.
The couple exchanged their vows in 2015 at a high-end hotel in Las Vegas Nevada surrounded by family and friends. Ever since the couple tied the knot, they have enjoyed a blissful married life. With pictures posted on their social media page, Megan and husband are not afraid to show the world just how they enjoy each other's company. The couple is happy together, and while they do not yet have any children together, Megan is fond of her dog. Megan Olivi husband is a professional mixed martial arts fighter who has an MMA record of 32 fights, 7 of which he won via total knockout.
Olivi tends to get emotional watching her husband compete. However, she always shows supports by cheering for him backstage instead of in the audience. To repay the kind gesture, her husband always strives to ensure that she is the first person he sees after every fight. The couple even has a little wave routine for every time Benavidez steps on the octagon to fight.
What is Olivi's height?
Megan Olivi height is 5 feet 2 inches, and her weight is around 55 Kilograms. She is shorter than her husband who is around 5 feet 4 inches.
How old is Megan Olivi?
The presenter does not look like she is ageing a bit. Born on 29 August 1986, Megan Olivi age as of 2019 is 32 years. She has a slim, beautiful body as can be seen on her social media pages. Unlike other celebrities that love to reveal too much on their social media photos, the presenter who is frequently in front of the cameras is never shy of showing off her personal life, her husband or what she is up to. With such a body who would blame her?
Megan Olivi hot photos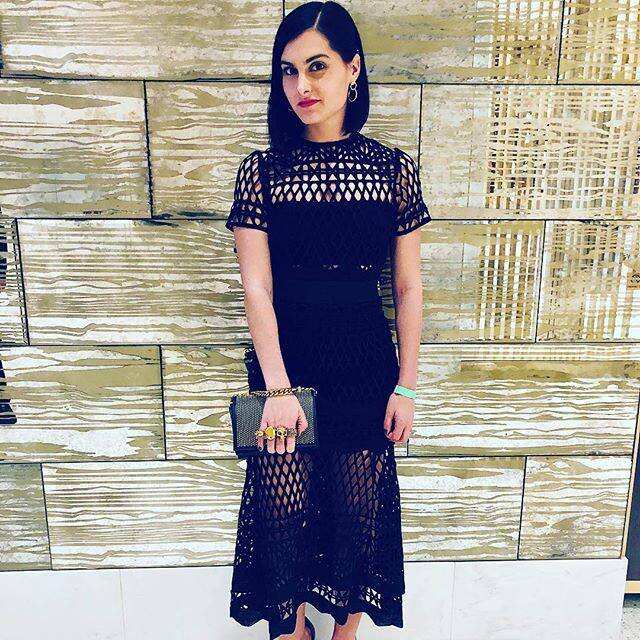 Whether she is enjoying a vacation with her hubby, attending a red carpet event or up and about with her career, she is incredible. Need proof? Here are some gorgeous Megan Olivi hot photos that capture her stunning beauty.
The reporter is gorgeous and talented at the same time.
She makes working hard to build a successful career look easy. She is the true definition of beauty and brains.
Fun facts about the classy UFC correspondent Megan Olivi
Other interesting facts about Megan Olivi:
She comes from a martial arts family. Her grandfather was a navy champion boxer while his brother is a professional wrestler.
She grew up watching her brother who was ten years older than her engage in wrestling at the Leigh Valley.
Apart from having a dog as a pet, she also loves folkstyle wrestling and boxing. She also does a bit of Muay Thai.
She loves travelling especially for work, and some of her favourite places are Mexico City, Tokyo, Singapore, and Vancouver.
Her main aim in hosting the Exchange with Megan Olivi is to give a platform for the mixed martial arts athletes to open up so that fans can know their personal stories.
While she is an accomplished reporter, she also trains in another form of martial arts: boxing.
The UFC reporter never wished to be on camera. Instead, she wanted to be a campaign manager that is why she enrolled at Seton Hall to study Political Science.
She stumbled on her current career by accident. While taking an internship at Fox, Megan's mentor encouraged her to talk about sports on camera, and that is when she realised that she liked covering sports.
Before moving to Las Vegas, she lived in New York City for three years working as an intern.
With her new found love for sports coverage, Joseph Benavidez's wife then enrolled at Fordham for a master's degree and went on to become a successful MMA reporter.
She is also passionate about two things: food and fighting.
Eating ice-cream is one of her favourite things. Her favourite flavour of ice cream is chocolate chip cookies. However, the gorgeous lady dislikes ice-cream flavours with mint chocolate chips.
In 2018, Olivi and her husband Benavidez worked as co-chairs for The Animal Foundation's 15th Annual Best in Show event. The fundraising event was for supporting programmes for animal shelters as well as provide a platform for adopting dogs.
One of the items on her wish list is to film an MMA food show with a guest fighter.
When it comes to tacos, the active journalist prefers those with hard shells while for pizza she tends to go with thin crusts.
Before getting her current job at UFC where she worked as a personal assistant, she freelanced for red carpet events, reported about lacrosse games and covered a few web shows. She then got a job to report mixed martial arts with a media outlet then went on to work for Fox.
Megan Olivi is a sports reporter worth admiring. She has worked hard in her career and enjoys marital bliss with husband Joseph Benavidez who is an American mixed martial artist. With her talent and beauty, she will continue to inspire women from across the globe.
Source: Legit.ng