Red List: NANS Fumes, Threatens Shutdown of British, Canadian Missions, Issues 72hrs Ultimatum For Reversal
On Monday, December 6, the government of the United Kingdom (UK) announced the addition of Nigeria to its travel red list
In reaction, the federal government of Nigeria condemned the travel ban by Canada and other countries due to the spread of the Omicron variant
Following this development, the National Association of Nigerian Students expresses dissatisfaction over the ban and threatened to shut down the British and Canadian missions
The National Association of Nigerian Students (NANS) has reacted angrily to the British travel ban.
The association announced on Tuesday, December 7, that it has given the British Mission in Nigeria 72 hours to rescind its decision to pause issuance and processing of visas to Nigerians over the discovery of COVID-19 Omicron variant.
The Punch reports that NANS gave the ultimatum during its protest at British Deputy High Commission in Lagos on Tuesday over the travel and visa restrictions placed on Nigerians over the Omnicron variant of the COVID-19 virus.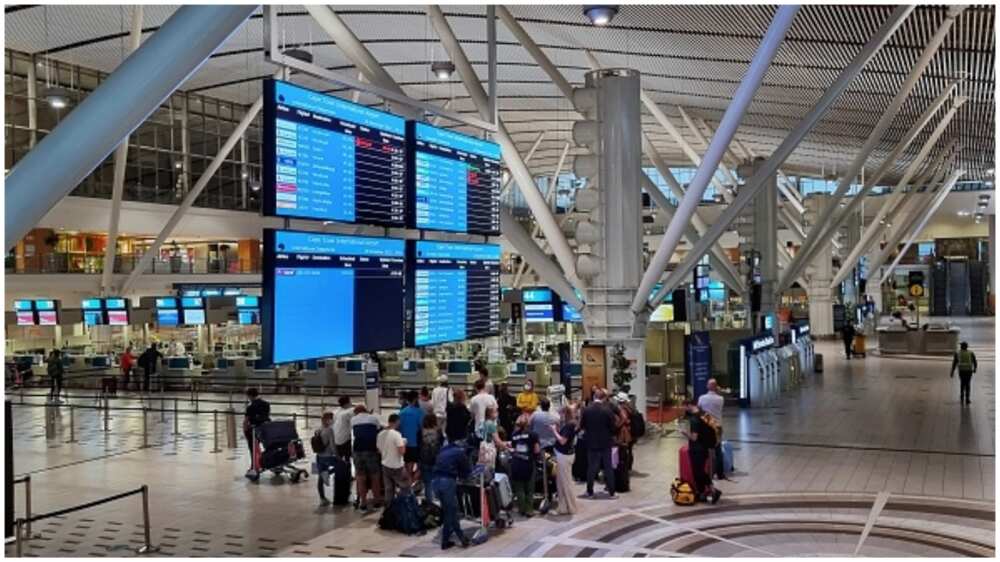 NANS said at the protest that:
"If there is an absence of solutions in the next 72 hours, NANS will have no other choice but to shut down the activities of British and Canadian missions across Nigeria."
NANS reaction
Chairman, NANS Ogun chapter, Kehinde Damilola, disclosed during the protest that the association was displeased with the decision of the British government to place a ban on travels from Nigeria.
According to him, the decision is pure racism and an attempt to intimidate African countries, particularly Nigeria.
He said:
"We have come to say enough is enough with the treatment Nigeria constantly receives from Europe. The narrative has to change because Nigerians are not a symbol of havoc or hazard."
The student leader urged the British mission in Nigeria to look into the situation without delay, adding that the exorbitant quarantine fee for students and visitors should also be revoked.
NANS Southwest Coordinator's position
Also, NANS Southwest Coordinator Adegboye Olatunji, said that COVID-19 was not an African virus neither was the new variant, Omicron.
Olatunji said:
"Placing a ban on only African members of the Commonwealth is not right.
"We should be thinking of solutions on how to eradicate the virus and vaccinate Africans instead of coming up with red lists."
He added that NANS was ready to take the mantle to fight relentlessly for Nigerians studying abroad.
It was gathered that policemen and other security agents were on ground at the British Deputy High Commission to prevent any security breach.
Speaking with the newspaper, an official of the British mission, who pleaded anonymity, stated that audiovisual recording of the protest had been forwarded to appropriate authorities to address the issue.
He said:
"We will be relating happenings to the Deputy Head of Mission who will in turn make calls to London.
"That is where we are going to take it from because we can't make instant decisions."
4 COVID-19-related conditions to meet before embarking on international trips
In a related report, the outbreak of COVID-19 across the world has changed life generally, including requirements for local and international travels as countries continue to enact stringent laws, even bans, for persons intending to enter their borders for whatever reason.
Many nations that are most hit by the global pandemic are afraid that giving travellers entry indiscriminately might worsen conditions.
In light of this, some evidence of a negative COVID-19 status is required at embassies and airports all over the world.
Source: Legit.ng