Senate Reacts To Killing of Over 120 Nigerians in Sokoto Market, Holds 1-Minute Silence
The Nigerian Senate has conducted a one-minute silence in respect of those who were killed by bandits in a Sokoto market
Over 120 people were reportedly killed by some bandits in the Gorony market in Sokoto state on Sunday, October 17
The information was made available to the Senate by one of the colleagues who said that bandits operating in the state now impose demands between N1 million and N20 million on villagers
Lawmakers of the Nigerian Senate on Wednesday, November 10, held a one-minute silence to mourn the killing of over 120 Nigerians killed by some bandits in Gorony marker in Sokoto state.
A statement by the special assistant to the Senate president, press, Ezrel Tabiowo, said the lawmakers were informed of the incident by their colleague, Senator Ibrahim Gobir, through a point of order made during the commencement of the plenary.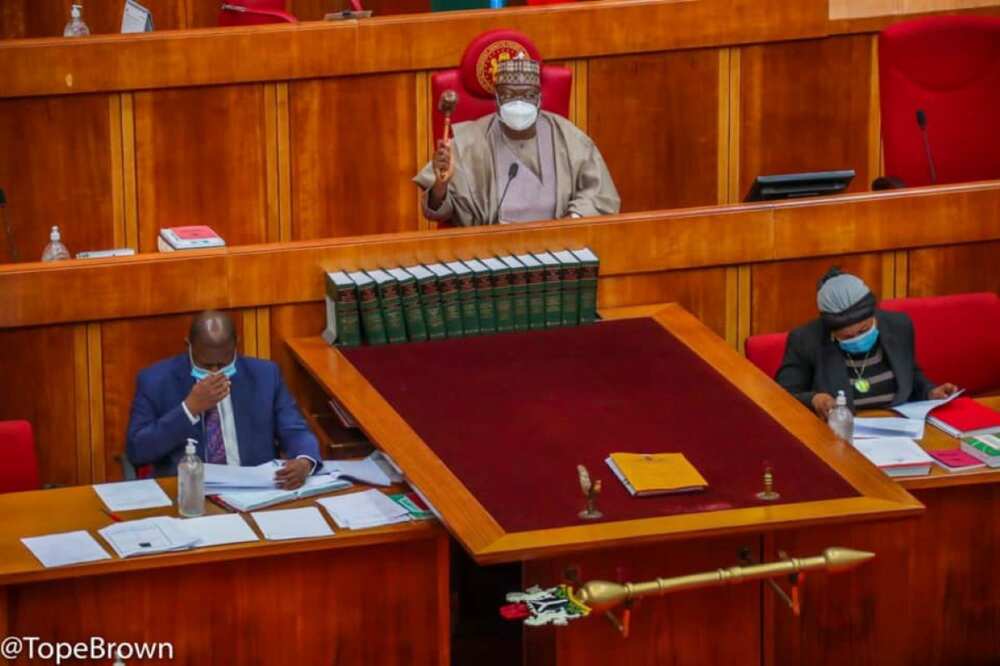 Senator Gobir while making his submission said that the victims were killed by the bandits on Sunday, October 17, at the market in Sokoto.
Coming under Order 43 - Personal Explanation - of the Senate Rules, Gobir said, the market was attacked on the said day and over 120 people were killed by the yet to be identified bandits.
Gobir said:
"The terrorists came to the market and started shooting every person they saw in the market."
Unbelievable demands made by the bandits in Sokoto
Raising another important issue, the lawmaker said residents in the state are mandated to pay between N1 million and N20 million to the bandits.
He said this mandatory payment enforced by the criminals are being carried out in seven villages with some local government areas of Sokoto state.
According to Gobir, the affected villages include; Kwarangamba, Garki, Danadua, Katuma, Kurawa and Dama.
Decrying the failure of some of the community members to meet the demand of the bandits, Gobir said several villagers have been killed in the process.
He also accused the security operatives in the area of their failure to safeguard the people or nip the situation in the bud despite a consistent appeal by the affected communities.
He said:
"The terrorists are now installing their village heads in some areas of Sabin-Girin local government."
"In Gangara, they replaced the village head with Dan Bakkolo, the next in command to known terrorists called Turji.
"In Makwaruwa, they installed Dan Karami (a terrorist) as Maigari."
New bills to curtail the financial activities of civil servants
Meanwhile, Legit.ng previously reported that the Senate is considering two bills that would clip the activities of civil servants who cannot explain the source of their wealth.
The lawmakers said that the bills when passed into law would provide the framework required for the prosecution of public servants who can not explain how they got their wealth.
The two bills being considered by the Senate are; Money Laundering (Prevention and Prohibition) Bill, 2021, and Money Laundering (Prevention and Prohibition) (Repeal & Re-enactment) Bill, 2021.
In other news, the Peoples Democratic Party also condemned the harmonisation of the Electoral Act Amendment Bill by the National Assembly.
The PDP also stated that it would react to the move by the legislature within 48 hours from the day the harmonisation was carried out.
According to the PDP, it is constitutionally undemocratic for any party to enforce its internal political process on other parties.
Source: Legit.ng